Anorexia, art, war, rant
April 17, 2006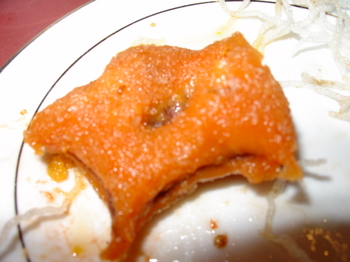 The pumpkin dumpling that I just couldn't finish.
A little less than a year ago I wrote an entry about SehnSucht, a restaurant for anorexics in Berlin that had opened up sometime in January 2005. Because I didn't have a picture of the restaurant, and because I hadn't visited it (and to this day can only get a robot on the phone), I did the logical thing and accompanied my entry with a blurry image of a greasy half-eaten pumpkin dumpling.
The dumpling image was a huge hit if i can believe my site meter referrals. And until last month, dumplin' was smack in the middle of a Google Images page for the search-string anorexics. Folks were clicking on the dumpling, and so doing finding culiblog, proving that it's not only horny old fat men that scour the anorexia sites for skeletal supermodels and thinspiration. Actual 'Anas' and 'Mias' were haulin' their boney tuchas over to culiblog to get a gander at the food porn.
Well this one's for you, Ladies!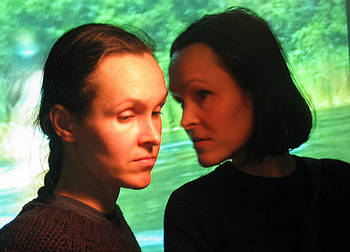 LA Raeven at the Mediamatic War Salon, photo by Bea Correa, courtesy of Mediamatic
LA Raeven is the artist name for twins Liesbeth and Angelique Raeven, whose very subject matter is themselves. Their video installation work and performances are about the female body image and the behaviour dynamics of twins, especially when this dynamic expresses itself in psychologically nuanced eating habits.
LA Raeven were launched into fame in February 2002 when they created a huge kafuffle with Wild Zone 1 & 2, a video installation exhibited at the ICA London. It was the first time that the twins showed themselves in their work, lolling about and being overly skinny amidst half-drunk glasses of white wine and a floor littered with the occasional mini-nibble. The gallery was infused with the artists' own feral scent, reportedly concocted from their very own pee. Of course the bourgeois art press found it so scandalous that female artists with anorexia should be able to express themselves about body image, that they censured the artists' call for participation before the exhibition, and a goodly deal of the exhibition's press. Just like in China!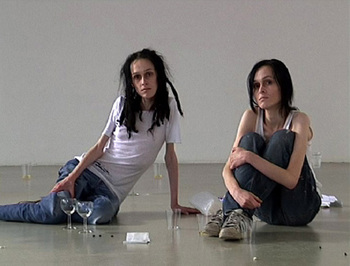 LA Raeven, video still from Wild Zone 1 (2001), courtesy of the artists
In a painful to watch BBC NewsNight interview, the Raeven sisters weren't contextualised primarily as artists, not even as kooky artists, but as eating-disorder victims. The 'feminist' psychotherapist Susie Orbach, author of Hunger Strike and ironically, Fat is a Feminist Issue (no potshots, please) was called in to moderate the discussion. Watching the interview, I was apalled at the insufferably intolerant BBC commentator. I believe that self-empowerment has many forms of expression, and that it is in fact medicalisation and consistently pathologising what is primarily women's behaviour, that is inherently anti-feminist. But that's just me, I'm a 3rd-wave feminist orthochondriac, not into rehearsing unhealthy scenarios, or encouraging others to practice theirs from haughty podia. And I'm talking about NewsNight, here.
The sisters told me recently, 'It was unbelieveable how we were treated at that time. Censured! When a Chinese artist eats a fetus, you don't see journalists calling psychoanalysts in to help. Instead, Western art journalists stumble over themselves trying to explain away (AiWeiWei!) this behaviour as an expression against an unhealthy regime."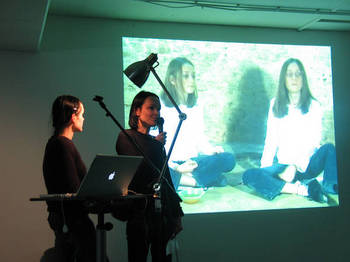 LA Raeven at the Mediamatic War Salon, discuss their new work, 'Thin Line' (2005), photo by Bea Correa, courtesy of Mediamatic
As part of Mediamatic's anti-war protest exhibition titled, le Mépris, (non-food-related, but go see it anyway), Mediamatic held a War Salon, (April 5th) at which the Sisters Raeven were invited to show some of their new work. The idea to put LA Raeven in a war and violence themed programme was an inspired one. Aside from new work by the ladies, highlights from the lineup included an analysis of the US Army recruitment game America's Army, and ended with a macabre audience participation karaoke with the songs of that very political body, Brigitte Bardot.
A goodly portion of the audience was represented by young male gamers from the nearby universities, there to listen to their friends, scientists David B. Nieborg and Jonas Hielscher speak about and demonstrate America's Army and Battlefield2, respectively. Gamers. That's a nice, socially acceptable term that we all use in contemporary cultural discourse. Gamers play games, in this case, war games on computers with lots of other gamers. Gamers at university study games and other gamers, and even write theses about these things. Well LA Raeven also play games.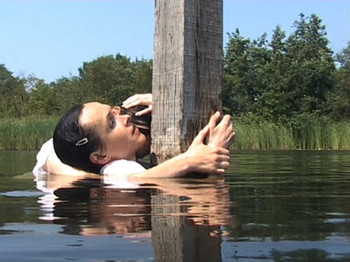 LA Raeven, video still from "Love knows many faces" (2005), courtesy of the artists
I disagree with those that would suggest that LA Raeven's presence and presentation at the Mediamatic War Salon represents a war on the body, or war against the body. Their oeuvre, and especially the new works, Prison in Me (2005) and Thin Line (2006) show an assault on individuality and a strategy to escape this assault. The image above is a still from the video, Love knows many faces (2005), in which the twins go for a swim and play a sisterly game of trying to drown eachother. Recovering from a symmetrical but futile attempt at individuation, they exhaust themselves into one big clump of Liebestod. Game on, Girls!
Thin Line (2006) shows one of LA Raeven's own food games, now in the hands of pre-pubescent twins. In a Bruxelles basement conjuring up horrific notions of Dutroux, the identically dressed twins flip a coin. The 'winner' is required to eat both sisters' dinner portions, and the loser gets nothing at all. The game is repeated through all the courses of a (continental European) meal, such that inevitably, one of the sisters ends up stuffing herself whilst the other is left to go hungry. Before you brush it off as childish, may I suggest that you play this game with your partner for an entire day, exploring the complex feelings that it generates. In fact it is not at all about waging war on one's own body. Pity that the body just gets in the way.
The hunger strike is male behaviour, a purposeful and politically engaged expression. The hunger artist is male, and is an artist above all. I left the war salon with even greater respect for LA Raeven's authenticity and artistic engagement. But I coudln't help wonder about the reasons why (female) anorexia should be considered to be more pathological and unspeakable than the (male) fear of terrorism whose effects are unleashed upon us every day. Why should an expression of the fear of fat, and/or the extreme expression of self-control that is anorexia be considered to be more offensive than the extreme societal control that is expressed by waging and playing at waging war?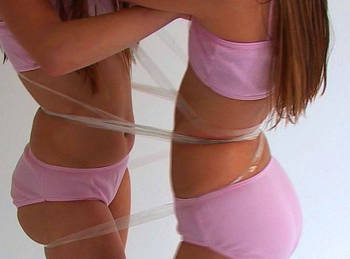 LA Raeven, video still from "Prison in Me" (2005), courtesy of the artists
technorati tags: anorexia, art, war, chinese performance art, restaurant for anorexics, twins, feminism, war, computer games, American Army, LA Raeven, Mediamatic, ICA London, SehnSucht, Susie Orbach, twin love,
debra at 19:10 | | post to del.icio.us
13 Comments »