Art is, art was fluid last Sunday
June 8, 2005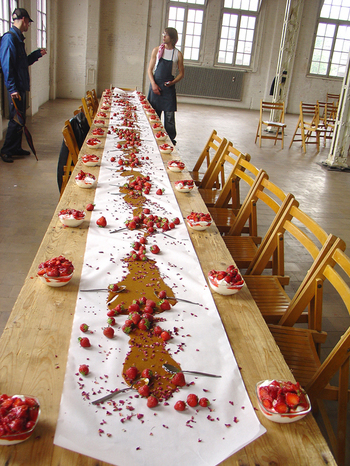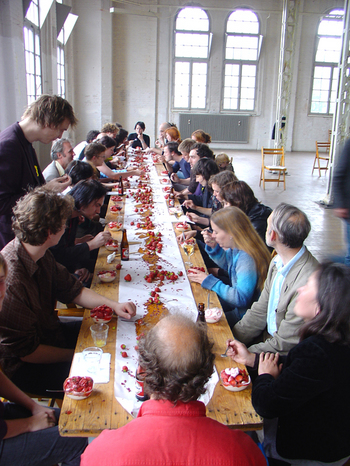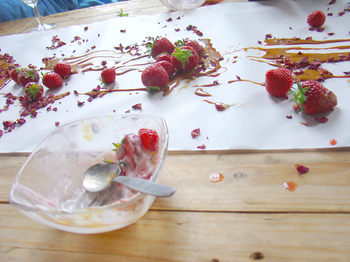 Due to the good company and delightfully engaged audience, artist initiative Artis in Den Bosch showed this Sunday (05.06.2005) that they really know how to throw a happening. Margriet Kemper opened the salon with a presentation of her book, Speak, Image! (unfortunately only in Dutch) in which she talks about how the image is actually a performer. Kemper cited Allan Kaprow, the Daddy of the Happening, explaining to us the choice of the title of the event, Art Fluid.
A.K.: 'I want the line between art and life to be as fluid as possible'.
A presentation of culiblog was next on the menu followed by a breathtaking poetry reading by Robert Gray (AU) and the Dutch translator of Gray's work, Maarten Elzinga. Wafts of rosey caramel in-the-make were the only distraction as both Gray and Elzinga read for the better part of 42 minutes to a rapt audience.
Now there's only so much reflection and interior thought that an audience can take, and just when we thought we would forever be living inside of our heads, the shy noise band, SPASM performed invisibly from the guts of the cavernous gallery. It was just the lightness that the moment needed and everyone started to beam with smiles so broad they barely fit on their faces. Everyone except the young children who ran around annoyed with fingers in their ears.
What could be a better follow-up to a poetry reading and a concert of noise than a cookery presentation! Together with my fabulous assistants, Stefano and Kaj, I rejoiced in showing other Dutch people how to make the traditional Dutch 'hang-op'. The hang-op had been dripping whey all the livelong day in linen bags hanging from pink string, defining the space of the kitchen. Stefano removed the linen bags from meathooks and helped Kaj scrape out the 'hung' yogurt from within. Kaj then proceeded to beat to a satiny smooth consistency, the yogurt with rose flavoured whipped cream. I know, it was very, very sexy.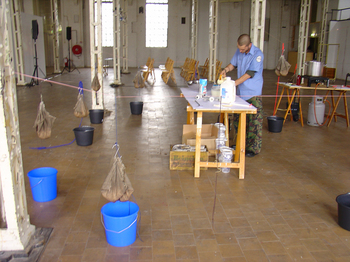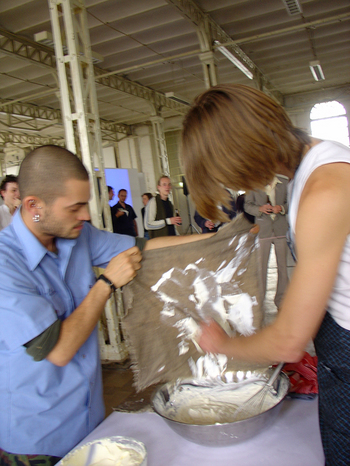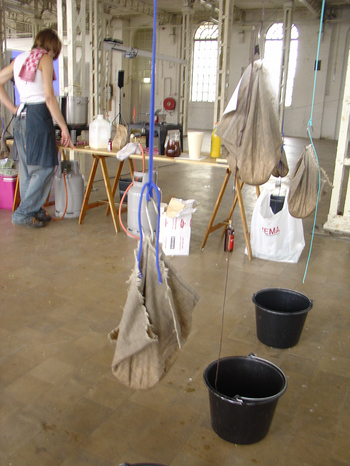 While the audience enjoyed a film by Annika Ström and a presentation of Jan van Toorn's (re)releases from the oldies but goodies of avant-garde sound-art, Kaj and Stefano prepared the banquet table with rose petals, rosey caramel, organic local strawberries and little bowls of hang-op.
Aan tafel, I sort of whispered into the microphone.

And Simon Kentgens kept popping up everywhere…
culiblog
a Sunday snack menu for
Artis
Edamame with sea salt
However much roughage they may contain, you're not supposed to eat the pods. Shoot the beans into your mouth and let the pod flutter to the floor.
Hippybeard
A hyper-nutritious snack that will force you to finally learn to eat with chopsticks.
Brushpicks
Be kind to yourself and ask your girlfriend if there are still any black seeds between your blades.
Hangop with local strawberries and rosey caramel
Take you place at the table before tucking into the rose caramel and strawberries. Eat as much as you want.
http://www.artisdenbosch.nl/actueel.htm
http://www.artisdenbosch.nl/
debra at 9:57 | | post to del.icio.us
5 Comments »