Rhubarb Marmalade Terrine
June 1, 2004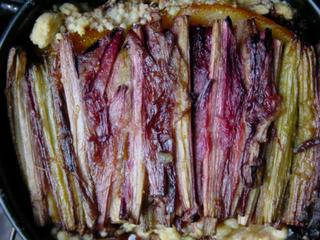 Because I grew up in a California household in which the sweet granules were often referred to as 'White Death', I sometimes encounter a little psychological barrier walking 500 metres to the market and dishing out 1 euro 40 to buy some sugar. Meanwhile, I seem to be the only one in my family to have taken the 'White Death' bit seriously.
Luise coming to dinner and I'm plum out of sugar because I used it all up last week making a massive batch of orange marmalade. My situation is not unlike the Weapons of Mass Destruction Scenario that was plaguing 'that Man'. I have lots of marmalade, and I know that it's just chock full of sugar because I put the sugar there in the first place.
I served this Rhubarb Marmalade Terrine with a stiff hangop (joghurt from which the whey has been drained) sweetened liberally with THAT's RIGHT homemade marmalade! I spiced the hangop with saffran and rosewater and spooned it into quenelles to serve next to the Rhu.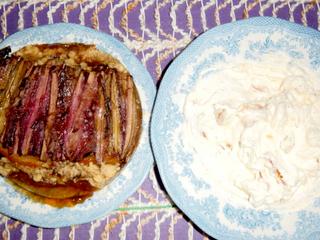 (Pity, this is not a very flattering picture! The Rhu Terrine looks like rack of lamb and the Hangop Marmalade looks like pickled herring in cream!)
To make the Rhubarb Marmalade Terrine:
serves 4-6
- 4 stalks of rhubarb (finely cut into finger-length slices)
- homemade orange marmalade (in which you didn't decimate the oranges but sliced them neatly into wedges)
- homemade crumble mixture for the crust (dice equal parts of flour, butter and sugar into crumbles, add orange zest and crumbled cinnamon)
- peanut oil
- fine stick cinnamon (= fine enough to pulverise with your fingers)
- one terrine pan
Preheat oven to 175�c.
Slice the rhubarb into a neat stack. Place this neat stack in an almost smokey-hot pan with molten peanut oil and fry. DO NOT STIR THAT WHICH MUST NEVER BE STIRRED. The rhubarb should lay in the hot hot hot frying pan just the way you want to see it on your plate.
To flip the stack, mash it down with the flat of the spatula so that the juices goop it together. Crumble some stick cinnamon on top of the still-neat-although-slightly-mashed stack and FLIP IT IN ONE GO - you will need to use your fingers. Once the rhubarb is seared set it aside.
Line the bottom of a terrine with parchment and press the crumble mixture into the form. Alternately layer the terrine with rhubarb (still in neat stacks - because neatness counts in this recipe) and the beautiful orange slices that you have dredged out of the marmalade jar. Neatness counted a second ago but it doesn't count now. Be sure to be slather lots of the orange syrup into the terrine, because that's where the sugar is. The rhubarb will be inpalatable unless you do this. Layer, layer, layer, just like you would a lasagne. Finish by drizzling some of the orange syrup onto the terrine.
Turn the oven down to 150�c and place the terrine inside. Bake until the creation lures you to open the oven. That will be about 75 minutes. Turn off the oven and leave the terrine inside until ready to serve… with little quenelles of marmalade hangop.
debra at 21:10 | | post to del.icio.us
2 Comments
So, if I'd make the marmalade, you'd do your rhubarb thing here in Ganges?

Comment by Kristi — June 4, 2004 @ 22:59

I would love to but it won't be rhubarb season in July. We can make something else though. Do you have an orange marmalade recipe that you like? If no, give a holler. LD

Comment by debra — June 7, 2004 @ 19:20
Sorry, the comment form is closed at this time.