Chef Thor, Croqueta d'Amor, Medaille d'Or, Cultural Sectór!
November 4, 2005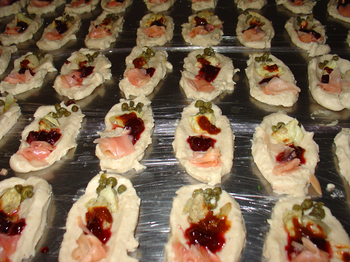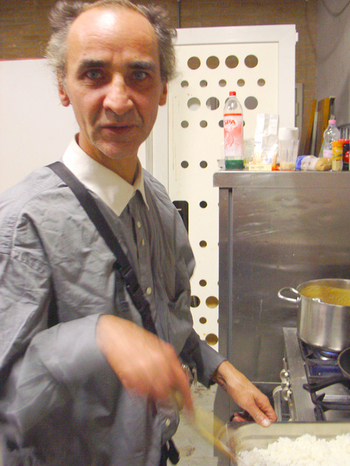 images top to bottom: Croqueta d'Amor in process, the chef formerly known as Thor, Chef Croquette works on a Croquette Japonais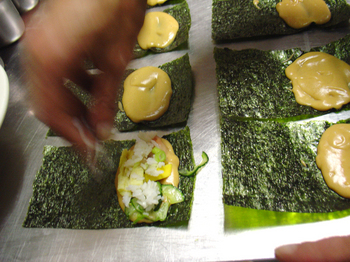 At a top secret location in Amsterdam's PostCS cultural hub, Chef Croquette and the Croquette Family get to work on the hundreds of croquettes ordered for a weekend filled with cultural events. It's as if the PostCS (home to the Stedelijk Museum, Mediamatic, Club 11, numerous artists' initiatives and one of the thirty-eight locations for the 6th annual Museum Night) suddenly needs it's very own croquette chef. Of course croquette commissioners from the cultural sector are the most demanding of all. To posh up their menus this weekend they unanimously chose two of the newest creations from the chef formerly known as Chef Thor; the Croqueta d'Amor ('No More War!' '7 Sabors!') and the Croquette Japonais.
Just like Willy Wonka's Magic Chewing Gum, each bite of the Croqueta d'Amor and the Croquette Japonais yields a different taste explosion, seven flavours in all. In the film as well as the book by Roald Dahl, the magic chewing gum is still in beta when bitchy Violet Beauregard (chewing gum expert and glutton) snatches a piece of the gum to give it a chew and to sell the recipe to a rival candymaker. Due to the side-effects caused by the experimental nature of the gum, Violet blows up into a giant blueberry and has to be juiced forthwith!
Let that be a lesson to us all.
Chef Croquette joked to me, 'er zijn kapers op de kust' , which is a charming Dutch way of saying, 'many is the chef that would pirate this recipe.' Indeed, as we prepared the croquettes in a location deep under the earth's crust, at least five chefs happened to 'pop in for a little chat'. I think they could sense that Chef C. had perfected the technique of creating an entire meal in ten cubic centimetres of croquette with no ill side-effects. That or the fact that the location was also a central storage place for beer. Either way, the concept of Open Source is not alive and well in the culinary world.

The chef formerly known as Chef Thor is now known as Chef Croquette. Thorwald Vos, initiator of Amsterdam's Supperclub v.1 (with Suzanne Oxenaar and Guda Stoop) wowwed the small but critical audience of the 6th annual Museum Night (Museum Nacht = Museum N8) with his new creations, the Croqueta d'Amor and the Croquette Japonais.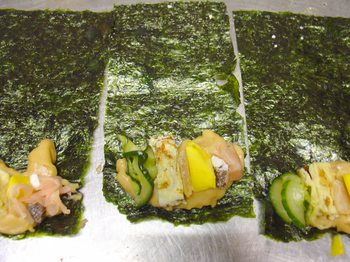 debra at 23:31 | | post to del.icio.us
2 Comments »
I'm so hungry for a croquette. Is that a béchamel on the nori? This is a wonderful site clean, great photos and content. Cook on!

Comment by Dan C — January 22, 2006 @ 18:40

Thor, leuk die kroket! Wil eigenlijk contact opnemen met Guda en Chang! Ga volgende week naar Gambia. Heb jij e-mail o.i.d? Thnx
Okkies NEUKAUF

Comment by Nicole — May 7, 2006 @ 1:17