Taking Cashew Cheese Seriously This Time
November 4, 2004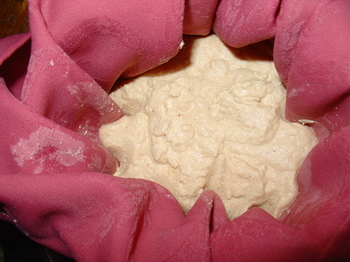 In my October 6th entry I report on buying R A W and how it made me nostalgic for the vegetarian classic, Laurel's Kitchen. I said I was going to take cashew cheese seriously these time and I am a woman of my word. Roxanne Klein's recipe calls for 'fermented bean water' but I just used kim chi (pickled cabbage) juice to sour the nut mash - worked great.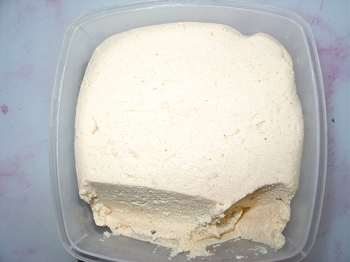 It's not called cheese because it tastes or feels anything like cheese - but it's really delicious, delicious enough to eat frequently. It will suffice for comfort food in these grim days.

Cashew Cheese:
1 cup cashews (and almonds) SOAKED FOR 10 hours and drained
salt
some water
something sour (like Kim Chi juice, sauerkraut juice)
Blend until extremely smooth. Place goop in a wet cheese cloth and suspend to drain out the cashew/almond milk. You can drink this, it's yummy. After 12 hours put the now dry cheese ball in a container in the fridge and let it sit at least 1 day - but preferably 3-4 days. It will start to ferment slowly and pleasantly and become something else entirely.
I experimented with a pumpkin seed cheese and this didn't pan out as well. The seeds aren't fatty enough and it's the emulsion of fat and water that makes the nut cheese recipes creamy enough to call cheese.
debra at 9:28 | | post to del.icio.us
5 Comments »