Brussels pearls neither bitter nor farty
January 6, 2006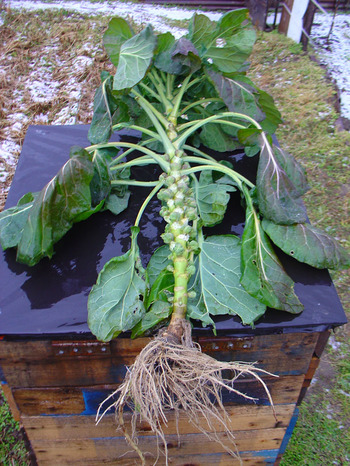 Look what Maman brought home for dinner tonight! While everyone else in the valley is shooting at wild boar, I managed to wrestle to the ground and uproot this domestic brussels sprouts tree. Admittedly, that sounds like I'm getting the short end of the stick, but the pearly buttons and sweet leaves of this homegrown resemble nothing of the bitter fartiness that I know to be storebought brussels sprouts. I've been scheming on how to bring back a whole tree to the sorrel-eating Dishy Lad on Tuesday, when I return to Amsterdam.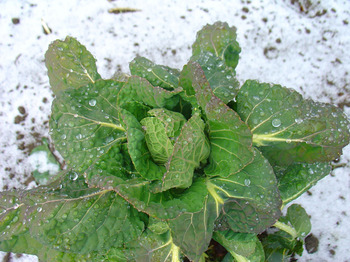 As a kid, not liking the food dished up at the dinner table was not an option. It was more or less expected that one would come to the table with a good appetite, sit down, join in the bubbly conversation and not only eat your food, but enjoy it. There was only one thing that brother Aar and I didn't really like, and that was brussels sprouts. Not liking something in our house meant that it was prepared once a year in the name of good health, and that we ate it anyway, smothered in tabasco sauce.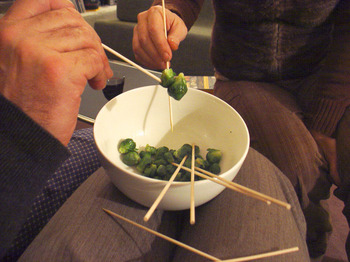 Tonight we're having brussels 'pearls' as a snack, that's how freaky we are! Two handfuls thrown into salted boiling water for just a few seconds, tossed with lightly salted butter and a squeeze of lemon and served on cocktail skewers. The friends were eating right out of my lap.
technorati tags: brussel sprouts, raw food, recipes, Languedoc, happiness, organic gardening, cooking
Brussels Sprouts Leaves Raw and Not Raw
fresh brussels sprouts leaves
(dressing)
sesame oil
rice wine vinegar
soy sauce
fresh ginger, chopped fine
fresh garlic, chopped fine
wasabe (or mustard)
Stack a bunch of brussels sprouts leaves on a cutting board. Roll them up lengthwise so that the 'cigar' is easy to grip. Cut into very fine shreds (chiffonade).
Make the dressing as you would a vinaigrette… in an old jam jar. Add enough ginger, garlic and wasabe so that when you give it a good shakin', the dressing becomes creamy.
Raw version: Toss the thin shreds of brussel sprout leaf into a goodly amount of dressing and let it sit at least an hour.
Cooked version: Pour a few glugs of olive oil into a hot skillet and toss in the shredded leaves. With some chopsticks whisk and toss the leaves a few times through the sizzling skillet and pour a few glugs of the dressing on top. Swish it all around a few more times and then tip out the lot into an awaiting bowl. Done in less than a minute.
Because I can't ever let well-enough alone, I perverted a traditional Dutch recipe of 'stampot', and served the Brussel Sprouts Leaves with mash. All eaters were silent in admiration.
debra at 18:38 | | post to del.icio.us
8 Comments »