Food-related film at the 4th Berlinale Talent Campus
February 23, 2006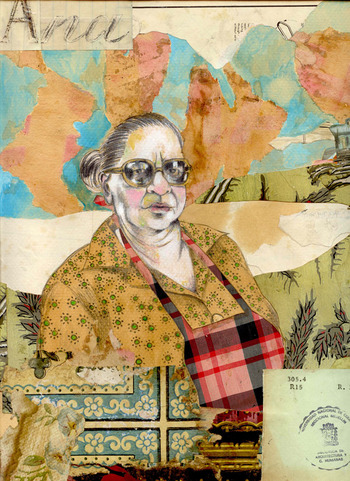 'Doña Ana', watercolour and collage that inspired Marlon Vasquez Silva's animation film Strawberry Eating Woman. 'Doña Ana' © Marlon Vasquez Silva, digital image courtesy of the artist
Apparently the director of the Berlinale International Film Festival, Dieter Kosslick, is obsessed with food and cooking. This explains why one of the six programmes had as its theme Food, Hunger and Taste. The 4th edition of the Berlinale Talent Campus (BTC), a section for young-ish filmmakers (when young means under 40), was dedicated to a heavily-worked relationship between food and film. Aside from my interest in the subjects, this was the most coherent and well-organised programme within the Berlinale. The Talent Campus offered young filmmakers a chance to meet, show their films, attend presentations, workshops and in general become indoctrinated I mean introduced to the film industry.
Although the evenings' big-screens at the BTC lamentably included worn out choices of food-related film like Babette's Feast, Eat Drink Man Woman, (how to ruin great films with unimaginative programming) and the dreaded 'Food + Romantic Comedy' genre piece, 'Bella Martha' by Sandra Nettelbeck, the programmers were wise enough to screen historical gems like Marcel Pagnol's 'Harvest (Regain)', informative documentaries like Hal Erickson's 'Alice Waters and her Delicious Revolution' (2003) and the most sensual cinematic food chain and materials exploration ever made, 'Drawing Restraint 9′ by Matthew Barney.
This year, thirty-two young filmmakers were spotlighted in the Berlinale Talent Campus and divided into a five part programme titled unoriginally, 'Food for Thought'. From the selection, the films on the subject of hunger tended to suffer most from ill-research and moralist pedantics.
But when the films were good, they were very very good. Here is the culiblog selection of the eight best films on Food, Hunger and Taste from this year's Berlinale Talent Campus (in alphabetical order):
A LOVE SUPREME. Nilesh Patel, UK: A hyper-rhythmic black and white short supposedly inspired by Raging Bull, but I see it as a sexy visualisation of a samosa recipe. I love the film's changing sense of time, concentrated detail shots and the stolen moments of materials pleasure. Bravo.
CAKE IN THE FACE. Katarina Hellberg, Sweden: At a Talent Campus laden with moralistic expressions, one of the most refreshingly humorous films was Hellberg's CAKE IN THE FACE. Hellberg interviews the head of the international 'pie-ing' movement, who says, 'Every time I pie someone it is a total orgasm.' The international movement throws soft cream pies in the faces of the offensively powerful as a political expression. This film is indicative of the acitivist undercurrent in the world of food at the moment, and would programme well alongside feature length documentaries. It offers the audience a light-hearted answer to combat the gloom that is the contemporary food and agriculture documentary.
It is noteworthy that of all the BTC short films, only those dealing with pies and cakes were funny. Short pause for thought.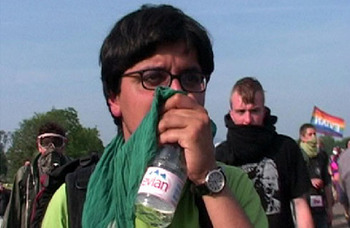 EviannaÏve image still © Verena Vargas, used courtesy of e|x|il Film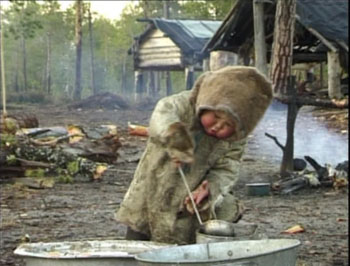 Tiny Katerina serves food to the dogs, image still © Ivan Golovnev, used courtesy of Golvnev Film
TINY KATERINA. Ivan Golovnev, Russian Federation: Golonev admits readily that Tiny Katerina is a film about changing lifestyle more than about food. It documents the youngest member of a Northwest Siberian family that lives in a felt tent in near isolation. Katerina can't be more than two years old, but it is confusing whether she is playing at being an adult or is actually participating in the rigourous family chores! We see her lugging blocks of firewood around and cooking for the family's dogs. Two years old! Golovnev's camera is completely unobserved, offering an intimate view of a life that will soon vanish in the petrol politics currently plaguing this region. The documentary short has a distrubing ending that places the film within a larger political context.
WASTE NOT, WANT NOT (CHICKEN A LA CARTE) Ferdinand DeMadura, Philippines: Just because I included this film on my list does not mean that I liked it. But Chicken a la Carte's subject has deeply interested me ever since I encountered it in PRChina: food-recycling. DeMadura follows a supply chain in which food travels from an urban food court in Anywhereville, South East Asia, to the kitchen where waste food is sorted, placed in a bag, in a bucket on a bike. I do not like green eggs and ham. Later the recyclist distributes the food amongst village children and the choicest of gleanings land ultimately on the family table of the food-recyclist himself. The practice is widespread all over… everywhere. Better film next time, DeMadura, but chapeau, your subject matter is rivetting.
technorati tags: Berlinale Talent Campus, Berlinale International Film Festival, film, food-related film, cinema, Berlin
debra at 15:25 | | post to del.icio.us
No Comments »