Saosan's carob syrup
August 26, 2008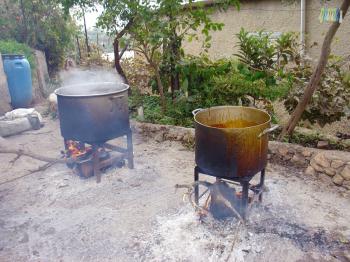 A sloppy fig branch roadblock fuels fires burning purposefully under two steel pot stands, each supporting a blackened aluminium cauldron. You can feel the heat halfway down the street where unpredictable gusts of smoke inevitably find your eyes, turn your head for a breath of, oh the parfum of fig wood smoke. Please stay in my hair forever.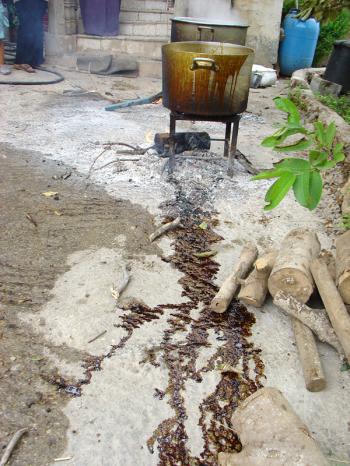 Inside the cauldrons a boiling coffee-coloured liquid moves Saosan and Kamili to swoop in with ladels to test its consistency. If you can get close, the smell of burnt sugar wins out over fig wood. Some protective gear would help against the heat, the ladies are all about layers. Saosan approaches with a sticky plate and dimples that ask me to taste. Molasses, carob, sticky, good. Not entirely my cup of tea, but I no sooner think this than a cup of carob tea is pressed into my hand.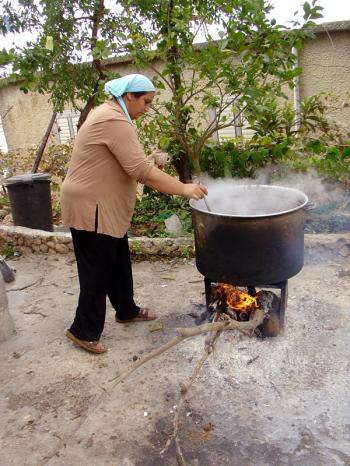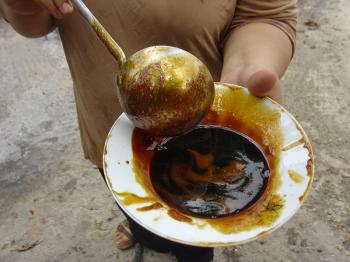 Kids flit in and out, attracted by the activity, fiddle with Saosan's efficient fires. The little boys at least are eventually shooed away by her shouts, go to start their own much bigger fires, considerably larger than they are. It's all in good fun, the flames are massive but die down quickly, like the attention spans of the boys that make them. The boys are burning cardboard which would infuriate our Maurizio, if only he knew. 4 days now he's been trying desperately to commandeer all of Ayn Hawd's used cardboard for Yona's installation.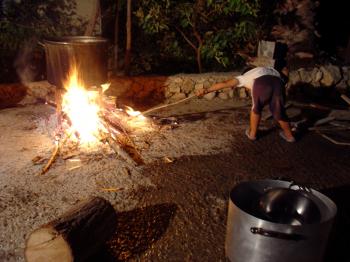 Saosan and Kamili are making carob syrup or 'rup', from the carob they picked themselves, washed themselves, cut and soaked themselves. The entire house is involved, the entire street really, seeing as how it's blocked off with big fig branches, hastily sawn, some not sawn just broken off. Spatially, temporily, apparently, this is the time of 'rup'. Saosan is making a year's worth, two days in, days and nights, really. One more day to go, and night.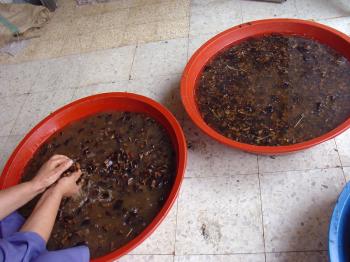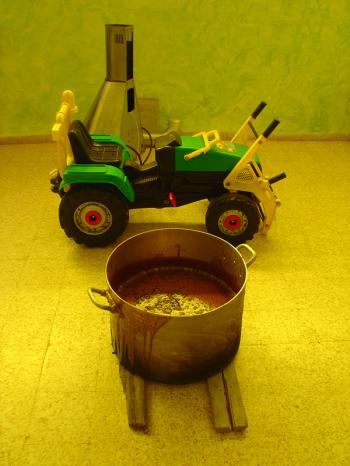 debra at 10:47 | | post to del.icio.us
5 Comments »