Fritz Haeg's Edible Estates
homesteading on the suburban lawn
September 26, 2005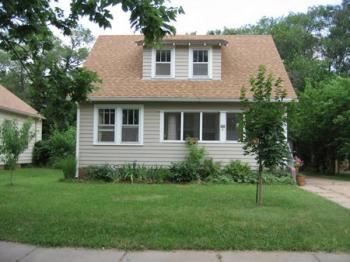 Start with one suburban home in Middle America (images of Salina Kansas Edible Estate © Fritz Haeg, used entirely with permission)
Situated on what was once a massive sugar beet plantation, the iconic housing development of Lakewood is an embodiment of an American Dream in which each single-family dwelling is presented on an ornamental carpet of manicured green. In the 1950's, the Lakewood Park Company introduced assembly line housing developments to California constructing 17.500 homes on 3.500 acres in little over a year at a rate of about 1000 homes per month. In the last 3 months of 1950, families moved to Lakewood at a rate of 25 a day. Lakewood is now home to the Edible Estates regional prototype garden.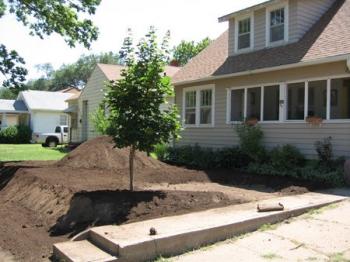 (image © Fritz Haeg, used entirely with permission)
In 2005, Edible Estates began transforming suburban lawns into spaces for food production, starting with the lawn of the Cox family in Salina, Kansas. The Edible Estate in Lakewood California is the home of the Foti Family who in 2006, de-lawned in favour of bio-diverse edible landscaping on Memorial Day weekend. The installation date couldn't have been more apt, and images of WWII Victory Gardens spring to mind. But Edible Estate gardens are not simply rows of corn, beans and zucchini. In fact the gardens are highly designed, aesthetic spaces that have been planted to produce the food of the region.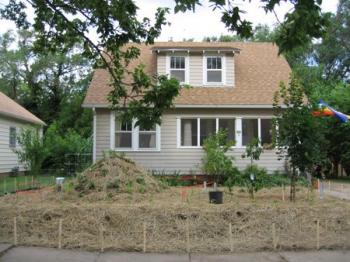 Transforming a lawn into a garden with edible plants
(image © Fritz Haeg, used entirely with permission)
Michael Foti kept a diary of the first year of their Edible Estate food production on his weblog. The blog was filled with sound gardening advice, useful for any homesteader and is larded with funny stories about his grub-eating chickens and the garden 'that ate his marriage'.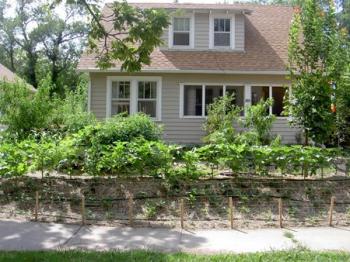 A lush productive landscape in suburbia (image © Fritz Haeg, used entirely with permission)
debra at 12:34 | | post to del.icio.us
1 Comment »
How can anyone really take this guy seriously?

http://www.youtube.com/watch?v=2Sc3aK5YV3U

Art or a 3rd grade project????

My favorite YouTube parody:
http://www.youtube.com/watch?v=PkFJB6xrMVI

Comment by Judi Collins — July 7, 2008 @ 4:22