Yesterday's news: anti-advertgames
February 3, 2006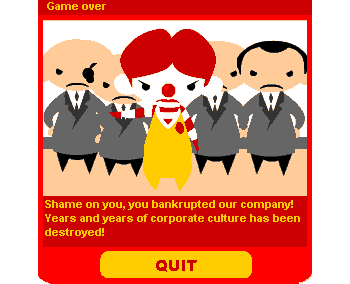 "Making money in a corporation like McDonald's is not simple at all. Behind every sandwich there is a complex process you must learn to manage: from the creation of pastures to the slaughter, from the restaurant management to the branding. You'll discover all the dirty secrets that made us one of the biggest companies of the world."
So state the Italian artist-activist makers of the McDonalds anti-advertgame, Molleindustria. I don't know if the fact that the rainforest is being destroyed to grow soy beans for hamburger meat or that cows are fattened with industrial garbage in feed lots is a secret anymore, but playing the online game illustrates that it definitely is a challenge balancing the economic factors of selling a burger without turning into a blood sucking evil-ass. After playing McDonalds for an hour, I had not once succeeded in making a profit and in fact I caused the company to go bankrupt every few minutes.
And if you're thinking, 'couldn't happen to a nicer bunch of guys', have a go.
The tip off is from Regine at we-make-money-not-art, a trend and technology blog. Thank you!
debra at 9:21 | | post to del.icio.us
1 Comment »