Halalchisch
November 6, 2004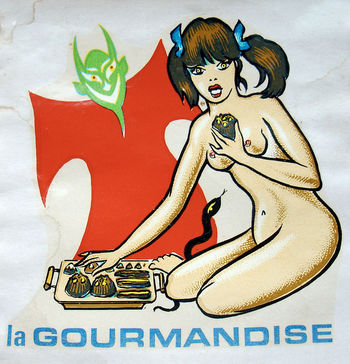 What's wrong with this image?
debra at 19:52 | | post to del.icio.us
2 Comments »
should it have been an apple instead of pastry?

Comment by Kristi — November 7, 2004 @ 9:00

well it's a long list and it includes the poor nutritional habits of the gourmandise as you have mentioned in your comment.

I would also like to include:

1. her toes are touching the baking tin
2. she's reaching for a new cupcake with a yet uneaten cupcake still in her hand
3. the cupcakes appear to frosted but still in the tin
4. she's eating in the company of a snake

It is a disturbing image!