37 uses for a dead sheep, a film review and a re-count
April 1, 2006

image used courtesy of Ben Hopkins and Tiger Lily Films, © Nikki Parrott
One of my favourite films at this year's Berlinale (Forum), was Ben Hopkins magnificent meta-documentary, 37 Uses for a Dead Sheep. As far as I'm concerned, you really can't go wrong with a film about yurts, yoghurt, nomadic tribes and the shifting borders of the 'Stans' in Central Asia. I put my pants on one leg at a time.
37 Uses, is not so much Hopkins' film but a collaborative work, made with the Pamir Kirghiz tribe, a splendid historical document. The film begins in the 19th c. with the Super Powers divying up Central Asia, a region that since the inventions of salt, silk, and opium remains one of the hottest properties on earth. We watch as beautiful nostalgic footage is fabricated through the tribe's reenactment, aided by the expert Kirghiz art direction of Muhammet Ekber Kutlu, son of the last Kirghizian khan, Rahman Qul.
In case you weren't paying attention during Central Asian History, the Pamir Mountains are the North Westernmost range of the Greater Himalaya, but are the feather in the cap of what is now known as 'the Stans'. Pakistan, Afghanistan, Turkmenistan, Uzbekistan, Tadjikistan, Kirghizstan and Kazachstan. Did I forget anyone? It's all about where you think the centre of the world is situated, and that is what has been keeping the Kirghizians on the move, beyond their normal pasturalisations. The Pamir Kirghiz, no strangers to hardship inflicted by Super Powers, have (partially) avoided ethnic cleansing by doing what they do best, being nomadic.
Nomadic pastoralists have a greater need for pastures than borders, but when in 1979 the sheep trade with Kabul became impossible, Khan Rahman Qul moved his entire tribe all the way down to Gilgit in Pakistan. There he tried to find a suitable homeland for his people, at one point applying for 1000 visas to move the entire kit and kaboodle to Alaska!
Since 1982, the Pamir Kirghiz live in Ullapamir. Pamir yes, Kirghizstan, no. Ullapamir is in Eastern Turkey, where the Kirghiz live in cement houses, not yak felt yurts, sedentary, no longer nomadic. People born after 1982 have no knowledge of the traditional Kirghiz lifestyle, and Hopkins' film ends with the story of a very urban young Kirghizian nurse living in Istanbul. When you see this educated woman, you can't imagine her, or even wish upon her, the task of milking a yak or a sheep, and seeing to the fermentation of dairy products. Although…
37 Uses for a Dead Sheep is larded with Hopkins trying to get his head around what seems to be an endless amount of things that you can do with Kirghzian livestock. These were for me the funniest scenes, and not just because they were talking a lot about yoghurt. The only disappointing thing about this wonderful film is that there aren't really 37 uses for a dead sheep, but only 36. And while I'll be the first to admit that dung is useful, the old man counted it twice. Bring down the total to 35!
Yoghurt features prominently in the history of the Pamir Kirghiz tribe. There is a hilariously acted scene in which the young Rahman Qul is saved from Russian poison by tucking into a bowl of yoghurt. Because 7 of the 35 uses of a dead sheep are yoghurt-related, I would like to remind Hopkins that you don't actually need to kill a sheep to extract its precious yoghurt. But I cede that the film's title wouldn't have the same ring to it.
37 Uses for a Dead Sheep is an excellent film about people making history, making film, and a little bit about making yoghurt.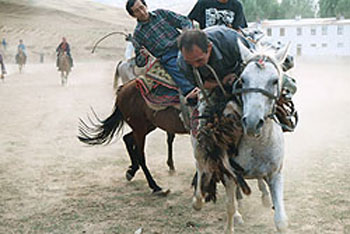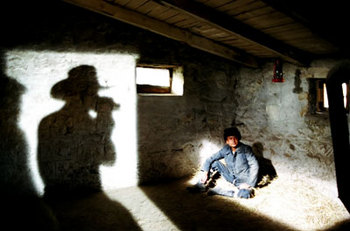 Format: DigiBeta
Year of production: 2005
Running time: 85 mins
Director: Ben Hopkins
Co-Producers: Natasha Dack, Nikki Parrott, Ben Hopkins
Editor: Marco van Welzen
Screenwriter: Ben Hopkins
Director of Photography: Gary Clarke
Music: Paul Lewis
Principal Cast: The Kirghiz tribe
Production Company:Tigerlily Films Studio 17 The Whitechapel Centre Myrdle Street
London E1 1HL, England
Telephone +44 (0)20 7247 1107
info@tigerlilyfilms.com
Sales Agent:Electric Sky 1 Clifton Mews Clifton Hill Brighton BN1 3HR, England
Telephone +44 (0)12 7322 4240
Fax +44 (0)12 7322 4250
info@electricsky.com
www.electricsky.com
Agent: Jane Fuller Associates, 10 Golden Square London W1R 3AF
Tel: +44 20 7494 2067
Fax: +44 20 7734 9147
Email: jfa@dircon.co.uk
An untold part of this particular story is that Turkey isn't as generous with the Kurds as it is with the Kirghiz, but then, the Kirghiz are ethnic Turks, and the Kurds are… on their own.
debra at 18:10 | | post to del.icio.us
No Comments »