Lab meating Friday
food, art & science
snacks & symposium
June 28, 2007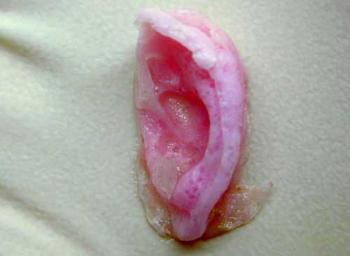 Listen up, why am I pink? Tissue Culture and Art's Extra Ear 1/4 Scale, used entirely without permission
As part of the exhibition Genesis, The Art & Genomics Centre at the University of Leiden, in sweet collaboration with the Centraal Museum in Utrecht have organised a symposium on the subject of food, art and science. It's going to be an exciting event with all that lab meat, ethics, art and highly controversial snacking. A more thrilling Friday evening is hard to imagine.
Marlein Overakker and Inez de Jong from Wandering Banquets are in charge of the evening's alimentary entertainment. Chefs cum pioneering food designers, they know their way around the kitchen and have designed a menu of snacks that correspond seamlessly to the speakers. I'm last after all of those smart people, wondering if that makes me the icing on the cake…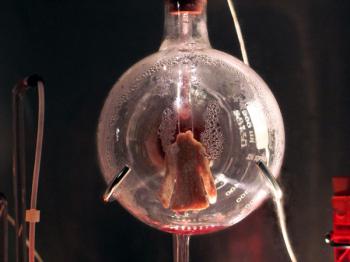 Victimless Leather Jacket, by Tissue Culture and Art, used entirely without permission
In preparation of my presentation in Dutch
(Smart + Dutch + Slanguage = Eeeeks!!!!)
I have been having the hardest time finding worthy Dutch translations for the following English words. Please feel free to help me out in the comments. The list reads like a poem, don't you think?
whole foods = ?
plant based diet = ? (It's not plantaardig…)
environmental impact = ?
resource intensive = ?
livestock population = veetelt populatie?
food technology = voedsel technologie
food scientist = voedsel wetenschapper
disconnected = vervreemd
nutrient = nutriënt?
nutrition = ?
nutritionism = ?
processed food = ?
encountered = ?
entitlement = ?
And not necessarily in that order.
Here's the lineup:
19:00 - Opening
19:20 - 1st controversial snack
19:30 - Prof. Henk Haagsman, Meat Scientist, University of Utrecht
19:50 - Prof. Michiel Korthals, Ethicus, University of Wageningen
20:10 - short pause for thought and 2nd controversial snack
20:30 - Dr. Cor van der Weele, Ethicus, University of Wageningen
20.50 - 3rd controversial snack
21:00 - Debra Solomon, artist/designer/culiblog.org
21:20 - 4th controversial snack
21:30 Panel discussion thankfully w/moderator Annemiek Nelis: Prof. Henk Haagsman, Prof. Michiel Korthals, Dr. Cor van der Weele, Debra Solomon
Useful links:
debra at 12:03 | | post to del.icio.us
12 Comments »