The Edible City
February 26, 2007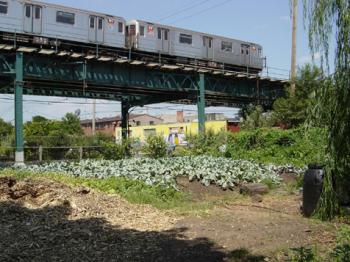 For the past few months, together with colleagues Hans Ibelings and Anneke Moors, I have been curating an exhibtion for the Netherlands Architecture Institute in Maastricht titled the Edible City. The exhibition is about the urban environment and its food systems. There was a time when city-dwellers could more or less provide for their own alimentary requirements. The entire production, distribution, consumption and recycling of food took place primarily in the city and its immediate surroundings. But since the Industrial Revolution, the chain of food 'from field to fork' has greatly increased in length.
The Edible City presents a diverse range of proposals and strategies to produce food in or near the city and that offer the opportunity to experience the city in a different way. As befits the subject, much of the exhibition is itself edible.
- Farmers' Markets: Nina Planck, London Farmers Markets, Carolina Verhoeven (also, thanks to Brouwer Betist en Sawadee)
- Drinking water fountain - Jan Konings
- EcoSphere - Happy Shrimp Farm
- EVA-Lanxmeer - Foundation EVA (Marleen Kaptein) and House of Concepts (Jorn Mols)
- Exploded London, Egg diagram, LeisurESCAPE and images of Cuban organoponicos - Bohn & Viljoen Architects
- Farmtycoon - FABRICations (Eric Frijters), WUR-Alterra, InnovatieNetwerk
- Infra Ecology - Duzan Doepel, Jago van Bergen, Willemijn Lofvers
- Maastricht, Tolbert, Rotterdam - o.m. Foundation Oudheidkamer Fredewalda Tolbert (Bralt Hovinga)
- Middlehaven Docks - SMC Alsop Architects
- Parc Unimétal Caen - Agence Dominique Perrault
- Tour vivante - Atelier SOA Architectes
- Food chain city / Voedselketenstad - 2012 Architecten, Het Portaal, Innovation Netwerk
- Wujin WAZ Holland Park - WUR/Alterra (Peter Smeets, Rik Olde Loohuis)
- Sand bag garden / Zandzakkentuin - Studio Jurgen Bey
- Seven street pieces for Almere / Zeven Straatstukken voor Almere - De Pavi
The exhibition is based on an idea by Guus Beumer and is curated by Debra Solomon (culiblog.org), Anneke Moors and Hans Ibelings. The exhibition design is by Event Architecture, in collaboration with Hans Engelbrecht and Margriet Visser (de Groene Stap).
debra at 2:26 | | post to del.icio.us
3 Comments »
What a interesting project, what a exciting blog. I'm glad to find it!!!

I love the idea of growing food locally. When is The Edible City coming to Toronto…many people here would appreciate the idea

Comment by Gabrielle — April 7, 2007 @ 4:04