Wasps squatting the kitchen garden
August 23, 2006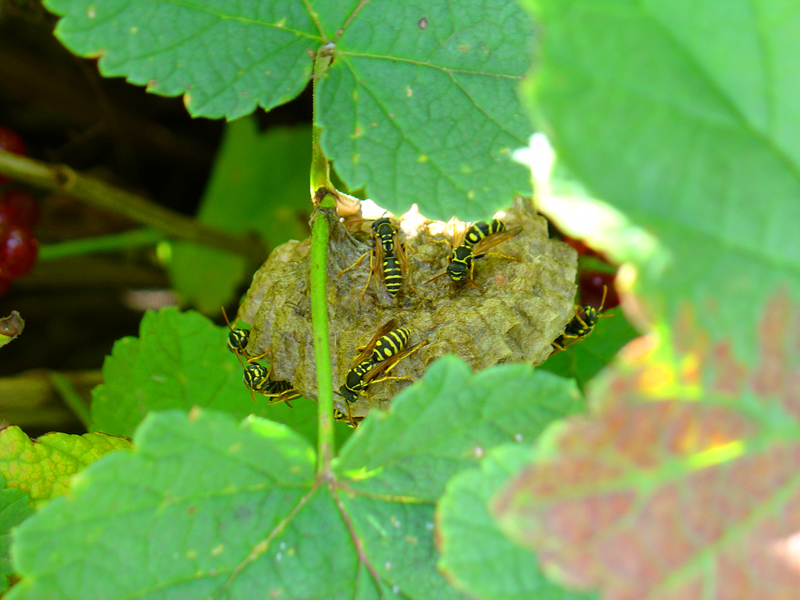 A wasp nest hiding in one of the red currant bushes preventing harvest
Last summer we were the best of buds, sharing berry bushes, this year my mere presence sends the wasps into such a frenzy that we barely fit in the same garden. I've already been stung five times, including one multiple sting on the inauguration of weeding season, when I put my hand straight into a nest. Fortunately I'm not allergic to wasp sting, and a big dab of wet mud seems to stop the spread of both poison and pain.
All over the garden I find the wasps' summer homes and ceramic larvae nurseries. They're especially attracted to the retaining wall between Kristine's and my garden where there isn't much growing except mint, sorrel, basil and shiso. I'd like to prepare this bit for next year by migrating my strawberry plants on over and filling the rest of the space with tallish perrenial flowers. But the wasps won't hear of it, threatening me with aggressive gestures of, 'I'm going to give you such a sting, you!' anytime my hands go near their bank. Maybe it's my very presence that has them up in arms, but they seem to be expanding their territory, squatting the rosemary bush on the opposite side with one of their papery nests. I can't even get close enough to take a photograph, let alone get a proper marinade going for the mutton chops!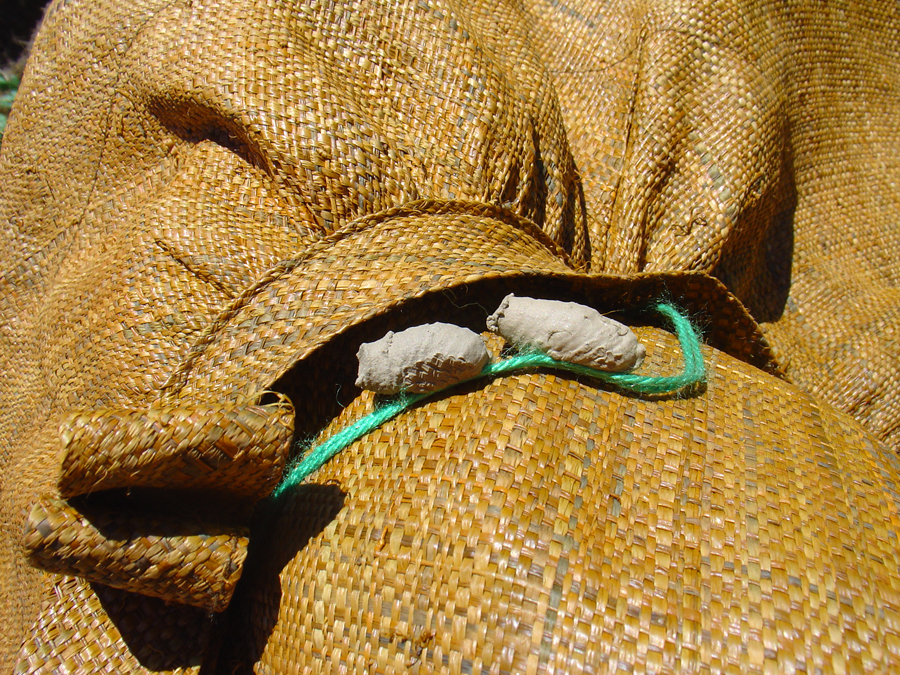 Two wasp larva nests attached to the chin-tie of my gardening hat
Yesterday I went to the garden at midday to observe what the wasps are up to when everyone else is taking siesta. Because it finally warmed up again, I decided to wear my gardening hat, which I'd left hanging unused in the shed for the past 3 weeks. When I reached to grab it, a rather large lizard plopped out, falling first upon my arm before landing with a thud on the floor. I shrieked, 'BuhGAWWWGCK' and did a rather silly backwards dance out of the shed. But much more unnerving was what I found in the rim of the hat; two adobe wasp nurseries. Armed with my elevated lizard heartbeat and a long stick, I detached them from the yarn and when they fell to the ground, I smashed them to bits with my sandal.
Pause.
And then I felt like the most stupid beginning organic gardener in the history of the world. I hope that this one misguided action isn't the first step on the road to neo-conservatism. You can imagine what would have happened if handguns were legal down here.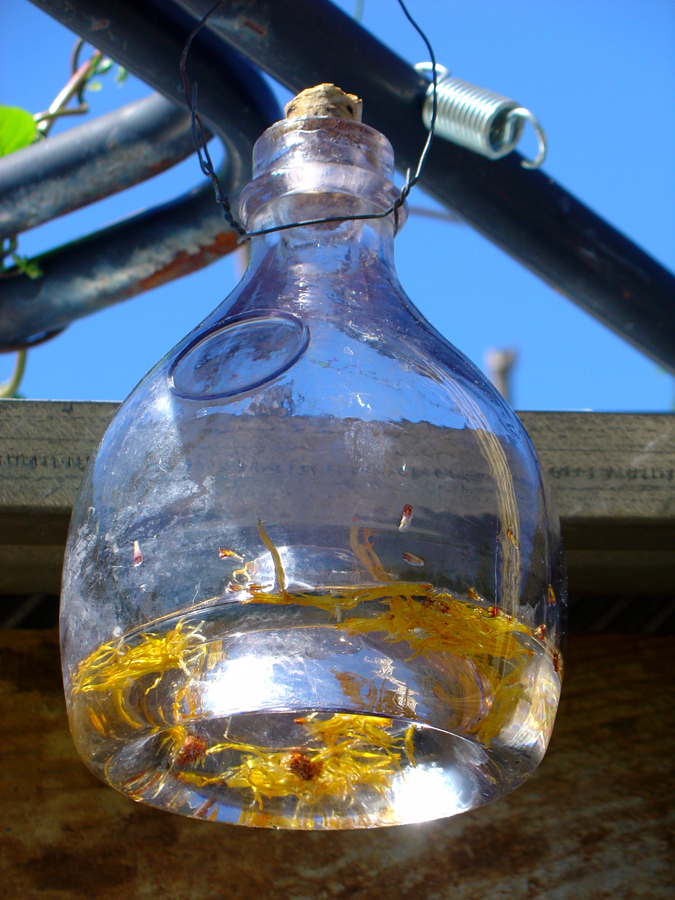 This old fashioned wasp trap looks great and the calendula syrup I put in it tastes good too, but the wasps will have none of it
My judgement clouded by the the pulverisation of the ceramic homes, I resolutely declared war upon the wasps and set out an old-fashioned nectar trap. The wasps ignored it completely. 'What, you don't like my cooking?' This morning I searched online for biological pest control only to discover that wasps are biological pest control, used as pest predators to kill much more harmfull bugs. Apparently I'm supposed to be jumping for joy that I even have them in my garden.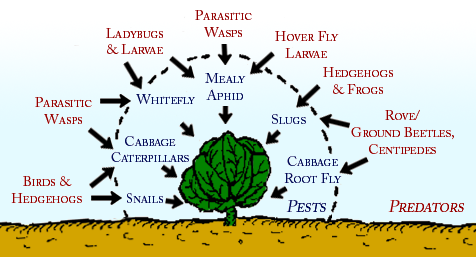 This is the reason I should be happy about my wasps. I do grow a lot of brassicas and cabbages.
But I don't relish the notion of repeatedly being stung, and because the wasps seem to be too smart for their calendula nectar trap, today I'm going to try a method I read about this morning. It seems that one can make fake nests out of crumpled brown paper and place them in proximity to real nests. Wasps are supposedly non-confrontational (!) and in their fear of an all-out wasp war, avoid the place with the nests alltogether. Fingers crossed this psychological approach to eviction really works, and not in a half-assed, hippy-dippy, organic gardening sort of way.
The nice thing about living in the Languedoc is that this is my biggest problem. Worse comes to worse, I'll have to learn to live with wasps and save the thorough wasp cleaning for the dark of winter. There will probably be wasps enough all around the allotments next year, and my wasps will just have to do a little commuting, which can be consdiered a form of exercise. If anyone knows of a truly effective NON-CHEMICAL method to discourage wasps from nesting, please let me know. The underside of the retaining wall and it's proximity to the waterway mud is a perfect wasp building zone, but I would prefer they experiment with new forms of architecture elsewhere. Neo-con, NIMBY politics…
debra at 12:50 | | post to del.icio.us
5 Comments »