This year's potatoes, last year's mushrooms
August 26, 2006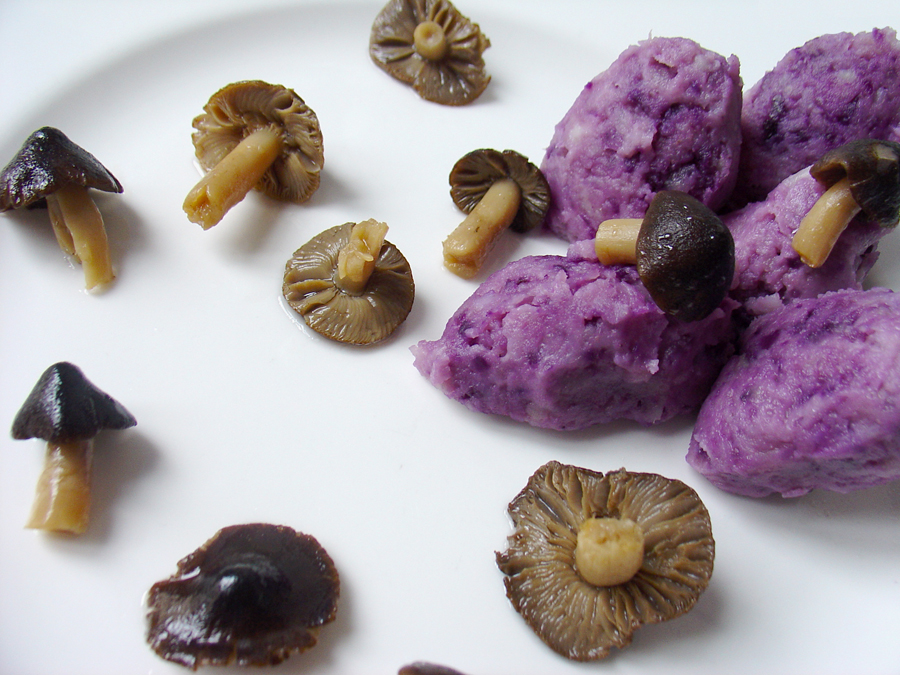 Peruvian purple potato mash with pickled grisets (tricholoma terreum). Colours unretouched.
It's a luxury to wear yer bikini top as a bra and to get sick of peaches and yer own homegrown tomatoes, but now that the temperatures are regularly dipping below 28°c, Lawd knows we need our carbs. I'm longing for autumn's heavier food and I can't wait to go mushrooming, so this morning I went on a one course sabbatical from summer food. Good thing we're not really subsistence farmers because we'd be subsisting on this one meagre portion. The rest of the Purple Peruvian potatoes are still unseasonally in the ground, as tiny as you please. Next year's seeds.
What do they taste like? Good texture, nutty and full of flavour, almost cashew-like. I recommend eating these Peruvians. But growing them? For a potato that's supposed to be hardy, they didn't stand up very well to the neglect and covercrop takeover that they suffered at K'tje's hands this year. I'm reserving judgement until next year when I give them a go in my own kitchen garden. They're so beautiful, it's like handling jewels.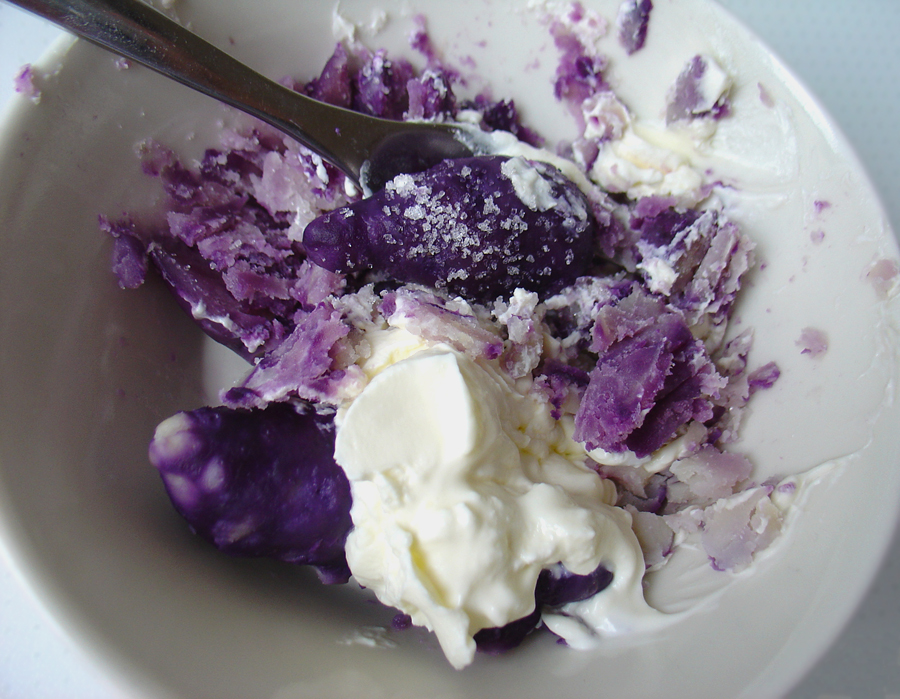 Mash in the making. Colours unretouched.
Potato Mash
2 parts potatoes
1 part creme fraiche
pinch of fleur de sel to taste
Boil potatoes dirty and unpeeled in a pan of salted water. When they're soft enough, pour off the muddy hot water and fill the pan with cold water. Let sit for a moment and then peel the papery skin off in one fell swoop. This is the easiest method for removing jackets from potatoes. Just the jacket and nothing more.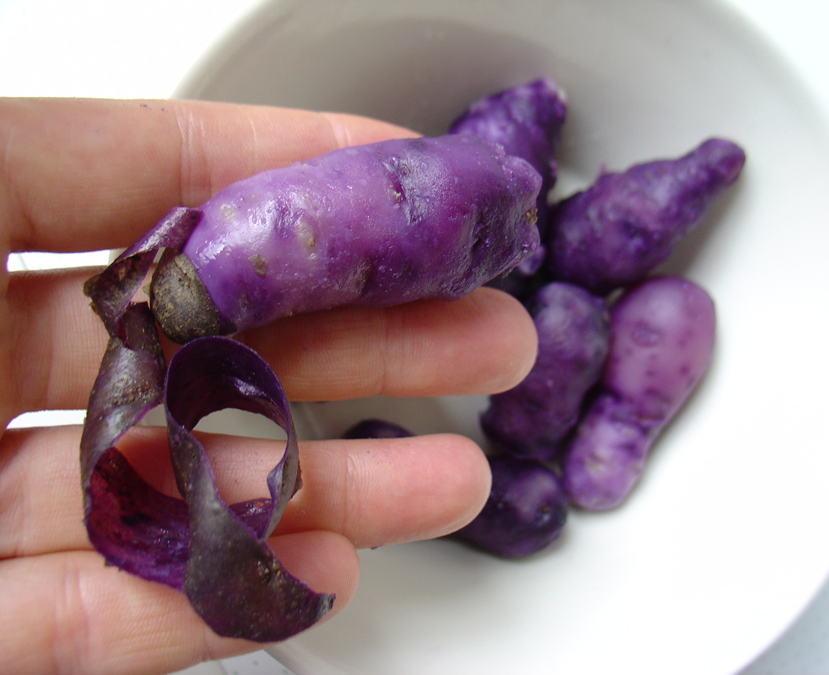 Peel thusly. Colours unretouched.
Mash the above ingredients together with a fork or potatoe masher. Chunky is good in my book, but then again, I'm a hippy femme sauvage. Don't be afraid to put the mash back on the flame to get it piping hot. You can make the mash and reheat later as needed. Restaurants always do.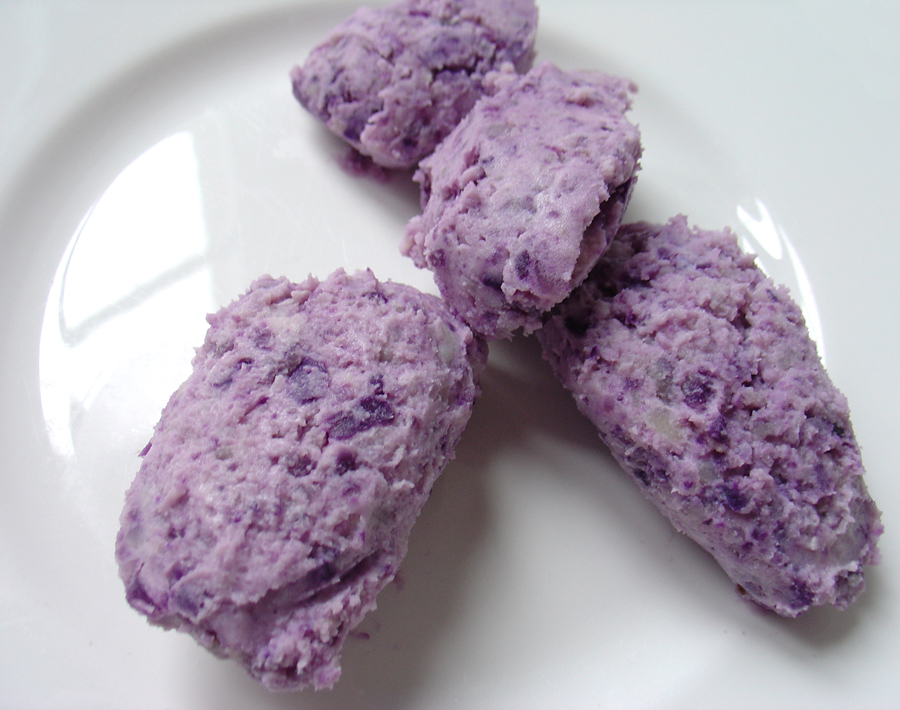 Anyone who votes the way I do really has no business making quenelles.
About the mushrooms in the top images, they're tricholoma terreum or petits grisets or grey agarics. Friend Peggy picked and pickled them last Autumn. Now she's laid up healing her achilles tendon. I'm calling every day to find out if she's well enough to go mushrooming. And Peggy replies every day by asking me if I made it rain up in the mountains.
Tricholoma terreum (Schaeff. : Fr.) Kummer (edible) (comestible **)
SYNONYM(S) : Tricholoma myomyces Lange, Tricholoma terreum (Schaeff.: Fr.) P.Kumm.

DUTCH : Donkergrijze ridderzwam.

ENGLISH : Grey agaric.

FINNISH : Harmaavalmuska.

FRENCH : Tricholome terreux, Petit gris.

GERMAN : Mäusegrauer Erdritterling, Mäuseritterling, Erdritterpilz, Erdgrauer Ritterling, Graublätteriger Ritterling.

ITALIAN : Agarico color di terra, Cavarese, Cavariso, Morette.

SPANISH : Tricoloma portentoso, Seta de estepa, Negrilla, Fredeluch.

SWEDISH : Jordmusseron.
debra at 23:39 | | post to del.icio.us
5 Comments »