Edible Estates breaking ground in London
May 26, 2007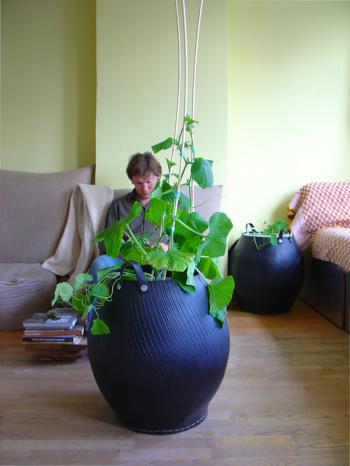 Butternut squash and nasturtiums about to go vertical
Looking to get your hands dirty in London this weekend? Edible estate agent Fritz Haeg will be breaking ground on his 4th edible estate, this time in collaboration with the Bankside Open Spaces Trust (BOST) and commissioned by the Tate Modern. Haeg will work with the families in an inner city London housing block converting the public lawn in front of their building into a productive landscape of vegetables, fruits, herbs and grains.
Considering how the Brits love their lawns, this is truly groundbreaking. Haeg has been been raising awareness in the US about the footprint the suburban lawn, and with this project he'll be tackling the nature of this public urban space in London.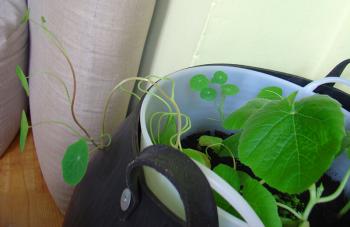 Calabash and nasturtiums in a domestic setting
The planting will take place this weekend (May 25-27) and you can either email Fritz (fritz at fritzhaeg.com) or simply show up at the corner of Lancaster St. & Webber St. in Southwark, near the Borough, Southwark & Waterloo tube stations if you want to participate. I'm imagining it will be an all-hands-on deck sort of thing and probably Madonna and family will be there, but I'm not completely sure. What is certain is that the champions of productive urban landscapes, André Viljoen, Katrin Bohn cum sui (Bohn & Viljoen Architects) will all be rolling up their shirtsleeves on Sunday. Guess there's no time like the present to rub elbows with the elbow greasers.
In solidarity of the Edible Estate planting, I'll be spending the weekend encouraging my own indoor kitchen garden squash to grow upwards and going 'round the neighbourhood stealing ladybugs to gift to my windowsill sunflowers. The sunflowers have been blighted by a herd of aphids and the organic soap I used as a pesticide had absolutely no effect in stemming the scourge.
Because this is my first time growing plants in containers, I've completely underestimated the amount of real estate needed by each plant. Now that the squash are starting to take off it's really obvious, a phenomenon that is camouflaged in an outdoor garden. I'm now training the plants (all of which are enthusiastic climbers) to grow upwards and I expect that within a month's time I'll have 'grown' some privacy for my steady stream of houseguests languishing on the couch slash guestroom.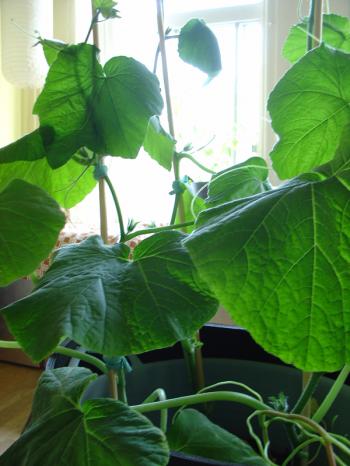 Flower buds are already forming!
debra at 12:43 | Comments (1) | post to del.icio.us
The Future of Food
May 21, 2007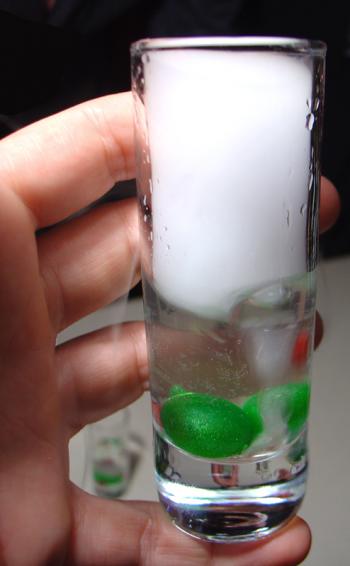 A molecular gastronomic cocktail served at yet another 'future of food' event last week in Amsterdam
The next two days I'll be venturing even farther into the Polar Circle to speak at the Poker Club and visit the Six Cities Design Festival. I'll be speaking with Dr. Peter Barham (who will hopefully not be offended if I describe him as a British Harold McGee) on the Future of Food.
By the way, that's poker for poking a fire and wagging a finger and not poker for gambaleering although one of the evening's sponsors produces single malt scotch. Fill'er up!
debra at 9:16 | Comments (0) | post to del.icio.us
A yogic diet is not for me
May 18, 2007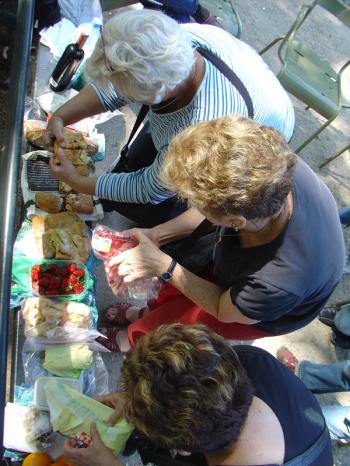 My Aunties preparing an oddly sattvic picnic for our family in Paris' Jardin de Luxembourg
It's slightly troubling to learn that my ancestral diet and a yogic or sattvic diet have little in common. I'm a lover of leafy greens, an initator of a sprout restaurant and I've been known to be inordinantly open-minded about experimenting with ways of eating - including not eating animals whilst ample assed middle-aged sheep scamper happily on the thyme scented hills surrounding the Occitanian kitchen garden. But a diet low in fermented foods? That's just treading on Gawd's own work…
This text has been lifted from Yoga Diet, the Three Gunas by Jennifer Bagus not exactly a primary source, but not necessarily a bad point of departure - if you want to get yer ire up or feel holier than moi.
Sattvic foods
The Sattvic Diet is the purest diet, the most suitable one for any serious student of Yoga. It nourishes the body and maintains it in a peaceful state. And it calms and purifies the mind, enabling it to function at its maximum potential. A Sattvic diet thus leads to true health; a peaceful mind in control of a fit body, with a balanced flow of energy between them.
Sattvic foods include:
- cereals
- wholemeal bread
- fresh fruit and vegetables
- pure fruit juices
- milk
- butter and cheese
- legumes
- nuts
- seeds
- sprouted seeds
- honey and herb teas
Rajastic foods
Foods that are very hot, bitter, sour, dry or salty are Rajastic. They destroy the mind-body equilibrium, feeding the body at the expense of the mind. Too much Rajastic food will over-stimulate the body and excite the passions, making the mind restless and uncontrollable.
Rajastic foods include:
- hot substances, such as sharp spices or strong herbs
- stimulants such as coffee and teas
- fish
- eggs
- salt and chocolate
Eating in a hurry is also considered rajastic!
Tamastic foods
A Tamastic diet benefits neither the mind nor the body. Prana, or energy is withdrawn, powers of reasoning become clouded and a sense of inertia sets in. The body's resistance to disease is destroyed and the mind filled with dark emotions, such as anger and greed
Tamastic foods include:
- meat
- alchohol
- tobacco
- onions
- garlic
- fermented foods such as vinegar
- stale overripe substances
Overeating is also considered tamastic, as are leftovers!
debra at 19:17 | Comments (1) | post to del.icio.us