Grow yer own dang food
(part 1)
January 30, 2006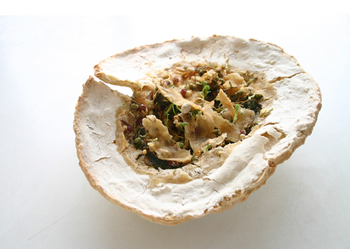 Image of sprouting bread courtesy of Cygalle Shapiro
Back in the eighties, as a student at the University California at Santa Cruz, I lived in a vegetarian commune with a bunch of hippies. As hippies, we produced our own sprouts, yoghurt and salsa fresca for the entire commune, approximately thirty people. I had all but forgotten this part of my life until recently, when my Food Atelier students at the Design Academy Eindhoven started working on ways to grow their own food. The work of two enthusiastic students got my wings flapping enough for me to dare revisit my past. These are the images from the first trials, theirs and mine.
After initial attempts at growing mung sprouts in bread (see above), Cygalle Shapiro is successfully growing a ready-made 'salad on salad'.


Images courtesy Cygalle Shapiro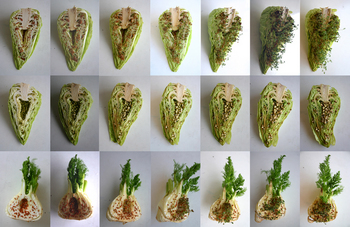 images top to bottom: sprouts in bread, salad on salad, sprouting experiments courtesy of Cygalle Shapiro, copyright Cygalle Shapiro 2005 - 2006. Contact culiblog for further information.
Liora Rosin is growing sprouts in labneh, a fresh yoghurt cheese, commonly made at home. For Rosin it is important that the seeds are grown within the labneh in order to transmit the flavour of the sprouted seed into the delicately tangy cheese.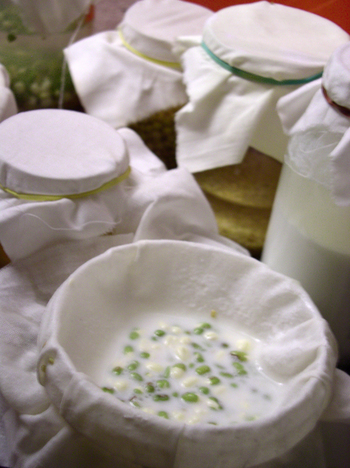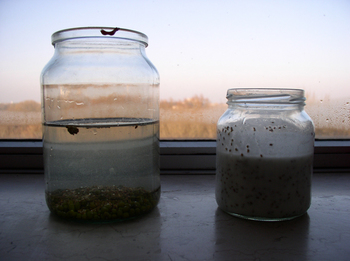 images top to bottom: home sprouting installation, soaking, lactic fermentation sill; courtesy of Liora Rosin, copyright Liora Rosin 2005 - 2006
Wouldn't the world be a better place if we all had a designated windowsill for lactic fermentation?
Having resolved to practice what I preach in 2006, I am also working on growing sprouts on labneh and find that the experiments coördinate nicely with my developing a good recipe for yoghurt ravioli.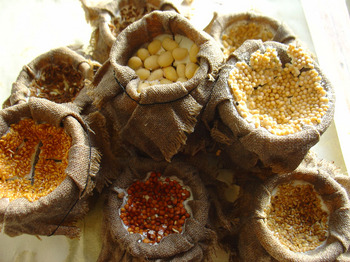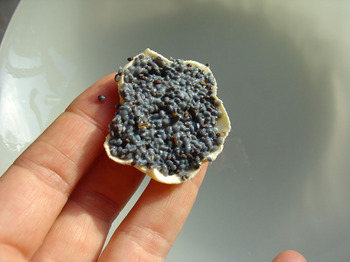 This is a cute disaster of basil seeds rotting into overly dry labneh. Seeds that become gelatinous when they are moistened (e.g., basil, buckwheat, watercress) are poor candidates for immediate immersion on or in the yoghurt medium.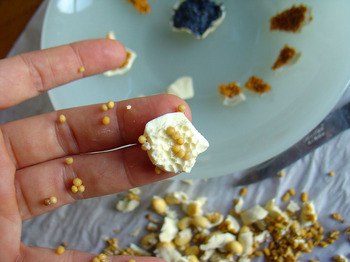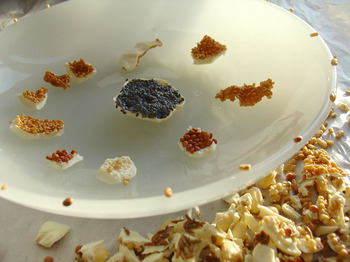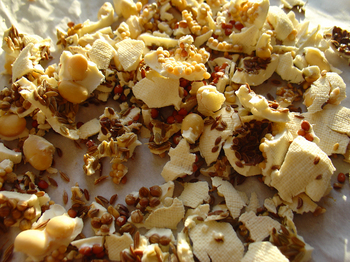 images top to bottom: sprout collection 2x, basil on labneh, playing with mistakes, pretending sampler, curd seed brittle; Debra Solomon
The results of an unsuccessful attempt at growing woody spice seeds (dill, coriander, cumin, kummel) in yoghurt medium with the intention of flavouring the labneh were not especially delicious, although visually exciting. The linen and the seeds texture the labneh beautifully and I look forward to spin a few successful recipes from these experiments soon.
Here are other urban gardening solutions, mostly rooftop gardening related:
technorati tags: rooftop gardening, urban gardening, food security, sustainability, farming, food-related design, agricultural diversification
debra at 11:52 | | post to del.icio.us
10 Comments »