In Memoriam Sidi El Gouche
February 27, 2009
Last week I received the very sad news that my dear friend, Sidi El Gouche, my Occitanian kitchen garden neighbour, has died. It has taken me a long time to get to the point that I could even write this memorial to him because I am just devastated that he is gone. He was a passionate and capable gardener, the deputé of our gardens, and to me, a cherished friend.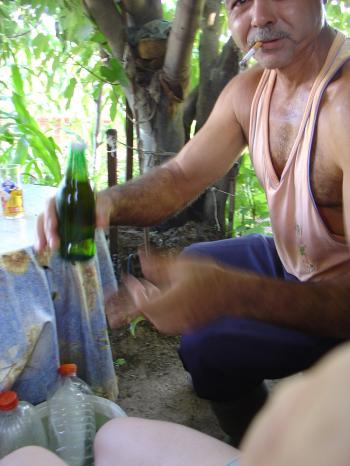 Sidi El Gouche was
a warm and generous man,
a bestower of fig tree shade,
a distributer of local talk, beer and cigarettes,
a keeper of an open house.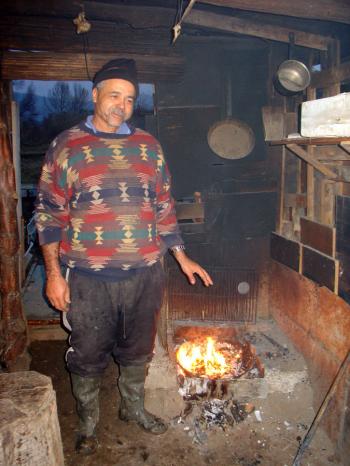 An indoor/outdoor bbq expert,
a hearty lunchtime chef in the dead of winter,
a summertime host of countless happy hours,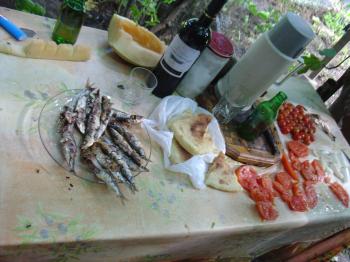 A sprinkler of sea salt on cherry tomatoes,
a bbq'er of sardines, of chickens and merguez,
a mouse murderer,
afraid of snakes.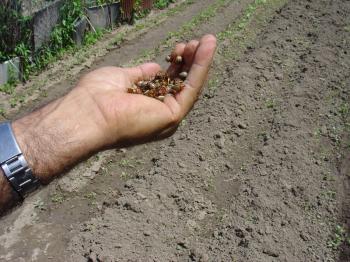 A planter of peach trees and apricots,
a fig growing, fig sharing man,
a giver of fig trees and sweet figs piled high on plates to celebrate, anything.
A coriander specialist,
a ruthless weeder,
a collector and then crusher of bugs,
a harvester in every season except for winter, which he used for preparing the garden for spring,
an exemplary gardener, giving new meaning to the term, French Intensive.
C'est le moment.
C'est le moment.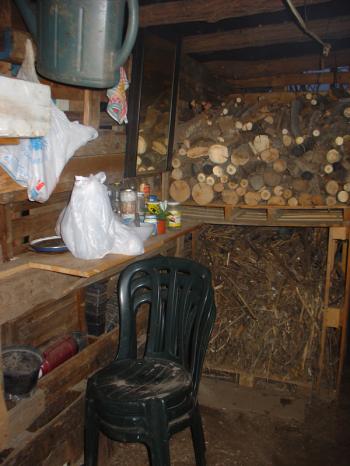 A climber of trees,
a chopper of wood and sticks for the bbq and staking up plants,
an overseeer of fires,
a sharpener of knives,
a fixer of my hoes and rakes and shovels,
a mighty swift digger of ditches,
an insightful consultant and irrigation expert,
a defender of our right to water, with the right amount of water pressure to fill our thirsty gardens.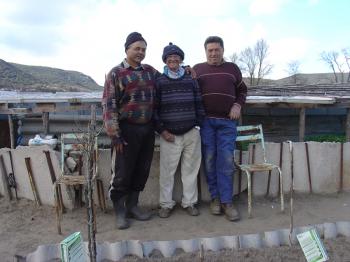 A diplomat between the rural French, the Berber and the Northern Import communities, holding frequent audience between factions in his cabane,
a somewhat traditional Muslim (Allah is Lucky) but,
a feminist in practice, especially concerning his own daughters,
a man who could really tell a story, but then ten times in 3 languages.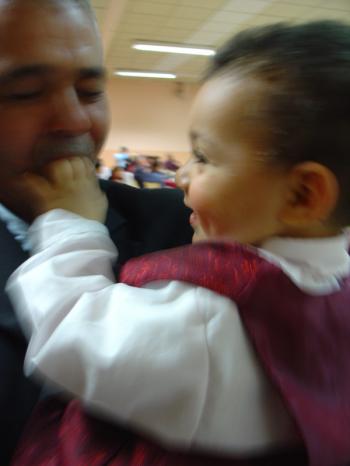 An eater of baby grandson hands,
A grower of crispy lettuces in the shade,
a producer of sweet Cevenol onions and potatoes,
an agriculturalist if you will, he fed his 9 kids and many grandkids from his garden.
A really liberal user of chemical fertilizers,
a strewer of little blue pills on the land, but also,
an inadvertent defender of different ways of gardening, even though he called my mustard cover crop, 'Mayonnaise'.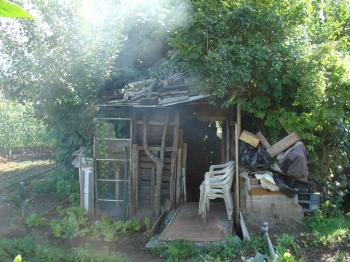 A smile-wearing, sparkly-eyed, warm-hearted, open-armed giver of bear hugs Hallo Hallo Hallo! after many months of absence,
A feeler of biceps, inspector of callouses, and generous with compliments in the face of man-like feats of strength and stamina,
a man who understood the value of a good cup of mint tea at just the right moment,
An emotional giver of bear hugs Goodbye for now for months, Come back soon and, Insh'Allah till the next time, with promises to water my garden till I get back.
Sidi El Gouche, I had been planning on a long lifetime of gardening, with you always there, gardening with me.
I really, really miss you.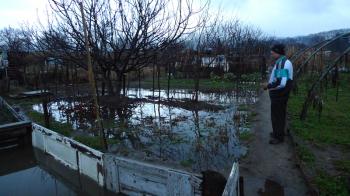 debra at 12:49 | Comments (2) | post to del.icio.us
A happy new year
for the fruit trees
February 10, 2009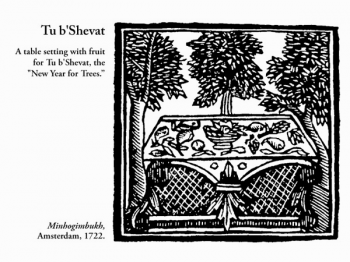 Woodcut for the Jewish arbor day Tu b'Shvat, from the Minhogimbukh Amsterdam 1722, recently adapted by Scott-Martin Kosofsky, image used entirely without permission.
There's nothing like a religious calendar sporting multiple 'new years' to remind us that we were once deeply connected to our food systems. Agrarian celebrations lace the Jewish calendar commemorating inventory and tithing, sorting and sowing, fasting, harvesting, slaughtering, and all manner of specialized and neurotic food preservation. Ancestors, be happy, you left an indelible mark.
Tu b'Shvat is not a biblical holiday but comes from the Mishnah, the Jewish book of case-studies, aka the 'Oral Torah'. At that time (about 2000 years ago) a tithe of fruit and vegetables used to be paid to landlords as a form of taxation. This was the time of year when the fruit tree inventory took place and the age of trees was determined. Somehow the 16th century Kabbalists of Tsfat transformed this into a festival by accompanying their prayers with wine & fruit, and the Jewish custom of celebrating paying taxes in fresh produce was born. What, how do you pay yours?
By now Tu b'Shvat is about tree-planting and other big fans of diaspora like me will appreciate the 'bloom where you are planted' angle on this holiday. I'm thinking that a good Tu b'Shvat resolution for those of us lucky enough to have fruit trees would be to make sure that the fruit of our trees doesn't go to waste. If you can not eat and preserve it all by yourself, there are organizations that will help you do so, either by turning it into jams, chutneys, leather, and pies, or by donating the fruit to folks that don't get their recommended 2 cups of fresh per day. I've listed some of these orgs in the notes below this entry. And if you yourself want to engage in some ad-hoc leather and jam, in L.A. the artist collective Fallen Fruit has made maps of the city's fruit trees that can be harvested either voluntarily or less so.
My New Year for the Trees resolution will be to make dang sure to design fruit-bearing FEMALE trees into the public space occupied by my urban projects. I hadn't really thought about the fact that landscape architects the world over were primarily planting MALE trees in our cities until I read Thomas Leo Ogren's essay in Actions: What You Can Do With the City. He writes, Male trees grow no fruit, seeds, or seed pods, and thus are considered "litter-free." From a caretaking point of view they are "low maintenance." The human health impact is that our cities are filled with highly allergenic pollen producing, sperm-spewing males. Considering that allergies now affect some 40% of all urbanites, the obvious solution to this public health threat, and one whose spinoff could create jobs and micro-economies, is not just to blame the males but to plan and plant fruit-producing female trees.
If Channukah is the Jewish holiday of Peak Oil, then surely Tu B'Shvat is the Jewish holiday of urban agriculture! In the coming period of New Austerity, I predict that Tu b'Shvat will reach unprecedented secular popularity, resonating even more than… Purim! Remember, you read it here first.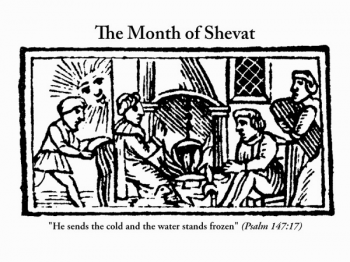 Woodcut for the month of Shvat, from the 1722 Amsterdam edition of the Book of Customs, now adapted by Scott-Martin Kosofsky, image used without permission
Tu b'Shvat according to the hive brain of Wikipedia. If nothing else, a good starting point before spiraling out of control.

I first encountered the Jewish calendar woodcuts through a Speaking of Faith radio programme about Chanukkah in which Krista Tippet interviews historian Scott-Martin Kosofsky. Kosofsky discovered a woodcut of a woman lighting a Sabbath candelabrum while paging through a Jewish encyclopedia first published in 1901. The source provided for the woodcut was Sefer Minhagim, which translates as Book of Customs. Between 1590 and 1890 dozens of editions of these books had been published, including one published in Amsterdam in 1645 that contained the woodcut and another edition published in Venice in 1593. The book was used as 'a pocket guide to all the Jewish customs of the year' and featured forty images: twelve of the months and their zodiac signs and twenty-eight of the major customs.

Scott-Martin Kosofsky's The Book of Customs is a modern adaptation of the Yiddish Mihogimbukh, a guide to Jewish life originating in Venice, 1593. Included in Kosofsky's book are original woodcut prints from several editions of the Minhogimbukh.

Scott-Martin Kosofsky's newly adapted Book of Customs can be purchased here, here and here.

Kokopelli: Trawling for seeds? My favourite is Association Kokopelli, a non-profit organization in France, set up in 1999 to take up the torch of Terre de Semences which was forced to close down following the enforcement of a ministerial decree (issue by the French Ministry of Agriculture) imposing draconian conditions for the legal registration of heirloom vegetable varieties in a National List for Amateur Varieties. (What chutzpah!) Association Kokopelli is involved in the protection of biodiversity and in the production and distribution of biodynamic and organic seeds.

Village Harvest is a nonprofit suburban harvesting cooperative in Santa Clara Valley, California, which brings together neighbors and community organizations to provide food for the hungry, preserve our heritage and skills, and promote sustainable use of urban resources. But you can read about other organizations here and you can see a slideshow about urban gleaning here.

Artist collective Fallen Fruit were giving fruit trees away this last weekend, sorry I didn't know about this earlier. Fallen Fruit maintain maps of urban fruit trees ripe and ready for picking in the LA area.

The Principles of Permaculture: Artists, designers, urban planners and (landscape) architects, there's no time like the present to commit these to memory!

Want to take a certified course in Permaculture Design?
Here's a list - for France anyway.

Wikipedia on Arbor Day in popular culture: Jews celebrate Tu Bishvat, the new year for trees, on the fifteenth day of the month of Shevat, which usually falls in January or February. Originally based on the date used to calculate the age of fruit trees for tithing as mandated in Leviticus 19:23-25, the holiday now is most often observed by planting trees, or raising money to plant trees.

At the Canadian Centre for Architecture an exhibition Actions: What You Can Do With the City is accompanied by a book of the same title, which presents original research and writing that further examines the exhibition's exploration of how the design and experience of contemporary cities can be shaped by human actions. International in scope, the 30 essays are published for the first time and include personal observations by a range of activists alongside scholarly reflections on the positive impact these individual initiatives have on the city. The texts are interspersed with a selection of 34 specific actions drawn from the exhibition.

Introductory essays by the editors Mirko Zardini and Giovanna Borasi provide historical perspective and establish the curatorial framework for the exhibition and publication. Original essays are contributed by Jochen Becker, Vikram Bhatt, Katrin Bohn, Brendan M. Brogan, Coloco, Henk Döll, Fergus the Forager, Omar Freilla, George J. Grella Jr., Fritz Haeg, Tali Hatuka, Dan Hill, Sarah Hill, Ocean Howell, Hans Ibelings, Momoyo Kaijima, David Ker Thomson, Zoe Laughlin, Sonia Lavadinho, Nina-Marie Lister, Alejandra López, Thomas Leo Ogren, Emily Rauhala, Richard Reynolds, Debra Solomon, Yoshiharu Tsukamoto, Jeroen van Nieuwenhuizen, and Andre Viljoen.

Co-published by Canadian Centre for Architecture, Montréal, and SUN, Amsterdam, the catalogue is designed by Novak, Amsterdam. The 240-page, soft-cover book includes 70 colour and black and white illustrations, and features a folded poster as cover wrap. The volume is available as of 1 December 2008 at the CCA Bookstore in English and French editions for $42.95 CAD/USD ISBN: 978-0-920785-82-9.

Download the exhibition catalogue for Actions: What You Can Do With the City here. You'll find an essay about Urban Agriculture by culiblog author and A10 author on page 188.

Allergy-free gardening: Thomas Leo Ogren's website. A must-read for landscape architects and urban planners concerned with public health and interested in planting fruit trees in the public space.
debra at 15:58 | Comments (0) | post to del.icio.us
Cheerfully sipping from the
petri dish of life
February 4, 2009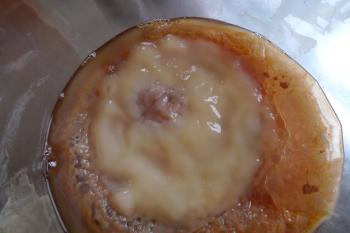 A symbiotic colony of bacteria and yeast (aka SCOBY) fermenting a jar of sweetened tea into a healthy drink called kombucha.
Recently my possee and I attended a party at the opening of an Amsterdam design event. Free drinks were flowing because the party was heavily sponsored by a distilled beverage company whose name I forget since they don't sponsor me. The music was rockin, the place was packed, and the lines to the free vodka cocktails were lengthy and full of elbows. More than once we had to give up on getting our group some drinks, way too much work, and we returned to our thirsty dancing.
At one point the possee went outside to evaporate and what should we find right outside the door and right in front of our noses but a bevvy of abandoned cocktails, some more, some less untouched. We looked at the glasses mostly full, mostly untouched, and the gears in our brains started to churn. I had already had a number of these vodka cocktails and I didn't really want or need a whole one, so I reached for one of the glasses that was half full, thinking, 'I only want a little, here's a little, just the perfect amount for me.'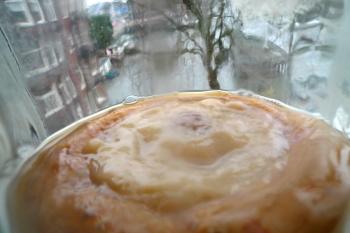 An entirely unphotogenic kombucha colony poses in the weak light of the northern winter.
Possee was shocked (as is everyone to whom I tell this story) and they prolifically wondered aloud why I didn't just take one of the full drinks that was clearly untouched, drink a little, and leave the rest for the next Public Health Risk. I answered that I had no reason to believe that this glass was contaminated or posed any sort of threat to me. Maybe I trust the hygiene of design professionals too much, maybe I just trust my immune system too much, but I told that wall of worry lines that I felt my body was more than up to the challenge of drinking vodka out of a stranger's glass.
One of 'em said, Where I come from we call that kind of behaviour 'licking the pole'. Belly chuckles and guffaws all around, but that was all I needed, and done was done. No, I didn't get sick, I never get sick, though that's not to say this sort of behaviour is causal. And although I wash my hands with old fashioned soap when I enter my home and never touch my face with unwashed hands, there's some part of me that thinks that bravely touching doorknobs and kissing moist-nosed Northerners 3 times on the cheeks as a greeting could be what's keeping me healthy. Aided by my lacto-bacterial shield I just I love bacteria, and bacteria loves me.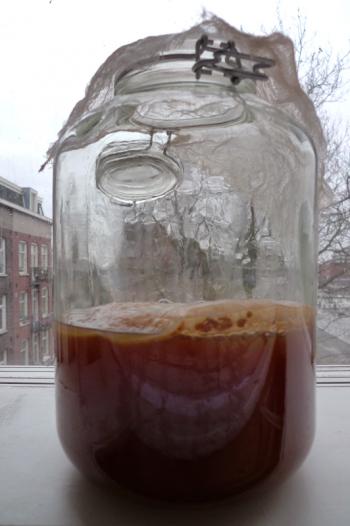 Growing a kombucha 'mother' big enough to ferment 5 litres of tea.
Links to pro-biotica on culiblog:

Kefir is like Fresca for hippies

Culiblog recipe: Dark Side of the Moon Soup with milk kefir

Sandor Ellix Katz: Wild Fermentation and musings on pickles…

Other important links…
The kombucha colony, sometimes (incorrectly) referred to as a 'tea mushroom' is used to ferment tea into a drink that is purported to have many health benefits. It is rich in lacto-bacilic and acetic acids and is purported to aid the immune system.

The culture contains a symbiosis of Acetobacter (acetic acid bacteria) and yeast, mostly Brettanomyces bruxellensis, Candida stellata, Schizosaccharomyces pombe, Torulaspora delbrueckii and Zygosaccharomyces bailii. The culture itself looks somewhat like a large pancake, and though often called a mushroom, a Mother of vinegar or by the acronym SCOBY (for "Symbiotic Colony of Bacteria and Yeast"), it is clinically known as a zoogleal mat. Kombucha contains many different cultures along with several organic acids, active enzymes, amino acids, and polyphenols.
Health claims for kombucha focus on a chemical called glucuronic acid, a compound that is used by the liver for detoxification. The idea that glucuronic acid is present in kombucha is based on the observation that glucuronic acid conjugates (glucuronic acid + waste chemicals) are increased in the urine after consumption of kombucha.

Kombucha is a living health drink made by fermenting tea and sugar with the kombucha culture. The result can taste like something between sparkling apple cider and champagne, depending on what kind of tea you use. It's not what you'd imagine fermented tea to taste like.

The Kombucha culture looks like a beige or white rubbery pancake. It's often called a 'scoby' which stands for ' symbiotic culture of bacteria and yeasts.The culture is placed in sweetened black or green tea and turns a bowl full of sweet tea into a bowl full of vitamins, minerals, enzymes and health-giving organic acids.

As the Kombucha culture digests the sugar it produces a range of organic acids like glucuronic acid, gluconic acid, lactic acid, acetic acid, butyric acid, malic acid and usnic acid; vitamins, particularly B vitamins and vitamin C; as well as amino acids, enzymes. And of course there are all the benefits of the probiotic microorganisms themselves. The Kombucha culture is a biochemical powerhouse in your kitchen.

Mushroom expert Paul Stamets wrote in July 1995 in Mushroom, The Journal an article titled, 'My Adventures with "The Blob':
Kombucha is also known as the Manchurian Mushroom, a misnomer because no mushroom species are involved. Kombucha is actually a mixed culture, a symbiotic community of yeasts and bacteria. Recently, the interest in Kombucha has reached a fever pitch, the likes of which I have never seen. Some days I receive several phone calls asking for it, or information about it. Many New Agers are recommending Kombucha without reservation—and that greatly concerns me.

Kombucha has been around for a very long time. For thousands of years, say some. It spreads during waves of popularity. In the 1920's and then the 1950's several articles in the popular press touted its amazing health stimulating properties. Some attribute its origins to Manchuria others to Tibet, Japan or Eastern Siberia. Its survival seems solely dependent upon human care as no natural colonies have yet been reported.

…

I first was introduced to Kombucha around 1980 when a friend brought me a Mason jar filled with what might be best described as a close relative of the Blob. You know, that corny Sci-fi thriller from the 1950's starring, I think, a very young Steve McQueen. But this Blob seemed a bit more cohesive and since the lid was tightly screwed on, I felt secure from immediate attack.

He passed it on to me with some ceremony, even reverence, in a ritual that had been repeated for centuries. He called it a miracle cure that could fight cancer, slow or reverse the aging process, i.e. a panacea, a remedy for the ailments afflicting human kind. People in Tibet lived into their 100's because of it, he said. The cardinal rule was that it was a gift, never to be sold, but to be cared for and passed on freely to anyone willing to accept it. Anyone who profited from selling it would reap personal disaster and be doomed to a life of ill-fate.

Naturally skeptical, I looked at this gelatinized rubbery goop submerged in water and was completely baffled. What was it? "The Manchurian Mushroom", he replied, smiling enigmatically.

How to Make Kombucha Tea / Instructions for home-brewing:

Kombucha tea is a sweetened tisane produced through fermentation. It has been claimed as the "fountain of youth", but only you can be the judge of such a claim. Plain kombucha has an acidic, vinegar-like flavor in addition to the original sweet tea flavor. The strength of the tea flavor can be adjusted with the amount of tea bags brewed per volume of water. It usually has a mild to moderate carbonated texture.
debra at 19:10 | Comments (0) | post to del.icio.us