Cheerfully sipping from the
petri dish of life
February 4, 2009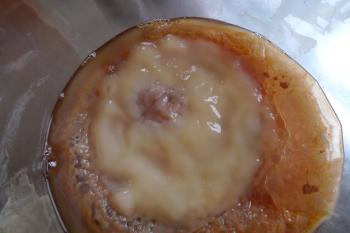 A symbiotic colony of bacteria and yeast (aka SCOBY) fermenting a jar of sweetened tea into a healthy drink called kombucha.
Recently my possee and I attended a party at the opening of an Amsterdam design event. Free drinks were flowing because the party was heavily sponsored by a distilled beverage company whose name I forget since they don't sponsor me. The music was rockin, the place was packed, and the lines to the free vodka cocktails were lengthy and full of elbows. More than once we had to give up on getting our group some drinks, way too much work, and we returned to our thirsty dancing.
At one point the possee went outside to evaporate and what should we find right outside the door and right in front of our noses but a bevvy of abandoned cocktails, some more, some less untouched. We looked at the glasses mostly full, mostly untouched, and the gears in our brains started to churn. I had already had a number of these vodka cocktails and I didn't really want or need a whole one, so I reached for one of the glasses that was half full, thinking, 'I only want a little, here's a little, just the perfect amount for me.'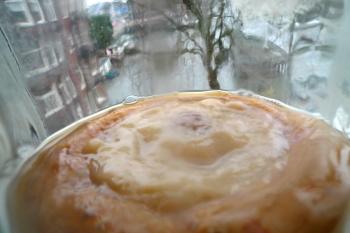 An entirely unphotogenic kombucha colony poses in the weak light of the northern winter.
Possee was shocked (as is everyone to whom I tell this story) and they prolifically wondered aloud why I didn't just take one of the full drinks that was clearly untouched, drink a little, and leave the rest for the next Public Health Risk. I answered that I had no reason to believe that this glass was contaminated or posed any sort of threat to me. Maybe I trust the hygiene of design professionals too much, maybe I just trust my immune system too much, but I told that wall of worry lines that I felt my body was more than up to the challenge of drinking vodka out of a stranger's glass.
One of 'em said, Where I come from we call that kind of behaviour 'licking the pole'. Belly chuckles and guffaws all around, but that was all I needed, and done was done. No, I didn't get sick, I never get sick, though that's not to say this sort of behaviour is causal. And although I wash my hands with old fashioned soap when I enter my home and never touch my face with unwashed hands, there's some part of me that thinks that bravely touching doorknobs and kissing moist-nosed Northerners 3 times on the cheeks as a greeting could be what's keeping me healthy. Aided by my lacto-bacterial shield I just I love bacteria, and bacteria loves me.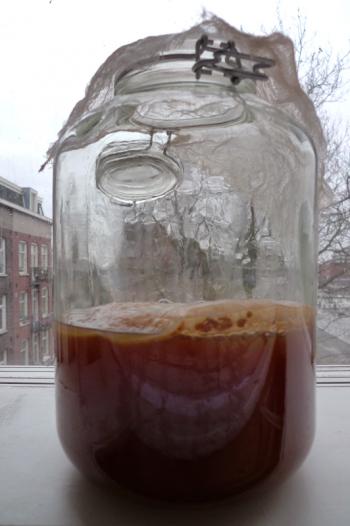 Growing a kombucha 'mother' big enough to ferment 5 litres of tea.
Links to pro-biotica on culiblog:

Kefir is like Fresca for hippies

Culiblog recipe: Dark Side of the Moon Soup with milk kefir

Sandor Ellix Katz: Wild Fermentation and musings on pickles…

Other important links…
The kombucha colony, sometimes (incorrectly) referred to as a 'tea mushroom' is used to ferment tea into a drink that is purported to have many health benefits. It is rich in lacto-bacilic and acetic acids and is purported to aid the immune system.

The culture contains a symbiosis of Acetobacter (acetic acid bacteria) and yeast, mostly Brettanomyces bruxellensis, Candida stellata, Schizosaccharomyces pombe, Torulaspora delbrueckii and Zygosaccharomyces bailii. The culture itself looks somewhat like a large pancake, and though often called a mushroom, a Mother of vinegar or by the acronym SCOBY (for "Symbiotic Colony of Bacteria and Yeast"), it is clinically known as a zoogleal mat. Kombucha contains many different cultures along with several organic acids, active enzymes, amino acids, and polyphenols.
Health claims for kombucha focus on a chemical called glucuronic acid, a compound that is used by the liver for detoxification. The idea that glucuronic acid is present in kombucha is based on the observation that glucuronic acid conjugates (glucuronic acid + waste chemicals) are increased in the urine after consumption of kombucha.

Kombucha is a living health drink made by fermenting tea and sugar with the kombucha culture. The result can taste like something between sparkling apple cider and champagne, depending on what kind of tea you use. It's not what you'd imagine fermented tea to taste like.

The Kombucha culture looks like a beige or white rubbery pancake. It's often called a 'scoby' which stands for ' symbiotic culture of bacteria and yeasts.The culture is placed in sweetened black or green tea and turns a bowl full of sweet tea into a bowl full of vitamins, minerals, enzymes and health-giving organic acids.

As the Kombucha culture digests the sugar it produces a range of organic acids like glucuronic acid, gluconic acid, lactic acid, acetic acid, butyric acid, malic acid and usnic acid; vitamins, particularly B vitamins and vitamin C; as well as amino acids, enzymes. And of course there are all the benefits of the probiotic microorganisms themselves. The Kombucha culture is a biochemical powerhouse in your kitchen.

Mushroom expert Paul Stamets wrote in July 1995 in Mushroom, The Journal an article titled, 'My Adventures with "The Blob':
Kombucha is also known as the Manchurian Mushroom, a misnomer because no mushroom species are involved. Kombucha is actually a mixed culture, a symbiotic community of yeasts and bacteria. Recently, the interest in Kombucha has reached a fever pitch, the likes of which I have never seen. Some days I receive several phone calls asking for it, or information about it. Many New Agers are recommending Kombucha without reservation—and that greatly concerns me.

Kombucha has been around for a very long time. For thousands of years, say some. It spreads during waves of popularity. In the 1920's and then the 1950's several articles in the popular press touted its amazing health stimulating properties. Some attribute its origins to Manchuria others to Tibet, Japan or Eastern Siberia. Its survival seems solely dependent upon human care as no natural colonies have yet been reported.

…

I first was introduced to Kombucha around 1980 when a friend brought me a Mason jar filled with what might be best described as a close relative of the Blob. You know, that corny Sci-fi thriller from the 1950's starring, I think, a very young Steve McQueen. But this Blob seemed a bit more cohesive and since the lid was tightly screwed on, I felt secure from immediate attack.

He passed it on to me with some ceremony, even reverence, in a ritual that had been repeated for centuries. He called it a miracle cure that could fight cancer, slow or reverse the aging process, i.e. a panacea, a remedy for the ailments afflicting human kind. People in Tibet lived into their 100's because of it, he said. The cardinal rule was that it was a gift, never to be sold, but to be cared for and passed on freely to anyone willing to accept it. Anyone who profited from selling it would reap personal disaster and be doomed to a life of ill-fate.

Naturally skeptical, I looked at this gelatinized rubbery goop submerged in water and was completely baffled. What was it? "The Manchurian Mushroom", he replied, smiling enigmatically.

How to Make Kombucha Tea / Instructions for home-brewing:

Kombucha tea is a sweetened tisane produced through fermentation. It has been claimed as the "fountain of youth", but only you can be the judge of such a claim. Plain kombucha has an acidic, vinegar-like flavor in addition to the original sweet tea flavor. The strength of the tea flavor can be adjusted with the amount of tea bags brewed per volume of water. It usually has a mild to moderate carbonated texture.
debra at 19:10 | | post to del.icio.us
No Comments »