Chaat Pack for street nibbles
December 16, 2005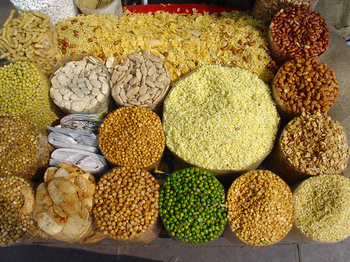 Here is a chaat array being sold on the streets of Delhi. Check out the packaging stuffed in between the sacks of chaat.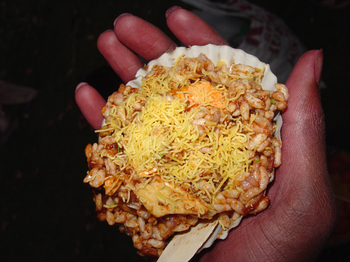 You buy some chaat, the vendor mixes it up with some piquante sauce, and you're good to go.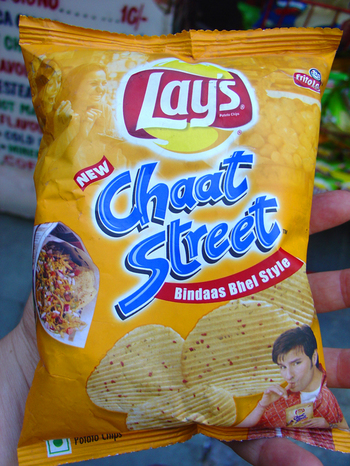 This is an example of how a food manufacturer together with a forward-thinking food designer used street food to inspire a new product for its street food-appreciative market in India. The chips are flavoured and (loosely) styled to reference 'chaat', a term describing all manner of street food snacks. If you look closely on the packaging, you'll see an image of the traditional street chaat packaging on the left side. Within 10 metres of the stand where I photographed this package, there were five different traditional chaat vendors selling proper chaat.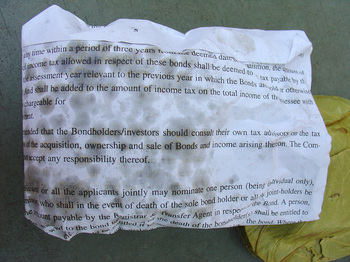 Packaging for chaat is usually a bag made from old newspaper, a neatly cut piece of recycled paper, or a leaf plate. This bag was made from some terribly interesting literature about bonds, you can see the imprint of the peas (and the grease in which they were deep-fried) absorbed through the paper. Grease shadows, or oily pea portraits, if you will.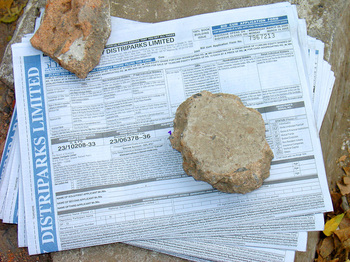 In this image you see a stack of paper left on the street as an offering to the gods of the recycled chaat-bag-makers.
debra at 9:16 | | post to del.icio.us
4 Comments »