A street snack called chaat
March 14, 2005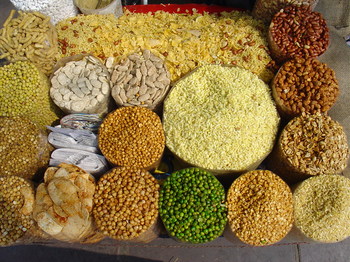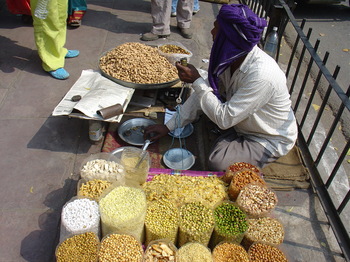 In Delhi street vendors sell chaat, that is to say snacks consisting of all manner of puffed, roasted and deepfried legumes, grains, pasta products and broken crackers. Nibbles to go, nibbles to take home, nibbles that remind one of the street. A chaat vendor will sell his beans and bobs dry to take home, or if you've got the right guy he'll mix up a little chaat-snack for you right then and there with some very much needed chaat-moisturizer i.e. sweet chilli sauce.
Look at (click on) the image on the left closely and you'll see the bags in which the chaat is sold folded neatly between the goods. The bags are made of recycled newspaper and other redundant paper glued into bags for packaging.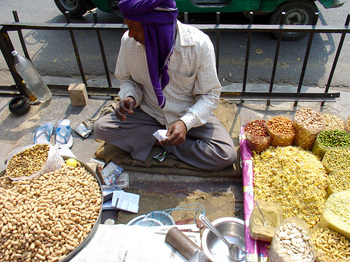 debra at 19:27 | | post to del.icio.us
2 Comments »
Here's a burning question I have:
Does all chaat masala have black salt?
It's the one Indian spice I just can't do with….
Hmm.