Fashion Food
October 3, 2004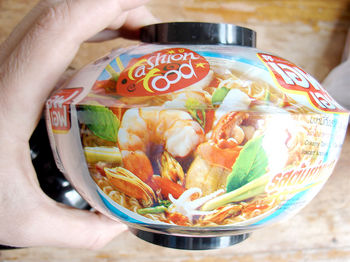 And indeed, what is UNfashionable about a fake black lacquer bowl filled with instant Tom Yum noodles? Especially if you recycle the fake lacquer bowl and use it again and again for your own stylish soup lunches.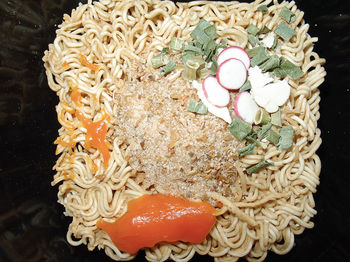 I came across this product researching what I will do for my contribution to Museum N8. J.P. of Mediamatic has asked me to come up with something for the theme pret a porter. Unlikely that I'll do something related to the noodles (because I'm leaning towards fruit leather) but I am amused by the product design.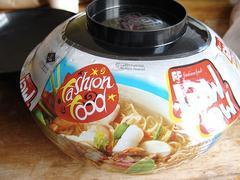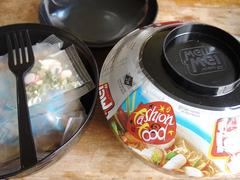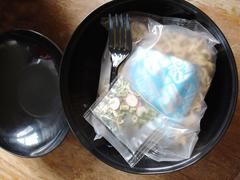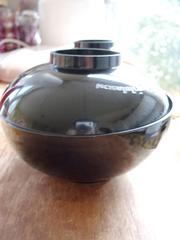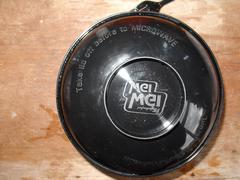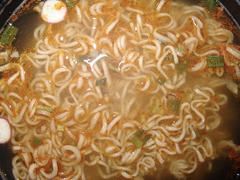 Of course the ingredients inside don't resemble the picture on the front. But I know this product comes from a 'keeping up appearances culture' and I can accept the discrepancy. Also, normally Tom Yum doesn't have noodles. Translation issues to be sure.
I LOVE the fake lacquer bowl and can't wait to collect a few of them for an urban picnic making a lunch kit with my own ingredients. Blonde miso, soba or udon noodles, slabs of fresh tofu, sliced green onion and radish, fresh coriander leaves, a bit of kim chi…
debra at 12:04 | | post to del.icio.us
6 Comments »