Lolly Lab
June 28, 2005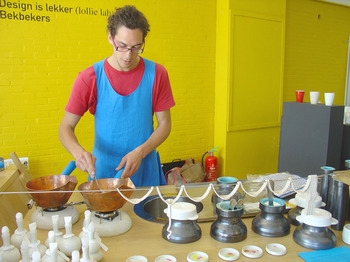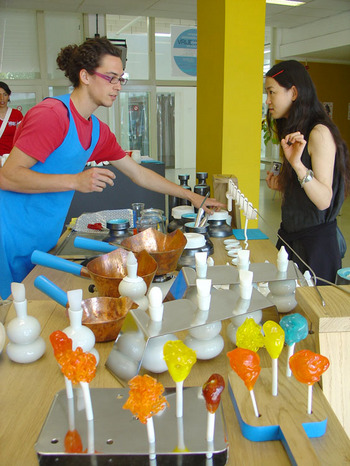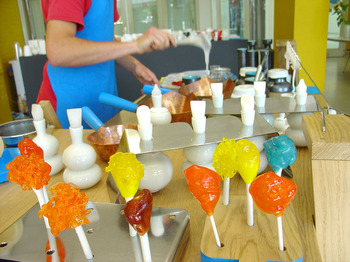 Imagine my delight last Sunday when the very first work I see at Arnhem's exam show is Bas Kools' Lolly Lab. Kools is a freshly graduated designer with fine prospects for the future. He'll attend the RCA in London next year.
What I loved most about Kools' setup was that he put the prototypes into a playful context. He seemed to have thought of everything; the playful array of lolly sticks, sugar melting copper pans, ceramic pots and recepticals, the vessels containing the flavours and colours, palet dishes, a working lab unit with gas burners (water?), air blowers, lolly holders in metal and rubber, bottle stops, display, etc… Kools has an interest in finding ways to make 'design' 'accessible'. But some of the sexier shapes of the lolly holders and the rubber slings reminded me immediately of the details hidden (and thus showcased) in a Matthew Barney work. Not bad.
And this leads me to my wee critique of the work. Kools designed a lolly laboratory, a perfect context for his range, so where are the experimental lollies? It is a pity that in this instance, Bas used standard flavours, colours and non-designed shapes for the lollies themselves. It would be worthwhile investigating working with a chef or someone with a developed and outspoken culinary aesthetic to create flavours, colours, textures and shapes as alluring and expressive as the other parts of this lab and installation. The well-designed utensils, if they are meant to be accessible, should serve and even contribute to the experimentation that is going on in the lab. There is still plenty of space for this to happen in the future. I certainly would be willing to give it a go; the Lolly Lab gave me itchy fingers.




Niggly detail: The bottles containing the flavour essences are still unfinished; do they need a rubber stamp with the essences' name? Is there a place on the bottle for this? Otherwise you might inadvertently multitask the bottle as a vase, which would be unfitting to the concept of lab. On the other hand - if the multitasking of the lab elements develops in conjunction with the development of NEW flavours, colours, textures etc… the multitasking of the vessels (or any other for that matter) could play an important role.
With regard to the shapes of the lollies, my student, MuXue remarked accurately that at the entrance of many Chinese academies and schools there is a confectioner making basically the same sorts of lollies. Kools could distinguish the Lolly Lab lollies by not only letting the melted sugar do its thang but taking charge of the situation and designing an array of shapes and treatments for the lollies.
Culiblog's suggestion: Use, use, use, let other people use, use, use. This great project just needs to live a little.
Bas Kools' Lolly Lab.
debra at 10:21 | | post to del.icio.us
4 Comments »