Juicing, but not frothing, and you?
January 6, 2005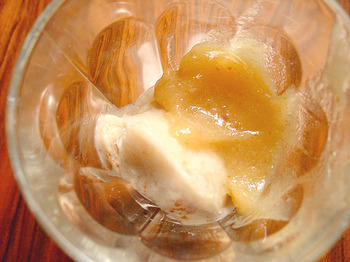 So far this juice fast has yielded quite a number of discoveries, the usefullness of oat milk being one of them. In my opinion grain and nut milks qualify for a juice fast because they are simply the wrung out water in which grain or nut meal has been soaking. These 'milks' don't give the gut flora anything more to do than a glass of apple juice does but they are useful in making things taste 'creamy'.
Other discoveries concern how to make 'comfort food' for the fast yet maintain its nutritional value. Roxanne Klein (and all raw foodies) feel that valuable enzymes in vegetables and fruits are destroyed when heated above 50°c. For this fast I've kept to this parameter while still being able to serve up some warm soup on these cold Occitanian days.
Here are a list of some of the liquids that my ruthless jury has deemed delicious enough to sip even when not on a juice fast: (This is not a menu.)
Cucumber Kiwi Juice
Kiwi Zucchini Juice
Pineapple Juice (fresh squeezed is entirely different from the storebought stuff)
Carrot Grapefruit Juice
Celery Juice
Avocado Zucchini Soup
Celeriac Oat Milk Soup
Green Curry and Carrot Soup
Broccoli Stalk, Zucchini Soup with Guacamole Dumplings
Red Pepper Tomoato Miso Flower Broth
Date and Pear Sorbet (pictured above)
Banana Chai Ice Cream (pictured above)
Pear Sorbet
The juicer that I am borrowing from Fred and Kristine for the duration of the fast is a real Cadillac (Magimix Le Duo). Only crit about this machine is that it doesn't produce foamy froth - like my Braun back in the Heimatt. I think that some of the recipes could be improved with new texture additions. At home I use the foam from the juicer.
debra at 22:46 | | post to del.icio.us
3 Comments »
Debra, thanks for the website, especially the documentation of your adventures in "self righteous nutrition". This is a condition that many of us practice, though perhaps not as out in the open as you do. My kudos.

Keep it up!

Andrea

Comment by Miss Tenacity — June 2, 2005 @ 21:55

TOTALLY making oat milk now. Thanks for the awesome suggestion.

Comment by Joanna Swan — March 11, 2011 @ 5:46