The amazing
Sprout (loves) Ikebana
contest
January 10, 2007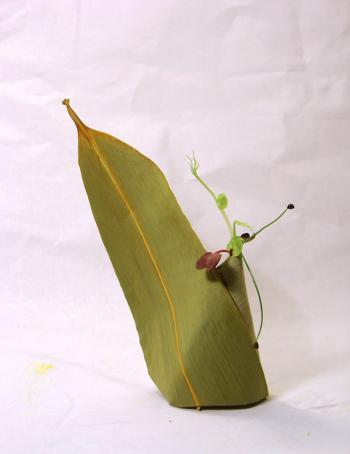 Choreographer Martin Butler's winning entry for the category, 'Fleugalité (bamboo leaf, sango sprouts, rock chives, pea shoots)
The amazing Sprout (loves) Ikebana contest was carried out in honour of chef de cuisine Tal Amitai, who was not able to be with us this last week due to the loss of his beloved grandmother. Our thoughts are with you, Tal.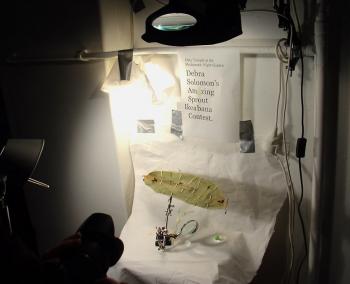 Mediamatic's amazing Marco Wessel created this vernacular-style photoshoot installation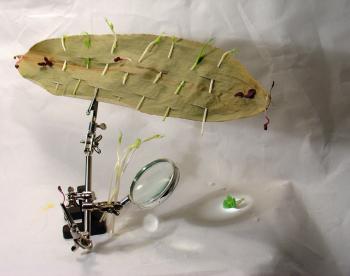 The winner in the category Solomon's Oordeel (Solomon's Judgement) uses embroidery and the world's first new media technology, the lens. Bravo!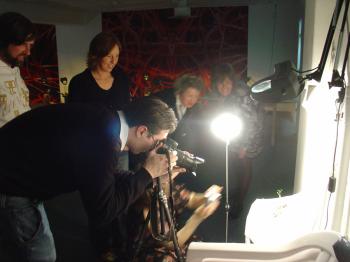 Paparazzi, who is NOT in this picture?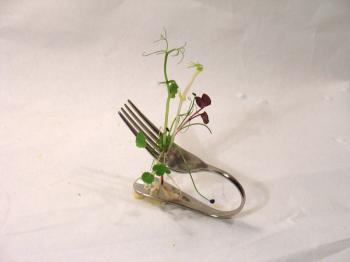 Mrs. Cameron (the artist formerly known as Karin Ras) wins the category, 'Simplicité (fork, sango, pea shoot, pea asparagus, rock chives and anise sprouts)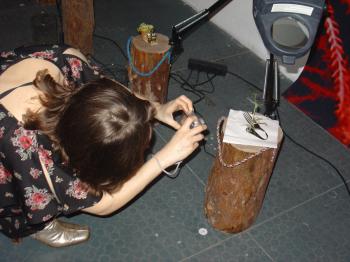 Writer and jury member Aya van Caspel photographs Mrs. Cameron's entry for the category, 'Simplicité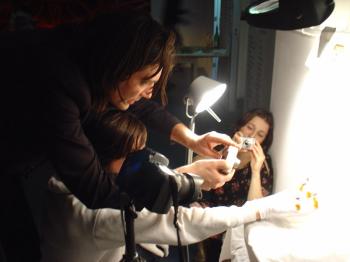 Curator Arne Hendricks styles and photographs his entry for the category, 'Perversité'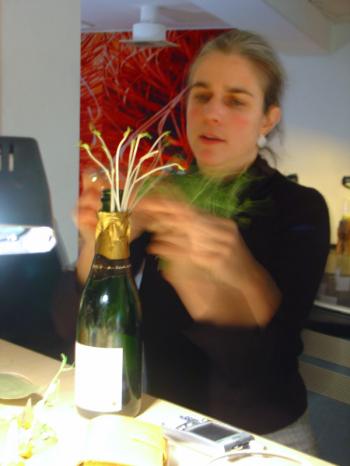 Women on Waves artist-activist Rebecca Gomperts works with materials she understands the best. L'chaim!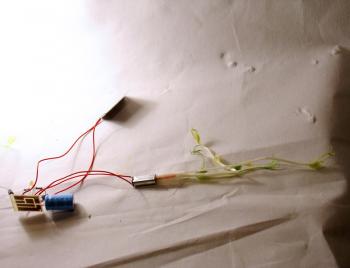 Artist-activist and over-achiever Rebecca Gomperts says of her winning entry for the category, Animé-mécanisé, 'Making a robot was completely liberating, like the first time I reconstructed a diesel engine.' Vroom, vroom.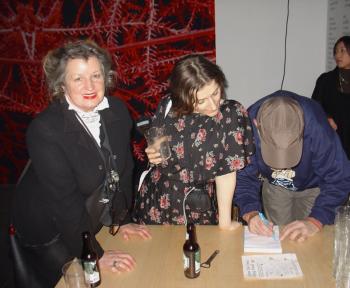 Jury members working it from l to r: Marlein Overakker, Aya van Caspel, Paul Groot and beautiful Asian girl who was not in the jury, but was so pretty that I didn't edit her out of the image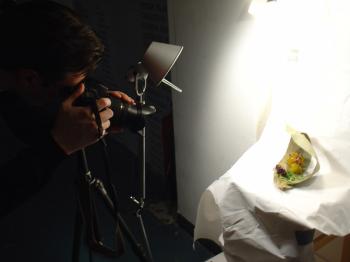 Mediamatic superstar system operator Marco Wessel photographs an entry in the Amazing Sprout (loves) Ikebana Contest
debra at 13:02 | | post to del.icio.us
1 Comment »
so, do you *eat* it?

Comment by vanessa (of vanesscipes) — January 11, 2007 @ 16:53