KimChi Monkfish Papillot
May 31, 2004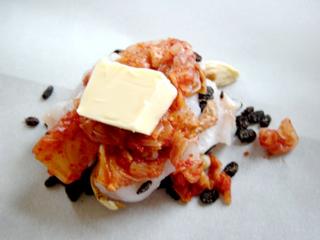 On a piece of parchment place 6 cloves of roasted garlic, a hunk of monkfish, fresh kimchi, butter, scatter with fermented salted soybeans, and drizzle with beer.
Fold and staple the parchment to form a sealed package. Place in preheated oven at 200� for 15 minutes. When it smells good, its ready.

Sunday afternoon Spring Dinner for Luise and Debra
30.05.2004
- edamame rock salt and beer
- Kim Chi Monkfish en Papillot
- with carrot and spinach paper with black rice/black bean sushi
- Rhubarb and Marmalade Terrine with Marmalade Hangop
KimChi Monkfish Papillot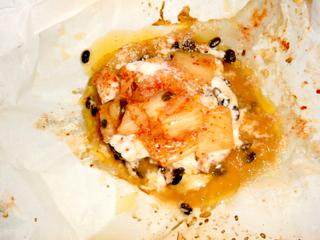 debra at 9:53 | | post to del.icio.us
No Comments
Sorry, the comment form is closed at this time.