For the Luv of Gawd, Whip Me!
April 25, 2005
I guess I should have known that something like this would happen when Reb Noam, the leader of our pesach seder appeared sporting a self-styled kipa with the words, 'Next year in Miami' written on it. But even my inner-fagele couldn't have predicted that during this auspicious ordered meal we would leap up from our seats and start whipping eachother with longish spring onions. Not that there's anything wrong with that! It's just an innocent illustration symbolizing the oppression from which we were liberated and bringing new meaning to the words, 'Hag Sameach'. I'm filing the Passover bitch-slap under the category, 'Nice Detail'.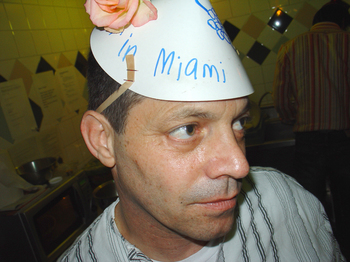 Rev Noam's kipa says, 'Next year in Miami'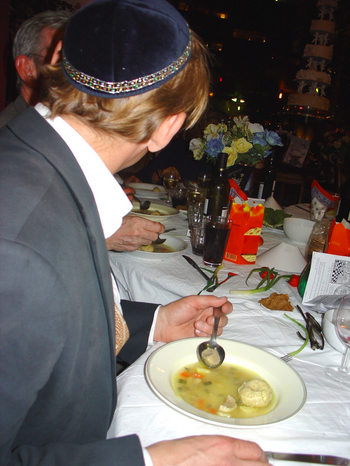 Patrick eating Oren's Mom's matzah ball soup; 'Not too hard, not too soft')
The song begins, 'Once we were slaves in the land of…' and if you don't know already, I won't say where. Slaves, enslaved. Let's just say that slavery in all of its' forms is pervasive and the act of shaking off the shackles of that 'once' is the wishful thinking that we celebrate during Passover. Once each year we remember as a community where we were and reflect on where we are by singing 'Once we were slaves… '
This year, Guys 22, Hags 6. Next year (in Miami) I'm introducing the leek as vegetable of choice for the Passover Bitch-Slap. The link is a little movie of us whipping eachother, religiously.
(click images from l to r, first row: Oren's Mom's delicious matzah ball soup; 'Not too hard, not too soft', the author under the influence of the full moon. 2nd row: Marlein Overakker and Ronald eating soup, self-styled kipa, the HAGgadah we used in 2005)
debra at 10:49 | | post to del.icio.us
2 Comments »
Good point on the charoseth—but it does taste good (shhh).

Comment by dad — May 5, 2005 @ 20:16