Eat while you can, in a few minutes it will be Yom Kippur, the chaotic humanistic Day of Atonement
October 12, 2005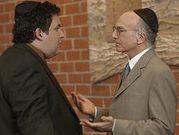 And on Yom Kippur, you fast by eating and drinking absolutely *bubkis. In my search for all things concerning fasting, I came upon this article by the Chabad Folks, titled
Laws and Lore: Eating Before Yom Kippur. Apparently,
It is a **mitzvah to eat and drink heartily on Erev Yom Kippur…
…Do we fast on the ninth? We fast only on the tenth! [How then is this verse to be understood?] It comes to teach us that all who eat and drink on the ninth, and fast on the tenth, are considered by Scripture as if they had fasted on both the ninth and the tenth.
And there you have it, Jewish attitude in a nutshell. This article is permeated with a Curb Your Enthusiasm tone that makes me want to read out loud, scrunch my eyes, shrug my shoulders and wave my hands around saying. "Do we fast on the ninth? No! We fast only on the 10th! (meaning the 10th of Tishrei). Written discussions of Jewish scripture always sound to me like trying to wheedle out of something. It seems to me that the learned gents before us, were always trying to find a way to reward themselves for doing something half-assed. I realise that this characteristic is not unique to Judaism, but it is this half-assism to which I am especially tuned.

Every Erev Yom Kippur (the night before) I go to the 17th c. Portuguese ***snogge at Waterlooplein, with my friend Aya. Once you get past the guards, hired Israeli security that give us twice-a-year-whether-you-need-it-or-not Jews a thorough frisking (another reason to go; 'Punish me, punish me, Dark and Delicious!) and many security questions, it's breathtkingly beautiful inside. Apparently it takes more than two hours to light all the candles that illuminate the huge hall. Still, some lady always manages to catch a load of molten wax or briefly light her 'do' on fire. A small price to pay to be in such a beautiful and auspicious environment.
This is why we come here, aestheticists that we are, and we sit upstairs with the ladies, where it appears to be customary to atone for one's sins by gabbing on and on for the duration of the service. Of course we sit on the 'bad girl' side. The men sit down in the mosh pit where all the action is, and there really is such a huge amount of action that the poor rebbe sees fit occasionally to bang his prayer book against the pulpit and shout, 'Who da man here? You think you da man? No! You standing up here leading this service? I don't think so. I'm da man! I don't see you standing up here!' That's a loose translation from the Dutch. It's the Netherlands, therefore children are permitted to run around freely, screeching and shouting between the men's and women's sections. Everyone seems very happy to atone for their sins as one community and it is more like a village square on a bustling market day than a church service (although I don't speak from experience, having never been to a church service).
If you're Jewish in 2006, you get to fast on these days:
- March 12-13 2006: The Fast of Esther
- April 11-12 200: The Fast of the Firstborn before Passover (only if you are a firstborn male)
- July 12-13 2006: The Fast of Tammuz
- August 2-3 2006: The Fast of Av
- September 24-25 2006: The Fast of Gedaliah
- October 1-2 2006: Yom Kippur, already
The 'Major Fasts' (The Fast of Av, Yom Kippur) last from sunset to sunset. The 'Minor Fasts' last from sunrise to sunset.
* bubkis - nothing, absolutely nothing.
** mitzvah - brownie points, a good deed.
*** snogge - Amsterdam (aka Mokum) slang for synagogue.
debra at 14:11 | | post to del.icio.us
6 Comments »