Branding Iftar in Istanbul is handy to mouthy
October 19, 2005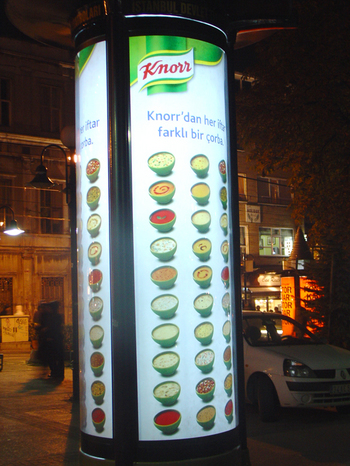 In Istanbul I spotted this column next to the Blue Mosque, advertising the use of soup powders to flavour traditional Turkish dishes for Iftar meals. If the goal is to address a broad consumer base, Knorr marketing is right on target with this Turkish ad hocking of product during the month of Rammazan. I guess if you're a high-powered career woman in Istanbul, working as the curator of an international art event like the Istanbul Biennale, you don't really have time to whip up some break-the-fast nibbles every day at sundown, all the livelong month, and these powders could be handy. Handy to mouthy. Who am I to say that packaged flavour marketed as culture isn't sometimes a good thing?
technorati tags: Ramadan, Amsterdam, fasting
If you are the individual that can translate this text in Turkish, I will gift you something fabulous and befitting of your efforts.
If you are the author of this campaign I would love to talk to you.
debra at 12:25 | | post to del.icio.us
3 Comments »
Hi Debra,
On Ramazan it's very traditional to start the Iftar with a soup. So Knorr used this in its aid. " A different soup at each Iftar". These food giants know how to sell,don't they? Though they can't fool me ;)
I want "real soups", without artificial flavours and preservatives.

Thanks Isil for answering this. I could only understand a few words.

I figured that Miss Veggie Way would be making delicious fresh soups with fresh ingredients, all nice and vegetarian. I was being a bit sarky with the placement of this entry, but the women I know in Istanbul are so very 'busy busy busy' that it's not their style to get into home cooking. Also, they don't celebrate Iftar.

You have an amazing city, by the way. Hopefully I will return their before 2007.

Warm regards,

Debra

Comment by Dear Isil, — January 21, 2006 @ 20:26

As far as i know the Knorr has some additive substances inside so we should actually use real soup instead of using these chemically processed food which has hazardous affects on our body just to let you know…
The best food after Iftar after the fast is finished and the sun set is of course kebab by the way i missed it too much bec there is no in India

Comment by Dogan Can Kut — July 2, 2007 @ 9:39