South Central Farmers
urban agriculture
North American style
October 17, 2006

Image courtesy of South Central Farmers
Urban agriculture in North America is still only an occasional cultural novelty or, in the case of the recently bull-dozed South Central Farms, an inconvenience whose value goes unrecognized. Los Angeles once housed the largest concentration of vineyards in the country and was the capital of US citrus production until the population boom and subsequent Water Wars of the 1920s. When the population of Los Angeles County rose by nearly 50 percent in the 1950s, it commenced rezoning 3,000 acres of farmland a day. In 1969 agricultural land use in the LA basin had dropped to 20%. Los Angeles, once a fertile flood plain dappled with low chaparral, is now a smog-producing pizza oven, covered by 90% with buildings and pavement.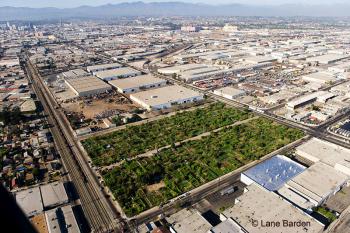 Image courtesy of South Central Farmers
In the middle of South Central Los Angeles, amidst a grid of streets, train tracks and warehouses there was until very recently a 14 acre community farm that provided food for 350 low-income families. These urban farmers grew their own food, held Farmer's Markets, festivals and cultural events that were well attended and enjoyed by the general public. In 1992 the City of Los Angeles designated the 14-acre site for use as a community garden and later collaborated on the operations with the LA Regional Foodbank.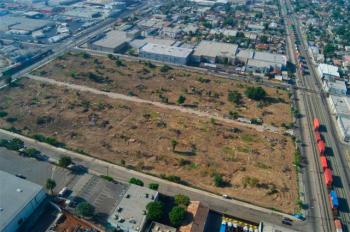 Image courtesy of South Central Farmers
Due to a series of dastardly real estate deals between 1995 and 2003, the narrative of which would seem more at home in a comic strip resplendent with cape-wearing evil villains slash land developers, the City was hounded and eventually honoured a bid to sell the property to a local investment company for more than $ 5 million. Although South Central Farms was functioning in an exemplary fashion, feeding families, providing much needed urban green and as a centre of local culture, the City Council agreed in closed session to sell the farm in August 2003. 3 years of protest and court battles ensued and in the summer of 2006 the farmers were forcibly evicted and the farm was bull-dozed flat.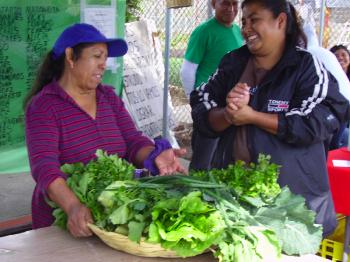 Image courtesy of South Central Farmers
South Central's farmers are still fighting the validity of the sale of their farm in court and in the media with support from high-profile media-folk like Joan Baez, Darryl Hannah, Ralph Nader, Danny Glover, 'Flea' from the Red Hot Chili Peppers and Willie Nelson. La puebla unida, jamás será vencida / The people united, will never be defeated!
South Central Farms is believed to have been one of the largest urban farms in the US.
Presently the City of Los Angeles has allocated only half of the original 14 acres at an alternate site. Although some of South Central's farmers have relocated and begun cultivation, only 3 acres, located under high voltage power lines, have been made available to them. It's not over yet…
South Central Farm, South Central Farmers
1992 – 2006 Los Angeles, California
debra at 16:22 | | post to del.icio.us
No Comments »