Chaat Street, Indian chips mimic street food golgappa
December 13, 2005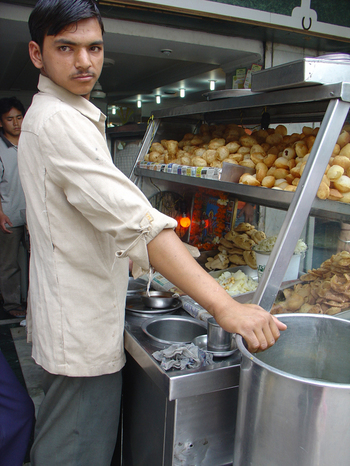 Nine months ago I was in Delhi and not in the Polar Circle at midwinter, and it was there that I was introduced to golgappa, one of the top ten amazing things you could ever hope to put into your mouth. The more I re-peruse the images of food from ElBulliFatDuckAlineaMoto and the likes, the more I can't get this unpretentious street food out of my mind.
Golgappa is a deep-fried pastry pillow, neither sweet nor savoury, which is served up in a most intimate way. The street vendor pokes a hole in the deep-fried puff, gives you a metal or leafenware bowl and then asks you if you are 'ready'.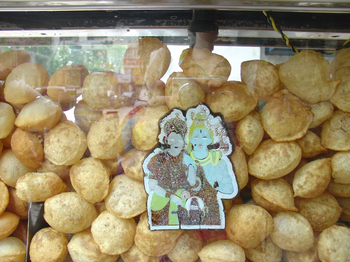 Ready? you say, *lifting one eyebrow.
And he takes that as a 'yes'.
The vendor proceeds to ladle a liquid into the golgappa that quite strongly resembles brackish pond water. In actuality it is a tasty, thirst-quenching tamarind drink with crispy puffs and bits of melon or turnip floating around in it. Neither sweet nor savoury, this soupy mixture is best described as 'refreshing'.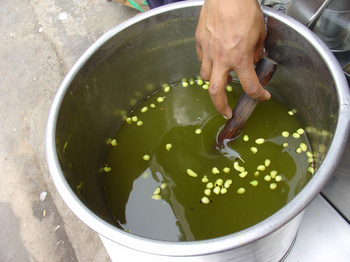 The vendor then hands you an about-to-drip-and-disintegrate golgappa filled with the liquid and you have to pop the entire thing into your mouth where it implodes instantly, crunch and rinse, and you can do nothing but laugh and sop up the dribble on the shoulder of your friend's blouse.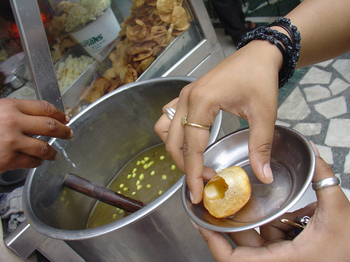 By this time the vendor has already started to dish up another one, (pop, crush, rinse and swallow) and another one, and another one. The idea is that you are popping golgappa into your mouth as fast as you can until you beg him to stop by motioning with your tamarindily dripping fingers. A recent study on street food has proved that ninety-four percent of first-time eaters of golgappa say 'wowwy' in response to the experience.
How wise it is then that Frito-Lay should be inspired by golgappa for their Street Chaat line of chips in India. Poke-free. Drip-free.
* - Poetic license. I can't lift only one eyebrow.
debra at 18:04 | | post to del.icio.us
8 Comments »