Sunday Tea, Fruit Boom
November 14, 2004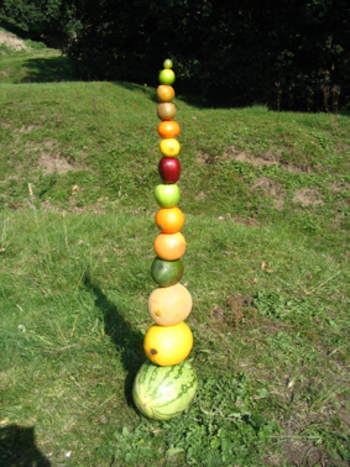 We can all use a bit more para so a visit to the Witte de With Paraeducation Department was the order of the day, this Sunday. The salon-format programme titled Facts of Chance (authored by artists Anne Schiffer, Marcel van den Berg, and Frank Koolen) was satisfying, like when the cookie tin stays open; an interesting collection of videos, slideshow, film and included a performance by Koolen. Pictured above is an inadvertent recipe featured in the slideshow titled Fruit Boom or in English, Fruit Tree. Now is that fruit + balance or fruit + skewer + time?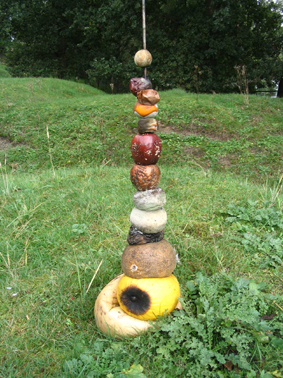 (images courtesy of Frank Koolen)

Try as I might I couldn't find a link online to the Paraeducation Department on the Witte de With site. The Programme van Heute Leute (Today's Programme, Folks!) opened with the context creating film by writer B.S. Johnson, titled Fat Man On A Beach. Che Guevarra graced the afternoon twice as guest of honour, and it is debatable if Maria also made an appearance; the event being in the throes of cutaways to bananas. These banana cutaways lent structure to the chaos, the well-defined theme of the event. Exuberant discussion followed… of course.
(Digital photographs of Fruit Boom courtesy of Frank Koolen who does not fall under my Creative Commons License.)
debra at 19:44 | | post to del.icio.us
No Comments »