Recipe for sweet pea hummous
January 26, 2008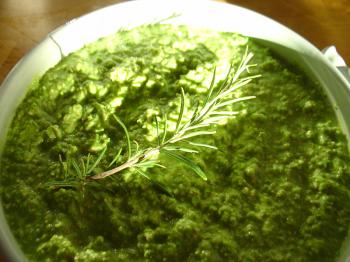 A vat of sweat pea hummous warms itself in the bleak winter sun just south of the Polar Circle
Recently, democratic presidential candidate hopeful Barack Obama was reported as saying, 'Ooh Mama, lay yer hummous on me!' I know, that's just preaching to the converted. Gawd knows few things are more handy than a big 'ol vat of hummous to combat an unexpected pang of hunger or the impromptu droppin' by of guests. Countless are the times that the hummous snack course has evolved into a full-fledged dinner.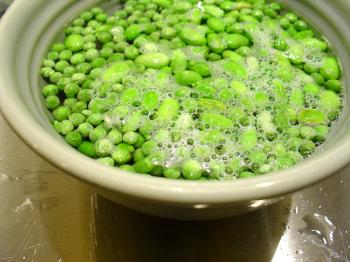 Peas and soybeans thaw briefly in a warm bath
Recipes for traditional hummous with chick peas, tahina, garlic and lots of lemon juice are legion, but this recipe gets us the hell out the Middle East and Central Asia and home to where the ginger and kaffir lime leaf can release an 'enlightened' sensibility. Sweet pea hummous, which sounds so much better than 'pea dip', also works great as a ravioli filling for when the vegans show up. For the vegan version just substitute olive or peanut oil and a dash of sesame oil for the butter component.
Sweet Pea Hummous
- fresh frozen organic peas
- (optional) frozen edamame soy beans (will give it more body than if you use just peas - depends what you're going for)
- semi-salted butter (for the vegan friends, olive or peanut oil w/a dash of sesame oil)
- fresh ginger
- fresh garlic cloves
- fresh kaffir lime leaves
- japanese style brewed soy sauce
- (optional) fish sauce (just a few squirts)
To thaw the frozen peas and soybeans, pour boiling water over them and wait a minute. The water should be cool and the beans cool to the touch. Do not cook the thing that must remain raw. Colour is a good indicator, bright beautiful green is good, brown is bad.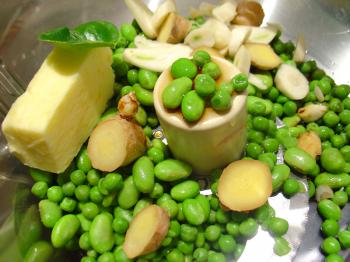 The ingredients before blending, thawed peas and beans, butter, garlic, ginger, kaffir lime leaf, a few squirts of soy and fish sauce
Strain off the water, put the peas and soybeans in a food processor with the rest of the ingredients and blend away. If you feel you need to add some liquid because the hummous is too thick, try adding some of that cold green tea sitting in the teapot on the counter. Don't over-blend the pea hummous or it will look like wasabi. This is a case when hetero is just way better than homo.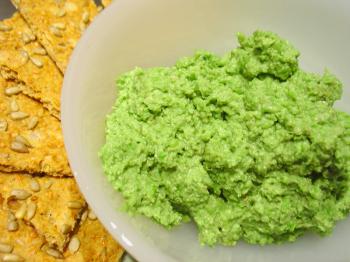 Serve sweet pea hummous with crackers or bread or green or orange or white things
Covered in the fridge this hummous will keep a few days. Don't refreeze the thing that was already frozen. Instead use the leftovers from an overly ambitious batch as a ravioli filling. You can also make a bright green pea soup by thinning the sweet pea hummous with dashi or coconut milk and creme fraiche. Carefully heat in a pot until it's the proper temperature for soup but do not cook the soup that must remain green.
debra at 16:37 | | post to del.icio.us
1 Comment »
just tried this with chickpeas instead of edamame (aren't available here) and I also didn't do a warm bath, just frozen everything on top of everything else and then blended. Result: delicious (albeit rather cold at first …)

Comment by Kristi — February 5, 2008 @ 13:29