An improbable history: meal assembly centers
March 26, 2006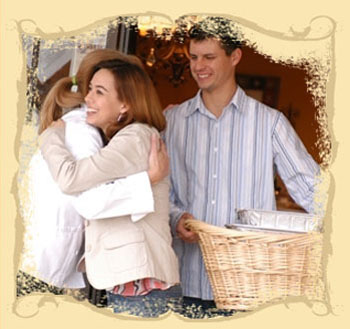 image of friendly community hugging © Super Suppers, used entirely without permission
Kim Severson and Julia Moskin's New York Times article about meal assembly centers has me all excited and flapping my wings. For other people. They report on Texan Judie Byrd's service called Super Suppers, based upon the concept of the communal kitchen.
Here's how it works: a suburban working person with family goes sans entourage to a central food preparation center where the food is prepped and waiting in a professionally stocked and staffed kitchen. Meandering from station to station (s)he assembles the week's family meals, takes them home in zip-lock baggies made from compostable potato starch, freezes the meal-sized portions and heats them up when it's time to get the grits on the table.
What is not to like about this practically utopian idea, for other people? As a predominately self-employed happily not married person with zero children, and as someone who finds almost all elements of food preparation thrilling, I realise this business model was not made with people like me in mind. But because I am insane and live in a bubble, here's what I'm imagining:
1. The meal assembly center would stock its food exclusively from local farmers and artisanal producers, procuring the highest quality seasonal and local produce at a fair price. The meal assembly center would develop enduring relationships with these folks and the community using the meal assembly center would feel secure knowing that all of the food products they are using are made or grown with their well-being in mind.
2. In a professional kitchen with sharp knives and a seemingly limitless amount of freshly ironed tea towels (made from locally grown hemp), the meal assembly center's assisting chefs have prepared cooking stations for an interesting range of recipes. This week there are cuts of meat from the local deer cull and some strange root vegetables, next week it's traditional holiday fare from one of the region's thirty-seven ethnic groups, the week after that, it's all about vegan haute cuisine.
Whale washed up on the beach? No problem. The meal assembly center is hip to the community and the kelp is already rinsed. Finally you're cooking as if you live where you live!
3. It used to be common to take homemade bread dough to a communal bakery for baking. Heq, it used to be common for a lot of people to be involved in the family's cooking, sharing the workload, but also sharing the how-to and the chit-chat. At the meal assembly center, labour intensive dishes involving lots of stuffing, rolling, stretching and braiding could be prepared by the organisation or by other folks sharing the kitchen with an interest in these dishes. It would be a community that cooks, just like it was way back when, in the Wabac Machine.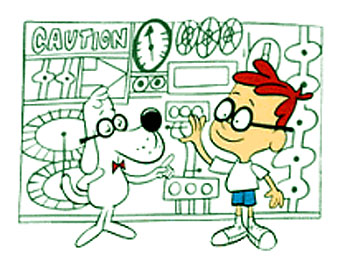 image of Peabody and Sherman using the WABAC Machine (that's pronounced 'way-back') © Jay Ward, used entirely without permission
4. The meal assembly center would be stocked with amazing community-tested equipment. Here's your chance to try cooking on a wood burning stove. Want to smoke up some trout, stuff some sausage, make cheese, brew a stout beer? It's all possible because the community would do it together.
If you have prepared food (for your family) in a food preparation center, I would really love to hear about your experience. But please do not burst my bubble and tell me it's about Thai Mac 'n Cheese and Turkamales.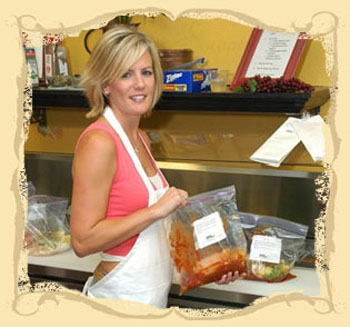 image of zip-lock wielding working yoga mom © Super Suppers, used entirely without permission
technorati tags: food preparation centers, meal assembly centers, working moms, locative food, food trend, coommunity


The Super Suppers service says it's designed to facilitate families eating home-cooked meals together again, a noble ambition. The down side is that the cooking described in the article about the Super Suppers service all points to women doing the cooking. Not that there's anything wrong with women cooking, I'm all woman and I love to cook. But it I thought that the third feminist wave had taken care of the predominance of women dealing with basic nourishment in the home. Reality check.
From Severson's article, "Although women still do eighty percent of the food-related work at home, the amount of time Americans spend cooking dinner has declined to about 30 minutes from about two and a half hours since the 1960's, according to market research by Mintel International and the NPD Group."
A HREF="http://www.dreamdinners.com/main.php?static=index" TARGET="_blank">From the Dream Dinners website: Does Dream Dinners use organic ingredients?
Dream Dinners would love to provide more organic meats and produce for our guests. Presently though, all of our food products are provided by Sysco Foods, which is a national food distributor. At this time, Sysco does not carry a large selection of organic food products. For Dream Dinners to purchase these types of foods from another vendor on a national level would result in substantially higher costs for our guests. Our goal is to provide great family dinners at prices affordable for all our guests.
Does Dream Dinners use hormone-and antibiotic-free meats?
Although Dream Dinners cannot guarantee that the meat products used in our meals are antibiotic- and hormone-free, we can assure you that the food products we use are of very high quality. Dream Dinners food products are similar to those used in fine restaurants, schools, hospitals, etc.
debra at 22:40 | | post to del.icio.us
15 Comments »