Not on holiday, just very, very busy
May 27, 2006
debra at 10:00 | No comments | post to del.icio.us
Joe's Fish Net in Newcastle
May 21, 2006
This last week I was in Newcastle to meet up with the old and new folks from Dott 07 (Designs of the Time). As part of our getting aquainted with the area we were asked to do some directed wandering and meet some people outside of Newcastle's shiny centre. I wandered into Joe's Fish Net, a family owned fish store in Byker and met owners Anica (pictured on the right) and her brother, Richard Grey.
Although I arrived during closing time, the entire place was under suds and chatter. Both Richard and Anica were happy to talk about the fish biz once I assured them I wasn't from Mark & Spencers or Tescos and therefore about to steal their shop location. Richard and I talked about the effectively extinct cod and he gave me an industry publication titled Fish Update which ended up being completely interesting. Anica talked about the new line of prepared fish dinners that she is about to launch and about how to publish an electronic cookbook. I forgot the names of the other ladies in the shop, maybe they'll see this and let me know?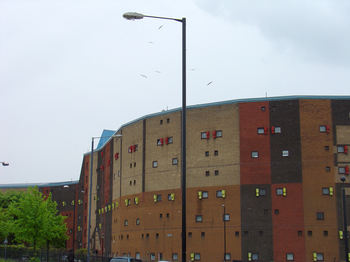 Architect Ralph Erskine's Byker wall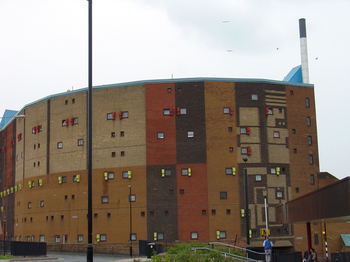 continuation of Byker Wall - beautiful brickwork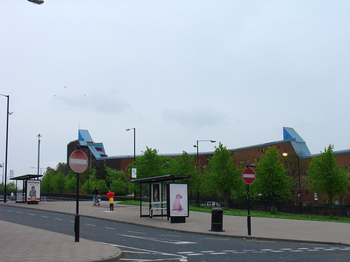 street scene in front of Byker Wall with Dutch beer ad somehow communicating to the reader to 'relax!' and a poster ad of a puppy
Joe's Fish Net
9 Denmark Street
Newcastle upon Tyne
Tyne and Wear
NE6 2XF
debra at 23:18 | Comments (1) | post to del.icio.us
If you like fresh leafy greens and pork, you're going to love kruudmoes
May 14, 2006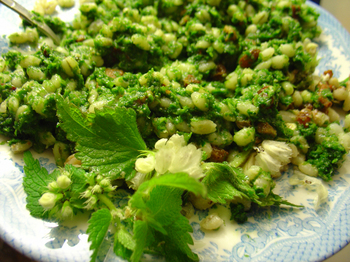 First impression: I may have taken an overly Californian approach to making kruudmoes this time, but although I should probably increase the gooeyness to make it just the way the natives do, kruudmoes is just crazy delicious.
If you're like me and:
- love to chomp away on all sorts of leafy greens, the weedier the better,
- adore all things pork,
- can't get enough of cultured milk products,
- are nostalgic about barley,
Dutch crude mousse is going to blow your mind.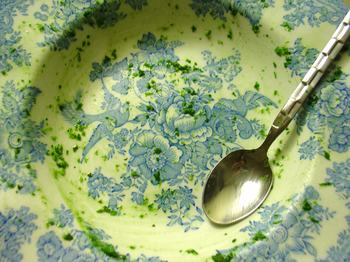 Normally I don't eat with a spoon, let alone a teaspoon. But I was tasting the oats and the greens mixture and became so enthusiastic that I couldn't even stop to set myself up with some sticks.
debra at 22:31 | Comments (0) | post to del.icio.us