Yurt and garden
August 13, 2005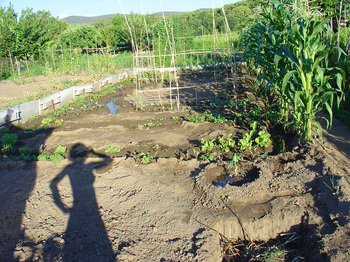 My garden at three and a half weeks old, is thriving! My yurt, set up at the edge of a vineyard, with views into two river valleys and mountains on all sides, is now little more than a glorified bedroom, shouting distance from the 'real house' in town.
But in one week's time a very special guest will arrive and we will among other things, live, and cook (!!!) at the yurt without the support of a proper kitchen. And because I am not a practical woman by nature, I have my heart set upon the notion that the yurt-cooking menu should consist primarily of food originating from my pre-pubescent garden. So I'm digging my toe in the dirt and wondering what kind of grits can a gal dish up using corn, tomatoes, several kinds of lettuce, rocket, chard, red chicory, mint, basil, sorrel, coreander, and everything but the squeal of a radish and a beet using nothing but a BBQ-for-one and an Occitanian 2-ring burner.
Fortunately, he's a vegetarian.
images from t to b: author slash subsistence farmer surveys her harvest possibilities, yurt lighting, flashed-view from the foot of bed.
debra at 11:24 | | post to del.icio.us
7 Comments »