Like raw beans in a hippy's beard
January 18, 2005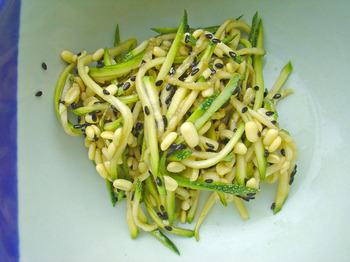 In less than 2 months I will be heading off to India again and as I prepare the Indian version of the Nomadic Banquet Workshop I find myself hunquering for Indian food. I'll be writing about the Nomadic Banquet in future culiblog entries.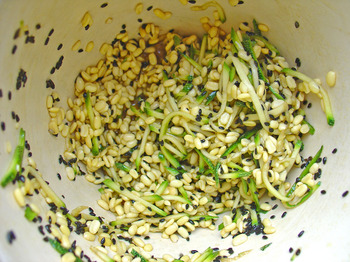 Hippy Beard is the nickname I gave to the Southern Indian (Karnatakan) mung dal salad that I adored in Bangalore and adapted to my own liking once back in the Heimatt. If you thought that nothing good could ever come from eating raw beans, you really need to try this simple recipe. The salad is very light and the good kind of crunchy with no negative… uh, aspects.
The cukes I replaced with zukes and unfortunately I had to omit the 'curry leaf' because I can't find it anywhere in Europe. It doesn't take a whole lot of imagination to figure out why I call this salad Hippy Beard and just like in a real hippy beard this salad keeps for a few days. I'll ask my buddy Zeenat Hassan (who is neither a hippy nor does she sport a beard) for the real name of this refreshing snack with the cheerful 'mouth-feel'. It was her menu choice for that fine afternoon in Bangalore… (recipe follows).

Mung Dal (or Hippy Beard) Salad (serves 6, prep time 4 minutes excluding soaking)
1 cup mung dal (split yellow mung beans)
1 zucchini
2 tbs black sesame seeds
1 tbs pumpkin seed oil
6 tbs of sesame oil
2 tbs of rice wine vinegar
sea salt
In a deep bowl wash the dal thoroughly in cold water. Often the yellow mung dal is dyed with yellow pigment so just wash it off with cold water until the water remains clear. This will take a minute. Soak the mung in cold water for at least 2 hours. (But if you're not going to use the mung beans immediately refresh the cold water and place the bowl in the fridge for up to 2 days.) Drain the mung beans thoroughly.
Using the thinnest cross blade on your mandolin, slice the zucchini into to thin strips. If you don't have a mandolin slice the zuke as if you did. This is your chance to practice making julienne and to realise it's high time to invest in a mandolin.
Add the zucchini and the rest of the ingredients to the mung and stir until just barely mixed. You know the rules: do not over-stir the thing that doesn't need a lot of stirring. (Begin Yiddish accent.) What, you want every bite to taste exactly the same? (End Yiddish accent.)
Serve the mung dal salad in little mountains.
debra at 19:01 | | post to del.icio.us
3 Comments »
looks handsome, is it also wholesome?
I discovered a sloppynessje in yr link:
you link to nomadibanquet instead of nomadiCbanquet

Comment by Kristi van Riet — January 19, 2005 @ 11:37

will correct immediatement the link.

Hell yes this is wholesome! (begin Yiddish accent) What, you think I would hock unhealthy food on culiblog? (end Yiddish accent)

read your artical 'moong dal' and not finding curry leaf. i am from Goa, from hotspot of bio diversivity. you might have tasted curry leaves cultivated with inorganic, (sinthetic fertilisers) here in Goa we use curry leaves from Westen Ghat's ecosystem. these leaves are small compared to commercially prouduced curry leaves. but i assure you our leaves are supirior in all senses. when you visit India next ,drop me line in advance, i will present you one packet of it in dried state. for your information curry leaves are having properyies ofcontrolling blood sugars,hypertension etc,pl.check Ayurveda sites.

Comment by Anil — December 6, 2005 @ 23:43