Passover ultra-lite,
ultra-late,
ultra authentic
April 14, 2007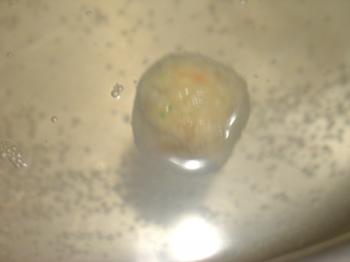 Our first matza ball ever. Don't believe the hype.
More than half of us had to be at Schiphol Airport the next morning on planes boarding well before 7. We should've blown the whole thing off. I mean, isn't Pesach synonymous with multi-day preparation? To make matters worse, an unfortuitous divorce in our group meant that 'we' weren't invited to the massively gay and elaborately laid seder we usually enjoy so much. Dang.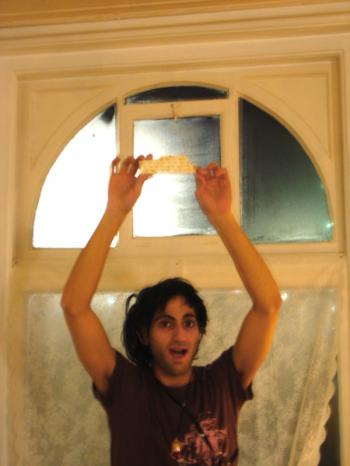 Wig-wearing Reb Tal finds the afikomen.
On April 2nd, in the middle of simultaneous hormonally driven housecleans, we started phoning and texting in the hopes that at least someone had thoughtfully taken it upon themselves to prepare dinner for 7. No such luck. But as the great Yiddish philosopher and Dutch football coach Johan Cruyff once said, 'Elk nadeel hebt z'n voordeel' and we decided that we would turn our lack of time, planning and preparation into a hyper-authentic Pesach seder. Our ancestors weren't busting out the special china the night before, so why should we re-enact labour intensive conventions just because our moms get off on preparing Olympic dinners for 30?
Anywhoozelbees, we all turned up at 20.00h, grocery bags in hand and set to work preparing the dinner. We made matza ball soup out of vegetable scraps (and instant vegetarian dashi powder), and learned to not believe the hype about matza balls. (You can totally make them on the fly.) We ritually liberated ourselves from the foul burden of eating gefilte fish by changing the main course to pepesan. To our way of thinking, gefilte fish is just Gawd's way of punishing Ashkenazic Jews. How liberating it is to learn that freedom is just a menu change away.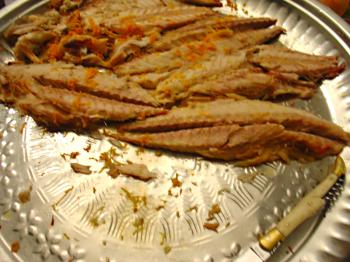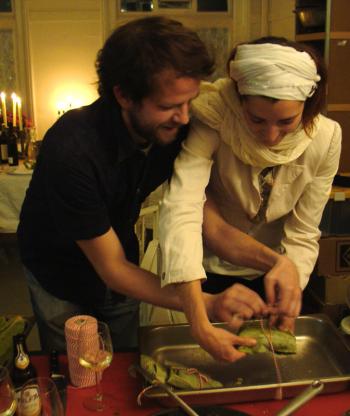 Zvoni and Iva prepare Indonesian style gefilte fish
Tal, the youngest, was our fast-reading Hebrew adept and therefore the designated Rebbe. May karmic justice reign down upon us! He didn't have have enough kipot, so the guys had to don his collection of wigs - whatevs. He also found the afikomen for the very first time in his life and was utterly surprised. I personally don't approve of the traditional 'warm' and 'cold' ritual guidance, but we were about to turn into pumpkins as it was well past midnight. Reb Tal wouldn't continue the reading until he had found that blessed piece of matza.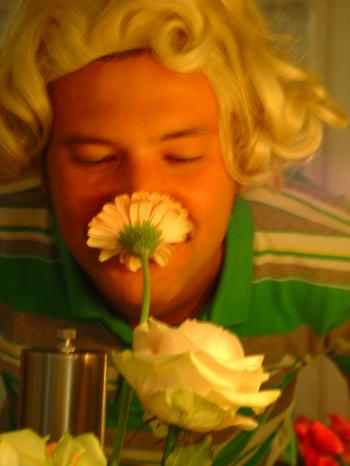 No kipa? No problem. Nenad explores his inner Marilyn
Pesach ultra-lite is definitely worth a repeat and now that we've had a taste of it, I'm betting next year's seder will be faster and lighter yet. The best part of making/celebrating Pesach on the fly? It was the first time we didn't overeat. No time, planning and prep means you can't make too much food. Pesach ultra-lite served as an excellent in-your-face reminder of folks running for their lives.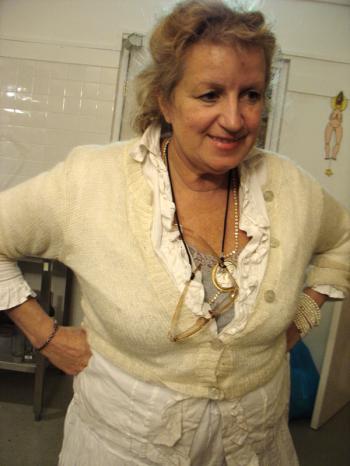 Chef and seder hostess, Marlein Overakker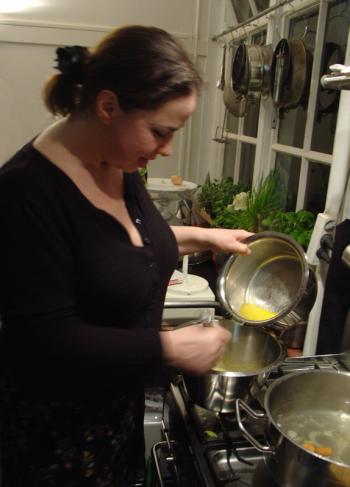 Chef Inez de Jongh busts out the bernaise
debra at 13:06 | | post to del.icio.us
No Comments »