Chinese Frozen Food Code De-mystified
April 6, 2004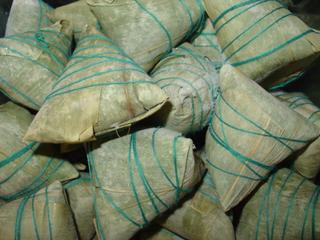 Packets of sticky rice in the frozen food section of the supermarket. The green string tying it all together indicates a vegetable interior, the pink string signals pork and the yellow string is a sign for chicken. In the supermarket there is a GREAT assortment of these in a frozen foods section which seemingly stretches for miles.
debra at 10:59 | | post to del.icio.us
No Comments
Sorry, the comment form is closed at this time.