Ziggizagna, pasta folds of summer harvest
August 16, 2006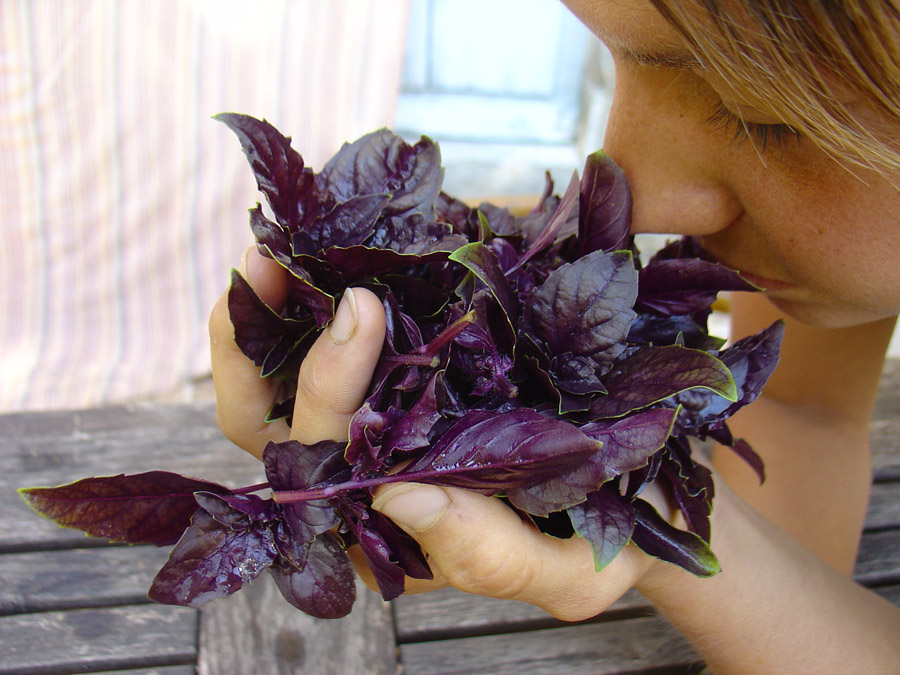 Julie Upmeyer puts her face in a bunch of freshly picked purple basil and miraculously sheds 16 years!
Normally mid-August is time of change in the Occitanian weather; no more highs in the 40's and we can start expecting violent thunderstorms. But this year Mama Nature has heralded an abrupt and unusual end to summer, summoning the mind back indoors for another season of Zitsfleisch procurement. Suddenly we're layering the bikini with socks and sweaters and going to bed sporting PJs! Hopefully the kitchen garden can handle this weather blip and still come up with a second crop of tomatoes.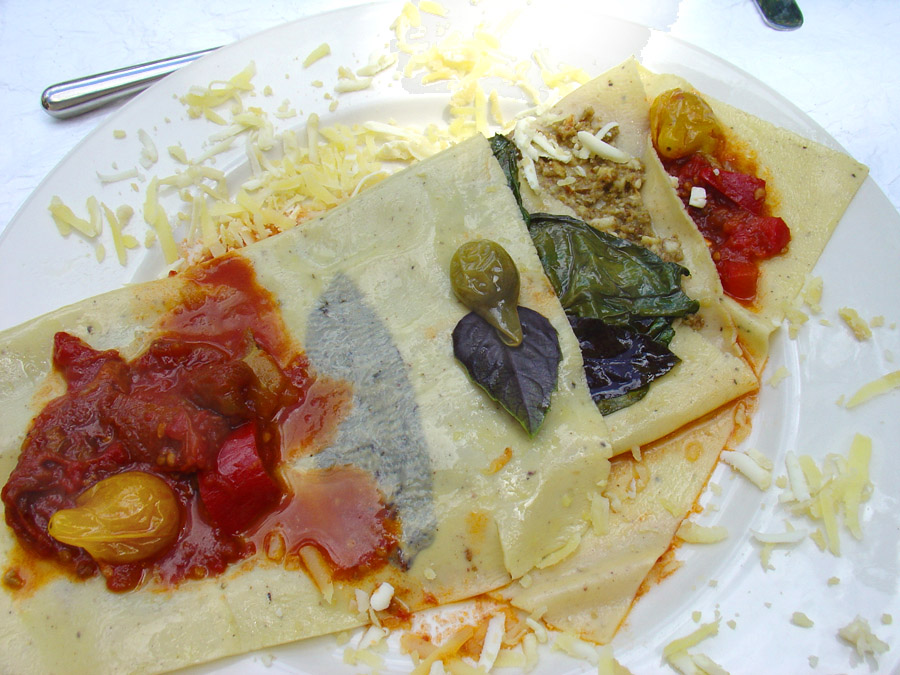 Ziggizagna, individually folded, ad hoc et à la minute
Ziggizagna, short for zigzag lasagna, is a collaborative recipe for an ad hoc lasagna prepared right on the plate, each fold presenting a new filling or course, an everlasting gobstopper of a summer pasta dish. Now that the Meat Master has temporarily returned to the Polar Circle, us girly-gals (and lone manly man Floris) have taken to preparing a lighter menu with garden fresh ingredients that fit in our baskets and can be transported on back and/or bike. This Ziggizagna has fresh tomatoes, purple basil and chard from the garden, apricots, olives, garlic and almonds fresh from the market. The brebis (sheep milk cheese) is also local, sold to me each week by an exceedingly tall and handsome man from le Fermier des Garrigues. We home-aged it with the help of some early onset Oldtimers, to give it an even sharper flavour. We's lovin' the Ziggizagna!
Ziggizagna
- homemade lasagna pasta, about 35cm per person
- homemade tomato sauce, spicy and sweet
- spicy green olive tapenade
- flashfried chard or beet leaves
- purple basil, but green could be just as good!
- home-aged brebis (forget you put it on top of the fridge, and let it get good and hard)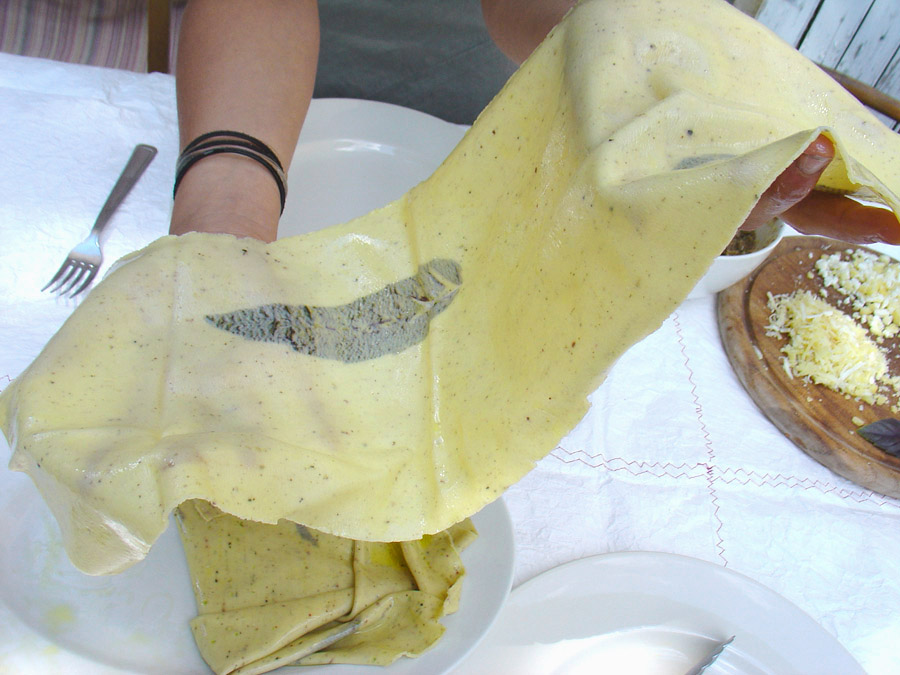 A leaf of homemade pasta greased up and ready
Roll the pasta extra thin, and go for breadth! Here's an easy pasta how-to.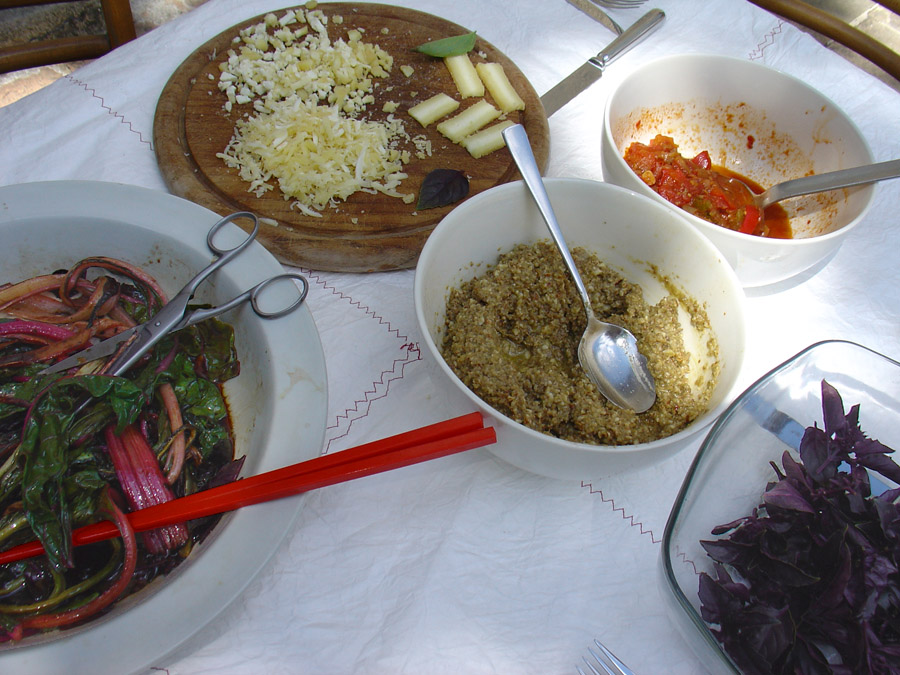 An array of Ziggizagna fillings
You can put anything in between the folds of pasta but Julie and I used (clockwise from bottom left): flash-fried bright lights chard, forgotten brebis, spicy green olive tapenade (grind up some olives, almonds, lots of garlic and fruity olive oil), sweet and spicy tomato sauce (ours has apricot preserves in it left over from our early August jam-glut) and even more purple basil.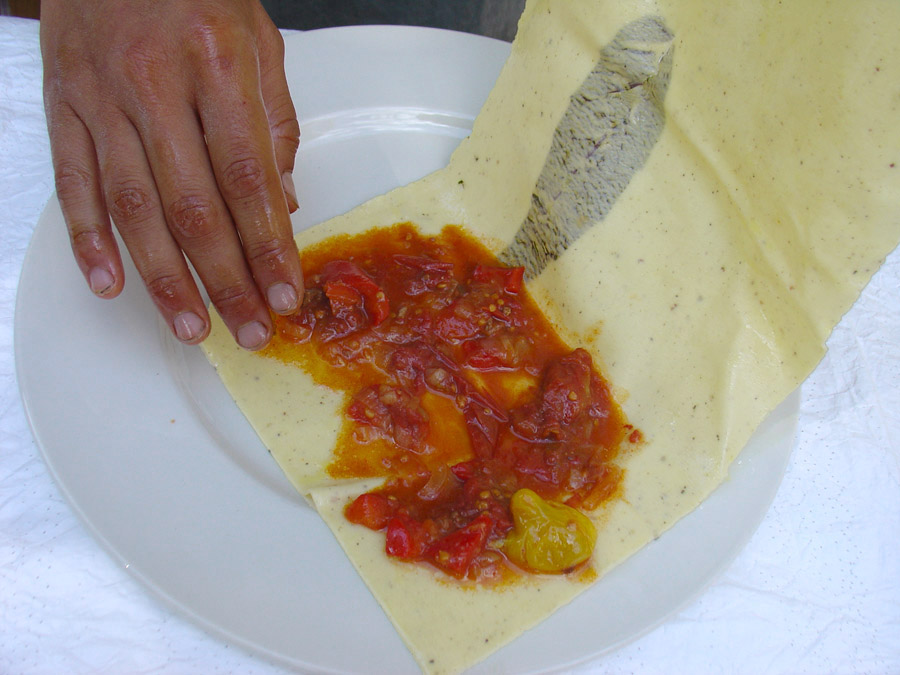 Tomato-apricot sauce, the first layer
Cook the pasta for a minute or two and shock it in cold water, so that you can handle it without burning the digits. Ladle on a scoop of the saucey-sauce. Sprinkle with cheese.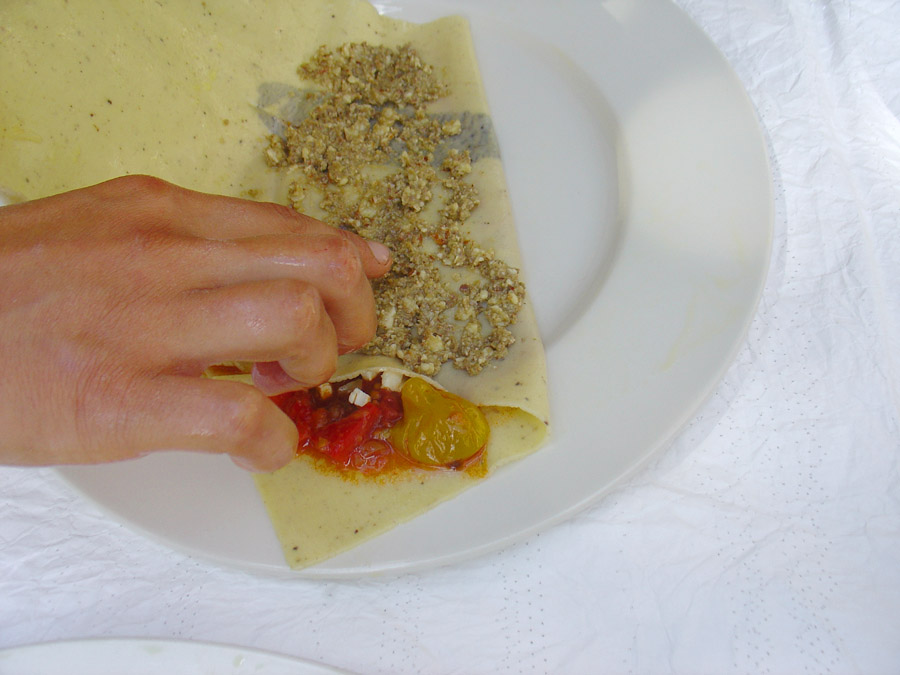 Second layer, a tapenade made from spicy green olives, almonds and the usual suspects
Fold over the pasta and spoon on some garlicky tapenade.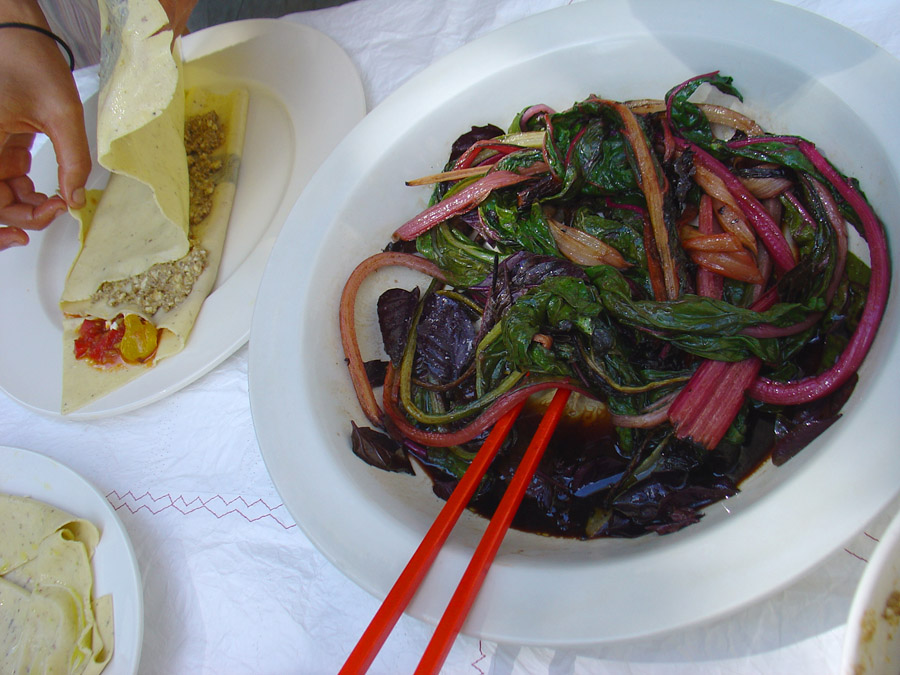 Flash-fried chard and wilted purple basil squirted with balsamic vinegar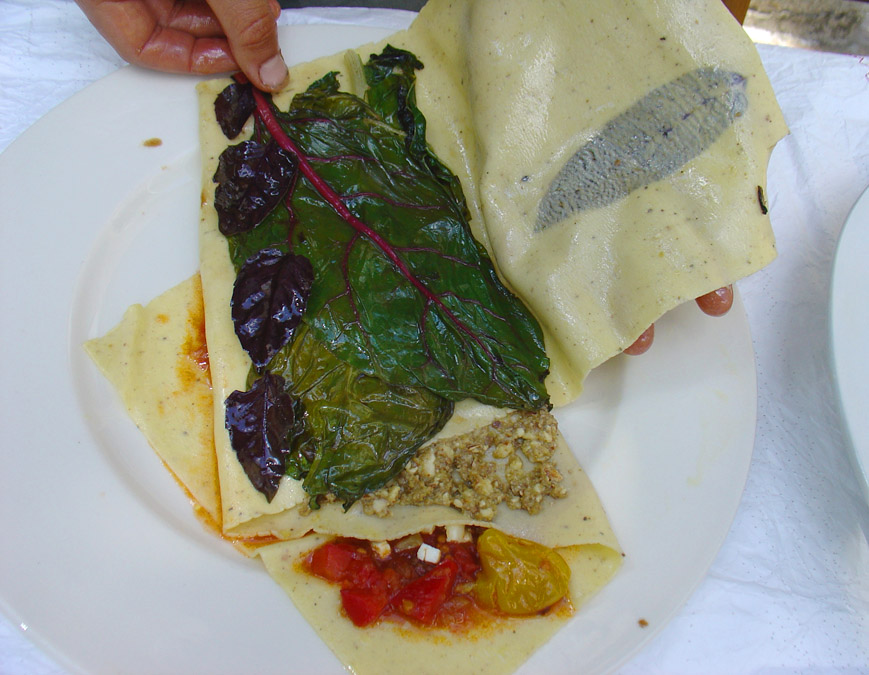 Don't let the leaves fall where they may, or do
Snip off the chard stems, tie them in a knot and give them to the liefhebbers.
Not every plate Ziggizagna needs to be fancy, sloppy is just as good as long as it's intentional.

The Happy Plate Club: Kristi, Eleonor and Emilie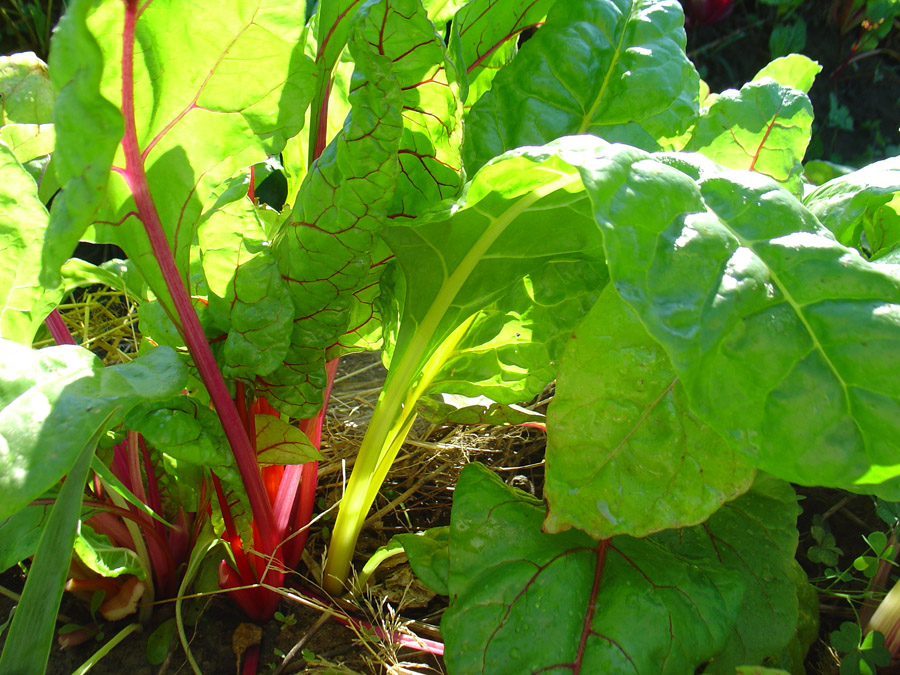 Homegrown Bright Lights chard burgeoning in the kitchen garden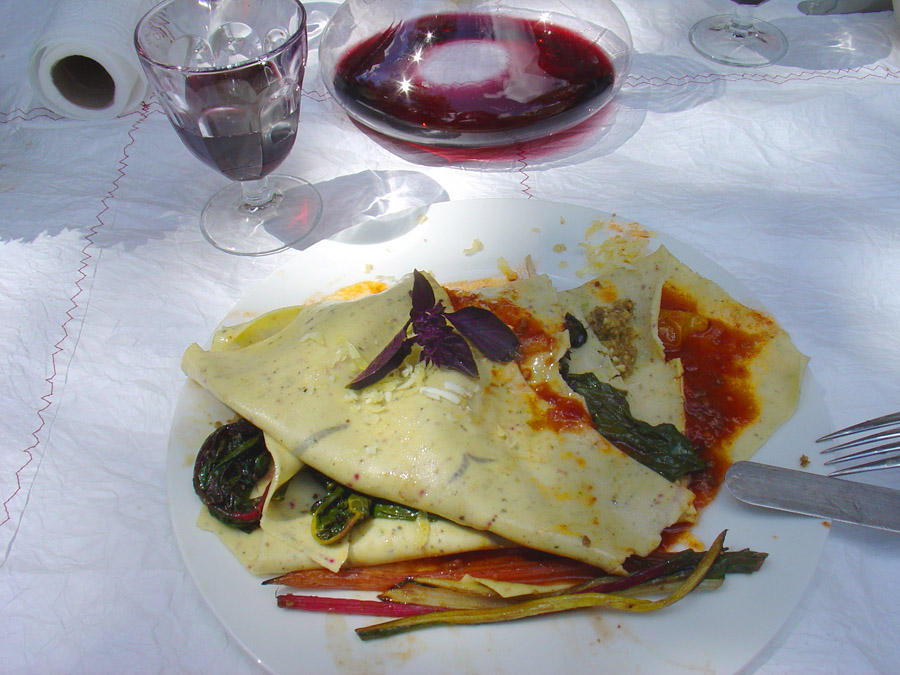 Ziggizagna, wine and chard stems
debra at 11:50 | | post to del.icio.us
3 Comments »
Happy to discover such an eloquent and tasty site- found you googling "arty pasta recipe" Wish I were sitting with you in your lovely garden eating zigzagna, but will make my own now, with garden sungold tomatoes, garden mustard greens w/garlic and very thin slices of my tenderest zuchini. Perhaps a few capers sprinkled in too. Maybe you can drop by…thanks!
-e-

Comment by -e- — August 18, 2006 @ 3:17

Thank you very very much! Please let me know how your ziggizagna turns out - I never know how to go with the open-ended recipe writing. Good choice of ingredients you\'ve got there = I LOVE MUSTARD GREENS. And capers. Do you grow your own capers? My neighbour/friend Peggy does. I\'ll see if I can get a caper lesson to post to the blog.

I would LOVE a caper lesson! Hope Peggy can help us out.

Comment by Keith Douglas — November 7, 2006 @ 21:23