Autistic chocolate
June 29, 2006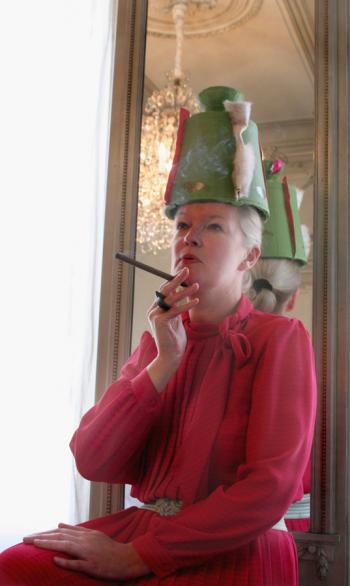 Chocolate hat © Ann de Gersem, photo C. Baele
A pink chocolate teapot hat? Pistachio green chocolate teacups with fur and pink foil? Dark chocolate whiskey snifter crystal ashtray bling? Ann de Gersem, a Design Academy Eindhoven MFA student graduates today with a collection of chocolate objects she designed in collaboration with the autistic employees of a Belgian chocolate factory. De Gersem, who isn't autistic, wondered if the way autistics think could serve as a departure from conventional design methodology. Could autistic thinking lead to a new form of authenticity in design?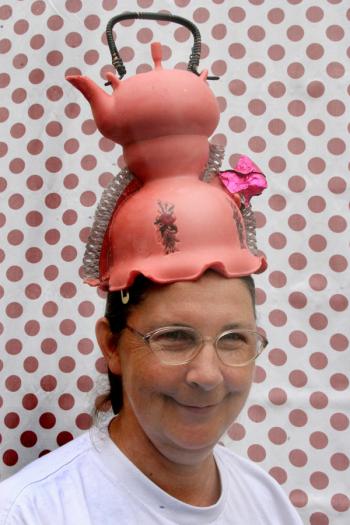 Chocolate hat © Ann de Gersem, photo C. Baele
De Gersem's project, primarily the bit about designing within a culture that is not accepted as normative culture, the culture of autism, has broad implications. De Gersem's Au(then)tism collection offers a visual language created in collaboration outside the culture of the neurologically typical. Writer, curator and activist, Ine Gevers wrote about this in 1999 in her essay, (En)countering the Culture of the Norm, for a one day seminar of the self-same title initiated by artist collective de Geuzen. Autists, according to Gevers, can be defined as those who are differently brained and whose language and/or (social) behavior deviates from the norm. By working with autistic people, de Gersem touches on the heart of what it means to design for 'normative culture' and therefore strikes at the heart of what is generally practiced as design.
Speaking of 'normal', normally designers graduate from design schools and get to work designing landfill as quick as you can say, 'industrial designers should be more proactive in altering their practice of designing the Himalayas of waste'. But this is what I love about de Gersem's approach. It's not so much that her chocolate objects are ephemeral (discouraging the production, acquisition and accumulation of thingie-thingies), but that the method of their concepting and manufacture is designed to occur within the context of heterogeneity. In striving for authenticity, de Gersem embraces pure difference as a design technique. Design for differentnesss.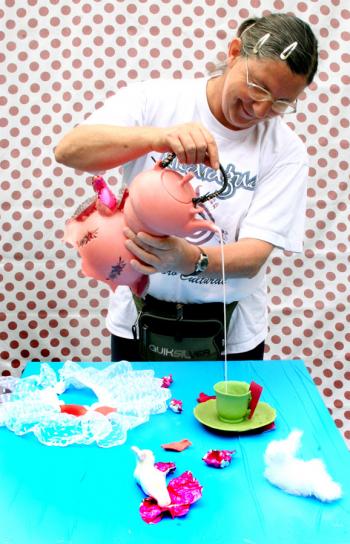 Frieda pours warm milk from a chocolate teapot © Ann de Gersem, photo C. Baele
Ine Gevers continues,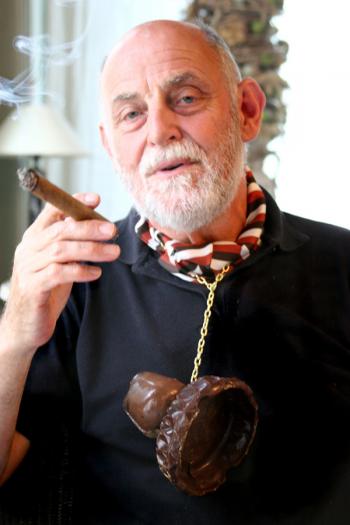 Dark and milk chocolate whiskey snifter ashtray bling © Ann de Gersem, photo C. Baele
So can we think of autsism as a culture? That's a fiddly question! Read the front page of any newspaper anwhere at any time to smell the fetid disagreement about what a culture is or what should be its defining characteristics. The smartypants-hive-brain that is Wikipedia thinks thusly:
… most cultural anthropologists as of 2006 define a culture as follows: (1) Culture is based on symbols, abstract ways of referring to and understanding ideas, objects, feelings, or behaviors -— and the ability to communicate with symbols using language. (2) Culture is shared. People in the same society share common behaviors and ways of thinking through culture. (3) Culture is learned. While people biologically inherit many physical traits and behavioral instincts, culture is socially inherited. A person must learn culture from other people in a society. (4) Culture is adaptive. People use culture to flexibly and quickly adjust to changes in the world around them. (Source: Encarta article on culture.)

According to these definitions, autistics are perhaps in the beginning stages of forming a real culture. Many features of what are commonly called cultures are visible in the autistic culture. There are shared beliefs, organisations, language, and art that are specific to the group, and there is a tendency to marry within the group. Autistic culture can be learned…

Amy Nelson (Aspies for Freedom) wrote a proposal on November 16, 2004 that the Autistic community are a social minority group and therefore should be considered as such by the United Nations.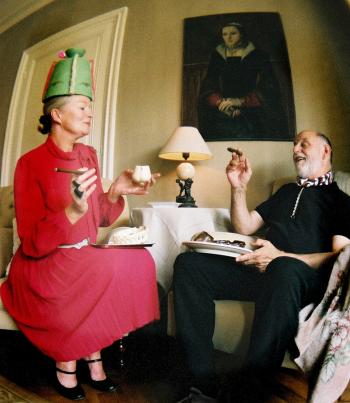 Nelly and Wies in the salon © Ann de Gersem, photo C. Baele
If you still think de Gersem's work is about autistic people, why don't you substitute the word 'autistic' in this entry for Kurdish or Palestinian or Kirghizian or Afro-American or Afro-Carribic or Islamic or Syrian Christian or Sikh or Chicano or even Anorexic and you will immediately understand that designing with and for subcultures is a really hot issue. The autistics must be nodding Mona Lisa smiles at the notion of being the poster-child of this positively radical (design) notion. What page of the Talmud was it that says, 'Culture is difference'?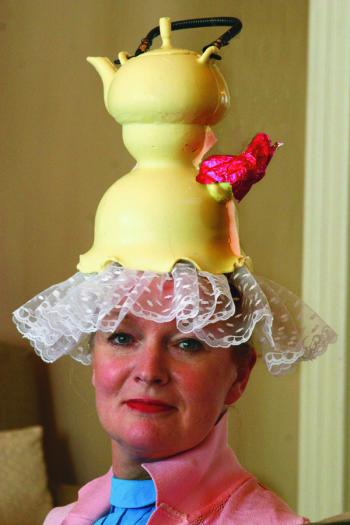 Chocolate hat © Ann de Gersem, photo C. Baele
Twenty-one international masters students will graduate this month from the Design Academy Eindhoven. The Masters Graduation Show will officially open on Thursday, June 29 at 16h00 in 'de Witte Dame' Emmasingel 14, Eindhoven. For more information call Anna Crosetti at +31(0)40 2393939 or anna.crosetti@designacademy.nl
Photo credits: Photos, Cleo Baele, models Frieda (pink teapot), Nelly, (green and white teapots), and Wies (dark chocolate bling).
debra at 1:20 | | post to del.icio.us
5 Comments »