Subjective Atlas of Palestine
and also of food
January 13, 2008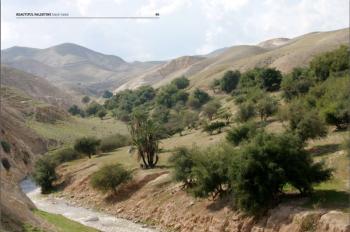 Just another beautiful picture of Palestine by Majdi Hadid, used entirely without permission
Say 'Palestine' and the first thing that pops into your head probably isn't an image of undulating hills speckled with date palm oases and creased with a babbling brook, or an image of lush olive orchards crowded with red poppies.
Say 'atlas' and you probably don't think of recipes for chickpeas or herbaria whose wild flowers include tulips, capers, saffron and cashews.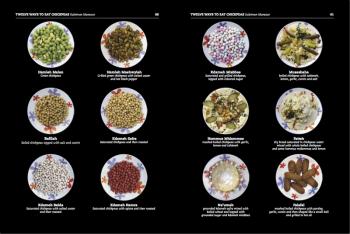 Chickpea typologies by Suleiman Mansour, used entirely without permission
It is an understatement to say that Palestine suffers from a lack of positive media representation. Even on Culiblog, the only entry about Palestine until now is a review of artist Khalil Rabah's installation (the Palestinian Museum of Natural History and Humankind/Palestine before Palestine) and Osama Qashoo's film, My Dear Olive Tree. Both works are supposedly about the culinary and cultural heritage that is the olive tree, but they also show violent destruction of property and cultural appropriation. Neither work leaves one with a positive sense of the country. This is what Annelys de Vet hopes to change through the Subjective Atlas of Palestine.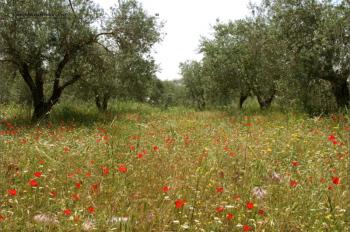 Just another beautiful picture of Palestine by Majdi Hadid, used entirely without permission
In a workshop held at the the International Academy of Art Palestine in Ramallah (April 2007), de Vet and thirty Palestinian artist/designers produced the materials for the atlas which consists of colourful spreads of Palestinian natural beauty, photo journals of daily life, herbaria that like all herbaria, make you want to go out and take a hike in the mountains to forage for herbs and berries and to search for that tiny little orchid. There are also revealing hand-drawn maps, overly-filled cultural agendas (mark your calendars with the Palestinian Mozart Festival) and an entire section on water pipes.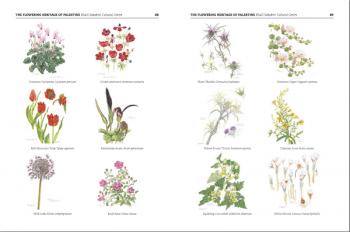 A Palestinian herbarium, used entirely without permission
Of course I appreciate the food-related sections, and these are many, because food always features prominently when people want to describe the sense of place that is their home. Suleiman Mansour's 'Twelve ways to eat chickpeas' shows that hummous is in fact an inadequate term to describe what you can do with tahini, lemon and the noble bean. There is a flag made out of bread and a slice of watermelon as the national flag. In fact food is more present in the atlas than football, although that might just be a reflection of the authors' preferences than anything else.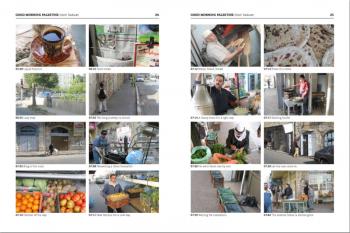 Good morning Palestine by Hosni Radwan, used entirely without permission
My favourite section is called Beautiful Palestine, nature photographs by Majdi Hadid that make you think of locations for romantic family picnics and walks in the hills, or of hot afternoons for olive harvesting. Reading the Subjective Atlas of Palestine, one feels it is about home, and certainly it is an hour's perusal in which you will not think about war or occupation. More likely you'll be triggered to remember lingering for a whiff of fresh sesame bread sold on the street, or of the social obligations associated with a cultural agenda filled with entirely too much Mozart. Palestine, it's just as much alike and different from everywhere else, right? Could be that an admittedly subjective view is in fact the most accurate.
Maybe it's the term 'subjective' that allows me to feel comfortable with the fact that there could never be any other kind of atlas for Palestine. But then I do start thinking about the war and the occupation and how could it ever make sense for there to be an Objective Atlas of Anywhere? My thoughts turn to dipping dates into hummous and why there is not one single mention of a pomegranate in all this subjectivity. It's such a hopeful fruit, the pomegranate.
debra at 20:37 | | post to del.icio.us
3 Comments »
Great Book -Just show the world about us in wonderfull way-Haifa Palestine

Comment by Denes Asad — October 4, 2009 @ 11:09

But of course Denes! Please check out these links as well - nearby YOU!

http://culiblog.org/2008/09/the-negev-water-blog/
The Negev water blog

http://culiblog.org/2008/09/ayn-hawd-bread-story/
Ayn Hawd Bread story

http://culiblog.org/2008/08/saosans-carob-syrup/
Saosan's carob syrup

http://culiblog.org/2008/08/soft-landing-in-ayn-hawd/
Soft Landing in Ayn Hawd

I just found you blog and I had to write to say that I'm in LOVE!! Fantastic posts here. :) I can't wait to go through them all. Thank you for your work!!

Comment by Amanda — April 3, 2010 @ 18:49