Butternut Brutalism
July 1, 2008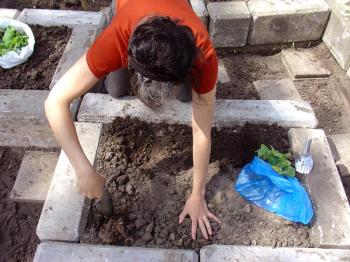 Upon returning to the new kitchen garden the next day, I felt that the parcel along the fence just wasn't speaking to me and I traded her in for the plot next door. Giddy with the even newer digs, I noticed what I had failed to see the day before, namely, useful in-situ building materials, in the form of cement curbing at the entrance to the drive. Imagining them to be perfect for fashioning raised beds, I started moving the blocks to the newer, sunnier allotment with the intention of quickly lego-ing some brutalism for my utopian permaculture kitchen garden.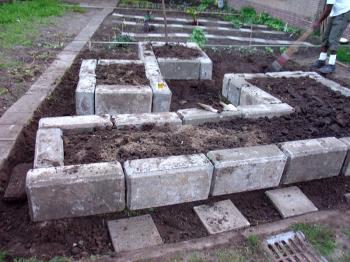 Turns out these blocks of béton brut were filled with a gooey, dark-matter centre and weighed in just a few grams shy of 75 kilos a piece. I was able to teeter-walk 18 of the gravity absorption buzz-killers over to the parcel, trying to experience the exercise as a meditation. I failed miserably in this endeavour. The entire raison d'être of raised beds is that they're supposedly physically easier to deal with, but at this stage of the design and realisation, the pain-in-the-ass factor was dipping deeply into the negative. It was time to suck up and summon up some friendly muscle for the positioning of the blocks.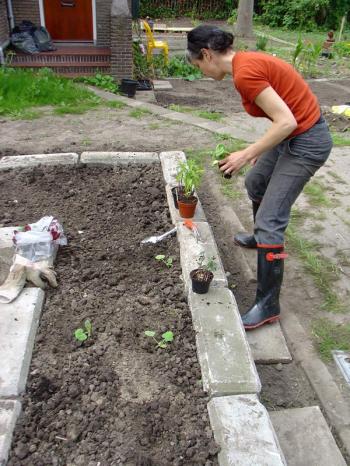 It took Oumar and me all of the next day to raise the beds, but the job was so absorbing and transformative that we neglected to go to two art & design exam shows and two separate adult birthday parties! Landscaping and gardening are easily as addictive as crack, watching television and urban planning. Just let's do another block.
debra at 13:19 | | post to del.icio.us
2 Comments »
Truely fantastic! Wil you do this for us in our court yard? Please?

Comment by Kristi — July 4, 2008 @ 6:12

Glad you like it. I'd love to do some béton brut, or any form of raised beds in your court. If you're serious about this we can talk about it when I'm there.

Things you'd need to have, that I don't need to have:
- a source for watering (drip irrigation on a timer would be best for your situation.

I'm totally getting off on the SEATING that this creates in my garden. On purpose, but unexpectedly nice. Amphitheatre seating/planters would work brilliantly along the Patrick walls of your court.

Let's talk.
I'm arriving on the16th by air this time. In the afternoon.

Comment by Debra van Culiblog — July 4, 2008 @ 8:45