Exhibition the Edible City
at the NAi-M closes
June 27, 2007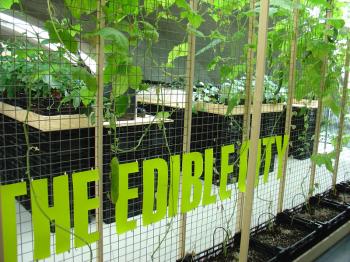 The Edible City exhibition at the NAi-M (the Netherlands Architecture Institute) has finally come to a close. Showing more than 40 architectural, design and urban planning projects, the exhibition was about food systems and the urban environment. There was a time when city-dwellers could more or less provide for their own alimentary requirements aka food sovereignty. But since the Industrial Revolution, the chain of food from field to fork has greatly increased in length and has even evolved into a lace-like structure. If you missed this iteration of the exhibition, chances are you will have an opportunity in the near future to have a look, see and do.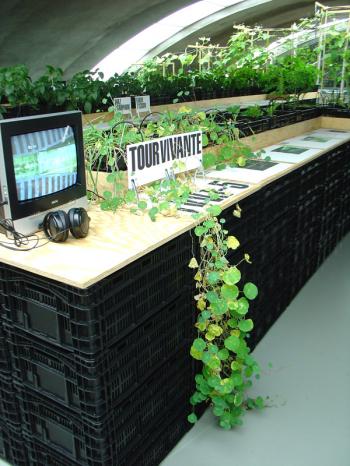 To celebrate a job well done and some much anticipated spin-off, NAi-M director Guus Beumer and NAI-M staff generously hosted a delicious luncheon, amidst the burgeoning exhibition growth, inspired by the foodstuffs grown in the exhibition itself and prepared by local restaurant de Bisjop. My co-curators, co-designers and co-sustainable landscape design colleagues were there, as were a goodly number of the exhibition's participants and of course illustrious and engaged guests from the region and the exhibition's sponsors. And quite a handful of folks that had travelled from far, far, far away.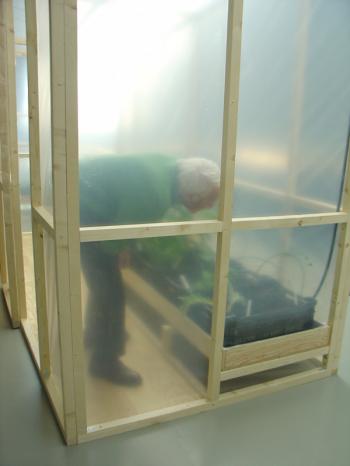 Havest Luncheon speakers included: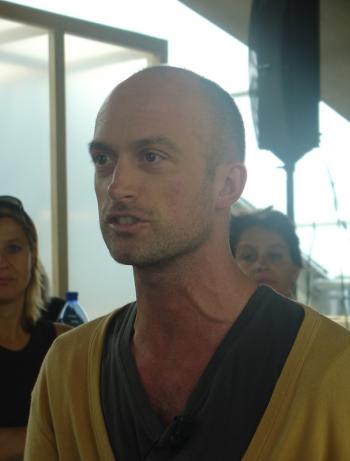 Sir Fritz Haeg of Edible Estates
Afternoon luxuriously turned into drinks and drinks turned into evening drinking which turned into eating (the most amazing Chinese food I've ever put in my mouth - You go Maastricht!) and later we tacked on a bit of drinking for good measure. It was one of those perfect 16 hour days borne out of the knowledge that at any moment, during drinks, during the flattering discussion, during the shootin' of the shit about urban agriculture and the designed environment and the need for discrete design commissions, during the deep kissing, that an urgency may suddenly arise to extract a pen from a tangled curl and start collaborating. Oh, the glamour…
The Edible City exhibition was based on an idea by Guus Beumer and is curated by moi-même, Debra Solomon (culiblog.org), Anneke Moors and Hans Ibelings. The exhibition design is by Event Architecture, in collaboration with Hans Engelbrecht and Margriet Visser (de Groene Stap) and the graphic design is by Experimental Jetset. Beautiful! BTW: the poster that the Experimentals made for the exhibition along with the poster of the Jean Prouvé exhibition now running at the NAi-M has been taken up in the collection of the MoMA. Proficiaat Dame en Heren!
The Edible City presents a diverse range of proposals and strategies to produce food in or near the city and that offer the opportunity to experience the city in a different way. As befits the subject, much of the exhibition was itself edible. As of today, it will all be edible somewhere else.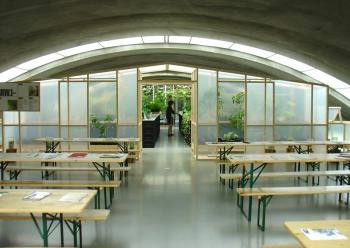 Here are links to some of the project texts.
- Farmers' Markets: Nina Planck, London Farmers Markets, Carolina Verhoeven (also, thanks to Brouwer Betist en Sawadee)
- Drinking water fountain - Jan Konings
- EcoSphere - Happy Shrimp Farm
- EVA-Lanxmeer - Foundation EVA (Marleen Kaptein) and House of Concepts (Jorn Mols)
- Exploded London, Egg diagram, LeisurESCAPE and images of Cuban organoponicos - Bohn & Viljoen Architects
- Farmtycoon - FABRICations (Eric Frijters), WUR-Alterra, InnovatieNetwerk
- Infra Ecology - Duzan Doepel, Jago van Bergen, Willemijn Lofvers
- Maastricht, Tolbert, Rotterdam - o.m. Foundation Oudheidkamer Fredewalda Tolbert (Bralt Hovinga)
- Middlehaven Docks - SMC Alsop Architects
- Parc Unimétal Caen - Agence Dominique Perrault
- Tour vivante - Atelier SOA Architectes
- Food chain city / Voedselketenstad - 2012 Architecten, Het Portaal, Innovation Netwerk
- Wujin WAZ Holland Park - WUR/Alterra (Peter Smeets, Rik Olde Loohuis)
- Sand bag garden / Zandzakkentuin - Studio Jurgen Bey
- Seven street pieces for Almere / Zeven Straatstukken voor Almere - De Pavi
Interview about the Edible City by Règine Debatty in World Changing Part 1 and Part 2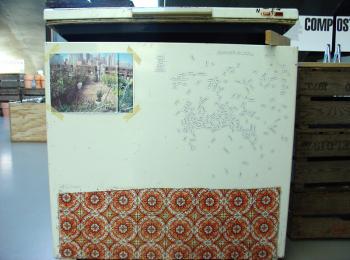 A poetic worm composter with big plans…
debra at 15:09 | | post to del.icio.us
No Comments »