A midsummer garden dinner at Marlein's
June 20, 2006

Marlein's tuinhuis rhymes with town house but means garden house or cottage
On an island between the Amsterdam-Rhine Canal and the IJ inland shipping lands, sandwiched between harbours, dubious car re-painting garages and tucked under a freeway flyover, there is a hidden paradise that I was totally unaware existed until last Saturday, when Marlein invited me to dinner at her garden house. It hadn't occured to me that in the midst of all this bustle and crud that there could be a place of such lush beauty and serenity, a place where nature takes over and you can't imagine or even glimpse anything but the burgeoning surrounds that envelop you.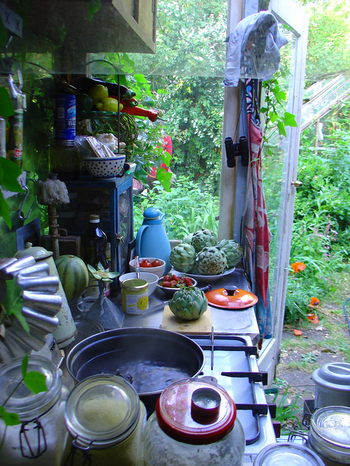 View from inside the indoor-outdoor kitchen to the front garden
Marlein, Joost and I lazily drank mint tea with saffron sugar crystals, chitchatting, enjoying the evening light. Magically Marlein produced dinner and we supped on greens and succulent things, sort of lowish on the food chain.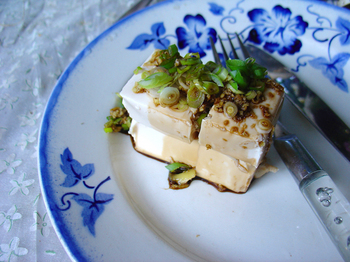 Silken tofu with spring onions and drizzled with nama shoyu is an elegant start to our dinner
It stays light until almost eleven!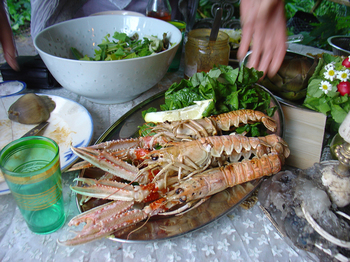 When the water insects arrived, we sucked them inside out.
And when it got too dark and a little bit chilly, we retired to the great indoors for a dessert of elder flower tempura dusted with powdered sugar, chocolate, dates and Pakistani burfi.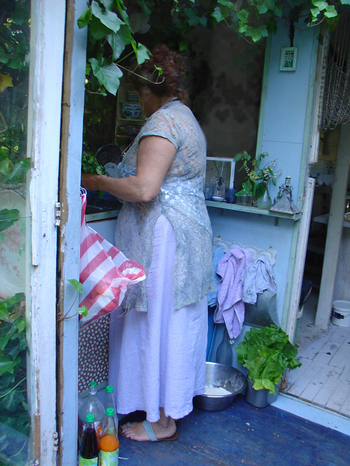 This sort of garden house is typical of the Dutch style allotments, although usually these locations have long socialist histories and are highly regulated, Marlein's garden is in a non-sanctioned area, and unfortunately one that will be devoured by a land development project starting in 2008. Pick your battles, there two full summers to enjoy before Marlein and her garden neighbours find the next fabulous and secret place.
debra at 13:24 | | post to del.icio.us
No Comments
Sorry, the comment form is closed at this time.