A recipe for Terrine Geologique
June 27, 2006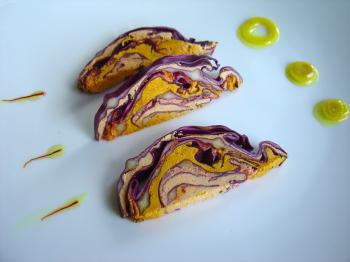 Although June is internationally recognised as the month of striation and I've been determined to pay hommage, I'm starting to feel like a 1980's Romanian dictator, force-feeding nut-cheese recipes to her people. Maybe it's because I'm feeling guilty about taking so long to write that entry about Ceaucescu, textured soy and the Romanian Otaku exhibition over at Mediamatic. Any day now. And after this one, I swear I mean I promise to stop with the nut cheese photographs. I'm just trying to be thorough.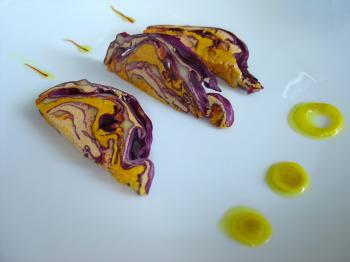 Recipe after the jump. Vroom vroom!

Terrine Geologique
one half of a red cabbage (or green)
one goodly handful of cashew or almond cheese (can also be substituted with 'cakey' dairy cheeses like ricotta, young chevre or cream cheese. Roughly 500 gr.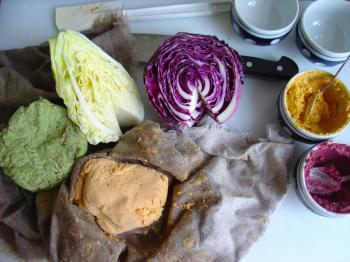 For the vegetable dyes I used: pulverised hibiscus flowers and beet juice for the 'pink', coulis of pickled roasted red peppers for the 'flame orange', saffron and saffron oil for the 'gold'. Not shown, mint, edamame and honey for the 'green'. Just play around when mixing colours, making sure to not change the texture of the cheese too much. The cheese is going to cement the cabbage leaves together, so don't let this mortar get too wet or let the flavour be too strongly influenced by the colour.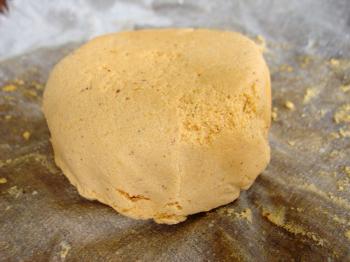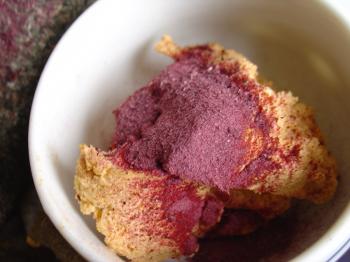 When all your desired colours are mixed, cut the cabbage in half and remove the core in such a way, that the leaves can be easily peeled off. Dismantle the cabbage carefully - and keep it in order. Spread the inside of each leaf with a different colour of cheese and start stacking the cabbage back together. Firmly smoosh it into place until you feel it 'click' or vacuum itself into position. Using a cheese cloth or a large sheet of sturdy bakers' parchment, wrap the cabbage snugly as if you were swaddling a baby. I've never actually swaddled a baby, but I imagine it's something like this only more squirmy. Refridgerate for at least 4 hrs. so that the cabbage and cheese layers are nice and firm before cutting.
If you're planning on transporting the terrine, don't cut it until presenting it on plates.
If you've been procrastinating sharpening your large vegetable knife for a month, now is the time to sharpen it.
Serve with colourful pickles, like saffron onions.
It's time to pay homage to striation.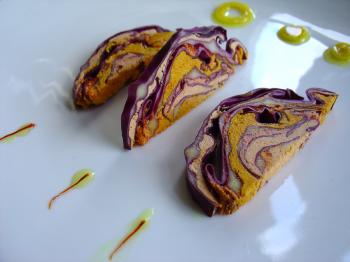 debra at 23:17 | | post to del.icio.us
No Comments »