The most beautiful teapot in the world
April 11, 2005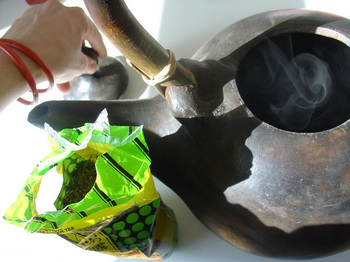 Finally I can sit quietly with the several thousand images from my trip to Delhi and reflect.
WIth a pot of tea.
A giant pot of tea.
In a teapot from Bihar.
Bought at a craftsmarket in Delhi.
Made from dark clay, neither fired very hot, nor glazed.
Looks like it was fashioned by a caveman with a large extended family.
The lid doesn't fit.
It's perfect.
debra at 13:36 | | post to del.icio.us
5 Comments »