Dead nettle
crude mousse for dinner
May 14, 2006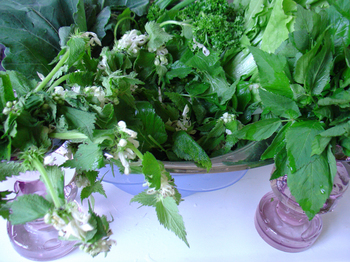 Kruudmoes leafy green selection from 9 o'clock: white deadnettle (dovenetel), kohlrabi leaves, spring onions, curly leaf parsley, chicory and ground elder (zevenblad).
Ten days before the Here as the Centre of the World dinner and I'm busy testing traditional recipes from Overijssel for the main course. I have decided on a Twentse Kruudmoes, which translates roughly into herb mousse but is in fact a leafy green and pearl barley gruel. Since I wasn't born in the Middle Ages and am therefore not a huge fan of eating green and glutinous slime, I'm thinking more along the lines of an herbacious and chlorophyl rich, pork-spiked barley risotto. Place the dutch oven with the boiling barley in your Oma's hay box with some pork fatback, raisins and buttermilk. Stir in the sauce vert at the last minute, and it's locative food from the Dutch Middle East.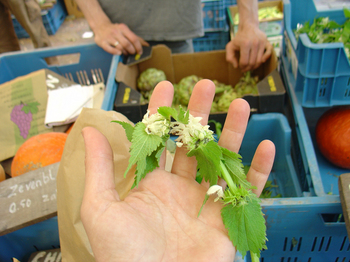 The myriad of kruudmoes recipes offer no consensus as to which greens to use, in the spirit of a true 'end of hungry gap' recipe. Yesterday I was thrilled to find dovenetel at the farmer's market. For English speakers and Latin-lovers, that's white deadnettle and lamium respectively, a plant wholly unrelated to stinging nettle, thus 'deadened', and the vernacular blooms before our very eyes. The flower and leaf taste of snow peas with an afterthought of hemp. The flower markings look like two ants sucking nectar side by side.
Pity, but these recipes for kruudmoes are all in Dutch. When I have settled upon a recipe, I will publish it here but will not guarantee its authenticity, because I see my life as one big mission to eliminate overcooked leafy greens and slimey food.
If you can't get enough of those hilarious Dutch weblogs, you'll love the following rough text about kruudmoes by Ilja Gort (Als Gort in Frankrijk and met Gort de Boer Op).

Kruudmoes
Kruudmoes, vertelt Mien als wij van de schrik zijn bekomen, is ontstaan als aardappelvervanger. Wanneer tegen het einde van de winter de oude aardappels op raakten en de nieuwe er nog niet waren, was dit een mooi compleet eenpansgerecht: gemakkelijk te maken, gezond en het vulde goed. Willen we soms een hapje proeven? Weigeren lijkt onheus. We mogen mee naar achteren. In een met boerenzakdoeken gepavoiseerde keuken staat op een gaskomfoor een grote zwarte pan warme balkenbrij zachtjes te pruttelen. Het ruikt er sterk naar adelijk orgaanvlees, natte hond en recente geslachtsgemeenschap. Op het aanrecht staat een lange, platte bak hoofdkaas onder een blauwwit geruite theedoek op te stijven. Mien opent een kastdeur met een roodwit geblokt gordijntje en tilt er een Keulse pot uit waar het geheimzinnige gerecht zich in bevindt. Omzichtig plaatst ze de zware kost op de keukentafel. Nieuwsgierig buig ik mij voorover. Met gestrekte wijsvinger doorboor ik de bruinige oppervlaktekorst en neem behoedzaam een klein likje van het onderliggende. Ogenblikkelijk worden m'n smaakpapillen tegen elkaar in het harnas gejaagd door de schizofrene combinatie van karnemelk met spekvet, en worst met bruine suiker. Mien ziet mijn reactie en lacht bemoedigend: 'Wacht, ik zal 't wel eev'n oppiep'n.' Maar de even later geserveerde warme kruudmoes doet door zijn uiterlijk en door de zurige lucht die het verspreidt ogenblikkelijk denken aan vers braaksel. Als Mien mij zorgzaam een diep bord vol schept voel ik mijn onderlichaam samentrekken en voeg bijna mijn eigen maaginhoud toe aan de geserveerde kruudmoes. Met de moed der wanhoop lepel ik het grootste gedeelte van de halfwarme drabbige brei naar binnen. De ondefinieerbare harde stukken slik ik haastig zonder al te veel kauwen door. Jonnie heeft nergens last van. Met grote happen schraapt hij zijn bord leeg tot het laaste restje, veegt z'n lippen af. 'Lekker Mien! Doe mij maar vier potten voor het restaurant. Ik neem ze meteen mee.' Vechtend tegen opboerend maagzuur slaag ik erin enkele bewonderende kreten uit te stoten. Met een binnensmonds gemompeld 'Heerlijk, Mien! Lekker fris, maar 'n tikje aan de voedzame zijde,' sta ik zwetend op en weet zo een tweede ronde te vermijden. De hoofdkaas, de zure zult en de balkenbrij die Mien nog voor ons in petto heeft, blijven ons daardoor bespaard.
(used entirely without permission from Ilja Gort)
debra at 19:29 | | post to del.icio.us
1 Comment »
I am looking for an old fasion hay box to cook rice pap ect overnight

Comment by Liz — December 14, 2007 @ 15:45