Culiblog nominated in Gridskipper's weblog awards
November 30, 2005
How cool is it that I regularly read all of my competitors!
debra at 18:01 | No comments | post to del.icio.us
And the answer is… community supported agriculture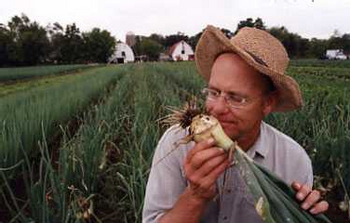 image courtesy of the Real Dirt on Farmer John website
Well, at least that is one of the most positive answers to the questions that came to my mind after watching Erwin Wagenhofer's We Feed the World (Austria 2005) Saturday night at the IDFA. Although reviews and film descriptions already abound, here's culiblog's quick take on the films The Real Dirt on Farmer John, We Feed the World and Bullshit.
Context is everything, although this hadn't occurred to me weeks ago when I reserved my tickets for the IDFA and Shadow Festivals. It was pure coincidence that I chose Taggert Siegel's The Real Dirt on Farmer John (US 2005) instead of We Feed the World as my first IDFA film. But the documentary about John Peterson (I heart him) is such a poignant portrayal of his pursuit of agricultural viability on a very personal level, that the film armed me with an outlook positive enough to take on the eloquent doom and gloom of the other documentaries. I wish my fellow audience members had been so lucky, because their anger and disillusionment about the realities sketched in Wagenhofer's, We Feed the World and even Holmquist's Bullshit was palpable.
debra at 11:17 | Comments (2) | post to del.icio.us
The Hunger Artist
November 24, 2005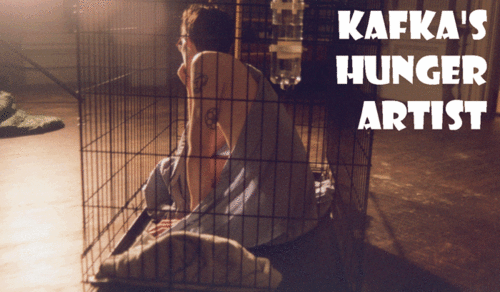 Here's one for the archives: Google (images) 'Hunger Artist'
Happy Thanksgiving, by the way.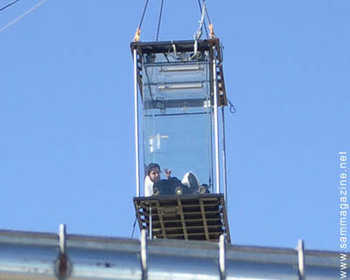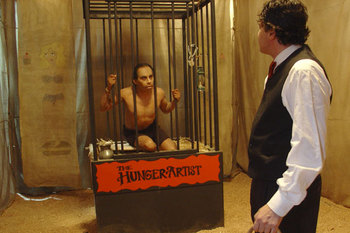 debra at 8:04 | Comments (4) | post to del.icio.us